- One year down the line, some Nigerians are not too pleased with the performance of the 8th Senate
- The 8th Senate was ushered in on June 9, 2015, with Bukola Saraki elected as its president and Ike Ekweremadu as deputy president
- Some Nigerians are saying the 8th Senate is a waste as they supervised the most padded budget in Nigeria's democratic journey
- Some are however, of the opinion that the 8th Senate has a number of achievements in its one year
The 8th Senate is one year today, June 9, despite the initial controversy which arose over its leadership.
When on June 9, 2015, Bukola Saraki was elected as the Senate president, against the wishes of his party, the ruling All Progressives Congress (APC), it seemed all hell had been let loose.
To add to their disappointment, a member of the opposition Peoples Democratic Party, Sen. Ike Ekweremadu from Enugu state was elected as deputy president of the Senate.
READ ALSO: MUST READ! House of Reps shock Senate, find out how
One year down the line, Saraki and Ekweremadu are still the leaders of the 8th Senate against all odds.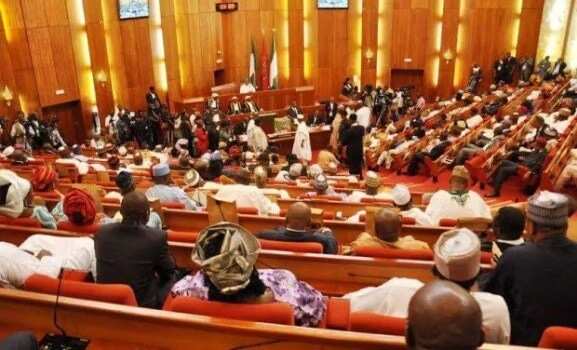 As the 8th Senate marks its first anniversary, Nigerians have taken to social media to congratulate them while others are criticizing them.
Some Nigerians said the 8th Senate has added no value and are still raping the nation by collecting fat salaries.
Some others have listed the achievements of the 8th Senate to include the amendment of the outdated railway act and the crime and criminal tracking system, over 162 motions considered and resolutions of top benefits to Nigerians passed and others.
Saraki said a motion on Treasury Single Account (TSA) detected irregularities in the implementation, saving Nigeria over 20 Billion Naira.
An advice for the 8th Senate.
Source: Legit.ng