- The EFCC interrogated former governor, Chime over the disbursement of campaign fund
- The money was said to have been given to him by Diezani
- The former governor is expected to return to the office of the EFCC for further interrogation
The former governor of Enugu state, Sullivan Chime was interrogated by the Economic and Financial Crimes commission (EFCC) on Wednesday, June 8 in connection to N23 billion disbursed by the former minister for petroleum resources, Diezani Madueke.
It was reported that the former minister took charge of the distribution of bribe in the build-up to the 2015 general election and several persons involved in the fund have been arrested by the anti-graft agency.
READ ALSO: EFCC seals off former governor's home
The Punch reports that the former governor was question following allegation that he received N450m from the former minister.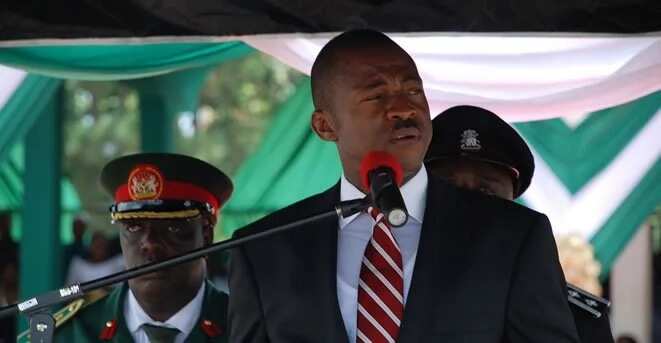 It was reported that Chime appeared at the zonal office of the EFCC to explain his role in the disbursement of the cash which was meant to be used to campaign for the re-election of Goodluck Jonathan.
The former governor reportedly confessed that he handed over the money to the secretary of the campaign office, Mrs. Rita Mba, who also served as the commissioner for special duties and inter-government affairs in Enugu.
According to an EFCC source, Chime said: "According to Chime, the money was brought by two of his former commissioners, Joe Nmamnel and Mrs Rita Mba, in company with the Chairman of the PDP, Enugu State, Ikeji Asogwa, and Prof. Osita Ogbu.
"He further stated that he gave the money to his orderly for safe keep and that only Rita Mba should have access to it to facilitate her work as secretary of the campaign secretariat. He denied personally disbursing the fund."
The former governor was allowed to go but is expected to return to the office of the EFCC on Monday, June 13.
READ ALSO: EFCC arrests two PDP chiefs, senator returns 2million
The ex-Enugu governor is the second governor from the south east to be interrogated by the EFCC in connection with the Diezani bribe money.
Achike Udenwa who is the former governor of Imo, Senator Chris Anyanwu, a Senior Advocate of Nigeria, Mike Ahamba; and a former Minister of Power, Prof Chinedu Nebo have all been grilled for their alleged role in the handling of N700m from the Diezani fund.
Meanwhile, operatives of the EFCC grilled Mohammed Wakil, a former minister of power, and Abdu Bulama, the ex-minister of science and technology, on Monday, June 6.
The two were campaign directors during the administration of Jonathan.