- The Nigerian Navy has paraded a suspected militant leader along with six other suspects arrested for other crimes
- The commander of the NNS Delta Commodore Raimi Mohammed said his men are working to apprehend other collaborators who were currently on the run
The Nigerian Navy has arrested the suspected coordinator of the multiple attacks on oil and gas facilities in the creeks of Delta state.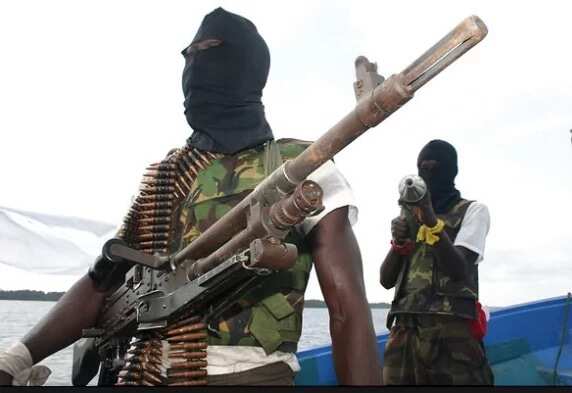 The suspected militant leader was paraded by the Nigerian Navy Ship (NNS) Delta in Warri on Monday, June 6 along with six other suspects arrested for other crimes, including one of the alleged killers of some security personnel and civilians at Batan community, Warri south-west council area of Delta state, on April 30, the Nation reports.
READ ALSO: Mixed reactions trails military withdrawal
In an address at a press conference held at the base of the command in Warri, the commander of the NNS Delta, Commodore Raimi Mohammed said the arrest of the suspect who coordinator of the attacks on all the Nigerian National Petroleum Corporation (NNPC) and Chevron Nigeria Limited (CNL) facilities would curtail further attacks on facilities in the area.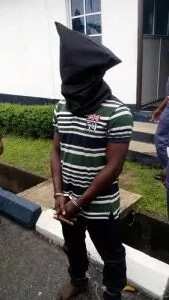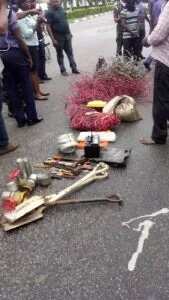 "Today I am pleased to announce that after several weeks of persistent efforts, the Nigerian Navy, in collaboration with other security agencies, has arrested the main coordinator of attacks on NNPC and Chevron oil and gas facilities that we have witnessed since May 4, 2016, with the attack on Chevron's Okan valve platform, offshore Escravos.
"This arrest came after weeks of trailing and arrest of his foot-soldiers. It is important to mention that the suspect is also deeply involved in pipeline vandalism for stealing crude oil. He steals crude oil from about 35 abandoned oil well-heads and crude oil pipelines in Okpoko and Obodo in Warri South-West council area of Delta state. The Nigerian Navy believes with the arrest of this suspect, the attacks on Chevron/NNPC oil and gas facilities will abate", the naval chief said.
READ ALSO: Niger Delta governors: End corruption probes to stop Avengers
The Navy boss who said the materials used in blowing up and vandalising facilities had been recovered noted that his men were working to apprehend other collaborators who were currently on the run.
Meanwhile, the United States of America has appealed to all parties involved in the dispute in the Niger Delta region to resolve their disputes through peaceful means.
According to Vanguard, the US embassy to Nigeria on Tuesday, June 7, in a statement issued by the embassy's public affairs Unit in Abuja said is it was monitoring reports of attacks and other incidents in the Niger Delta, adding that it shared the concerns of all Nigerians about these attacks.