President Muhammadu Buhari is expected to contest the 2019 presidential election on the platform of the All Progressives Congress (APC) unopposed but recent development may be pointing to the contrary.
Alleged APC's presidential campaign posters were seen in Abuja. But, instead of bearing the faces of President Buhari and Professor Yemi Osinbajo, the posters had Governor Kashim Shettima of Borno state and Governor Rochas Okorocha of Imo state on them.
Both Shettima and Okorocha are the members of the ruling APC, but Okorocha has recently stated that he will not contest for the presidency in 2019.
READ ALSO: Igbos voted massively for Buhari - Governor Shettima
Governor Shettima has been applauded for his performance as the governor of the state battling the Boko Haram insurgency, although he has not made any statement concerning running for 2019 presidency.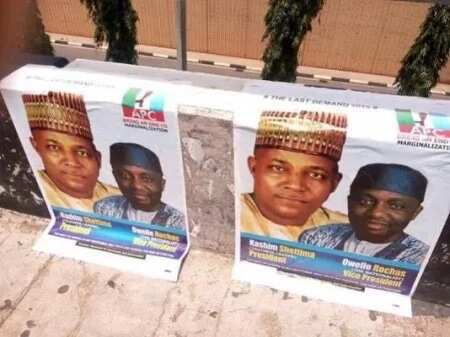 It is not known who is behind the campaign posters but this is coming as a surprise as the APC caucus already endorsed President Buhari for a second term in 2019 which is similar to how former governor Goodluck Jonathan was endorsed to fly the flag of te Peoples Democratic Party in 2015
Source: Legit.ng