- Governor Okorocha says the APC has not managed its victory from 2015 well
- He says he has no doubt in my mind that Buhari will succeed
- He says he has not seen any reliable person in the PDP to work with
Governor Rochas Okorocha of Imo state believes the All Progressives Congress (APC) has not managed its victory well after dethroning the Peoples Democratic Party (PDP) in the 2015 general election, Vanguard reports.
READ ALSO: PDP chieftain faults zoning party's key position to north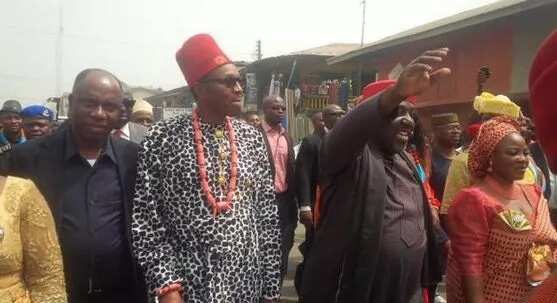 Speaking to newsmen on Saturday, May 21, Okorocha who is the chairman of APC Governors Forum said: "Make no mistake about it, APC is a good party, by all standards but my regret is that we are not managing our victory very well.
"I have no doubt in my mind that the old man (Buhari) will succeed. All I pleaded with Buhari to capture in the current fiscal year are in the budget. I want to assure Ndigbo that all that are due to us will definitely get to us.
"I support the deregulation of the oil sector of the nation's economy. I also believe in concessioning government parastatals and agencies. Nothing established by government has ever worked in Nigeria. The Nigeria Airways, NITEL, Nigerian National Shipping Line and all, never worked."
READ ALSO: Okorocha urges traditional rulers to take charge of security
Governor Okorocha also took the opportunity to mock the PDP. According to him, he has not seen any reliable person in the PDP to work with.
Speaking on Imo workers three months, Okorocha said he was very comfortable with the 70:30 ratio agreement with labour, even as he warned that anytime workers refuse their salaries, he would use it to carry out projects.
Okorocha said: "Both pension and internally generated revenue, IGR, are serious problems for me. Only recently, I ordered all the Board of Internal Revenue officers to go on leave but they have written to say it was unconstitutional to ask all officers to go on leave."
Meanwhile, Governor Okorocha has put to rest, rumours that he will contest for the presidency again in 2019.
According to the governor, he won't contest the 2019 presidential election because of President Buhari has so far shown leadership and should be encouraged.
Source: Legit.ng