- House of Representatives member, Mohammed Gudaji Kazaure is in the news again
- But this time, it is on a rather sad note
- Kazaure became famous after a funny video of him surfaced on the internet
The House of Representatives member representing Kazaure/Roni/Gwiwa/Yankwashi federal constituency in Jigawa state, Mohammed Gudaji Kazaure is currently hospitalised.
According to The Whistle, the House of Reps member accidentally shot himself on the foot while fidgeting with his pistol.
READ ALSO: Dogara sponsoring the destruction of APC – Bauchi politicians allege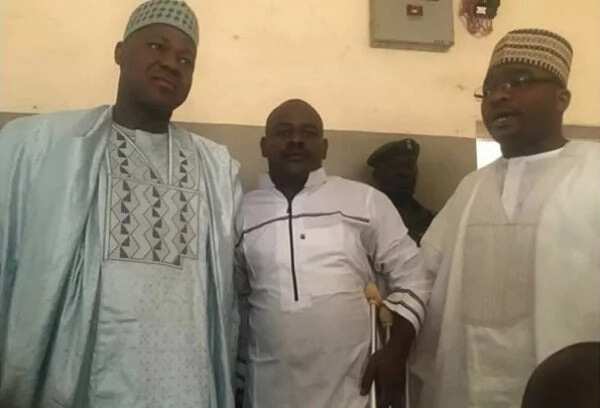 The incident was said to have happened on Sunday, May 8 in his private residence in Kano state. Kazaure's cocked pistol accidentally went off and hit his foot in the process.
A source close to the lawmaker said the bullet damaged Kazaure's three toes, but they were removed at an Abuja hospital. The lawmaker is said to be receiving medical attention at the moment in Dubai, United Arab Emirates.
Legit.ng efforts to verify the authenticity of the story proved abortive as most journalists covering the lower house said they were not aware of the story.
A video of Kazaure granting an interview to a journalist went viral early this year after he used his head to describe Nigeria's comatose economy.
READ ALSO: Iran attacking minds of youths in Nigeria with extremism and radicalization
The video catapulted the lawmaker's popularity not only among his peers, but also the Nigerian public.
UPDATE
Meanwhile, Kazaure has denied that he shot himself in the foot with a pistol and traveled abroad for treatment. The lawmaker said the injuries he sustained on his foot were not as a result of gunshot.
Speaking with Daily Trust on the phone from Dubai, Kazaure said the reports were baseless.
He said: ''If they wanted to know my situation, they should have contacted me. I have not spoken to anybody. Holding a pistol in Nigeria is unlawful. What happened was just an act of Almighty Allah, which is predestined.''