Senator Dino Melaye, representing Kogi west senatorial district is arguably the most controversial lawmaker in the history of Nigeria.
He gained an unparalleled national attention when he was in the House of Representatives. He has continued to build on the attention since he was elected to the Senate in 2015.
As a senator, some believe he stands as a watchdog for the ruling APC because of his usual anti-APC stance while many associates his name with brigandage, rascality and unimaginable notoriety.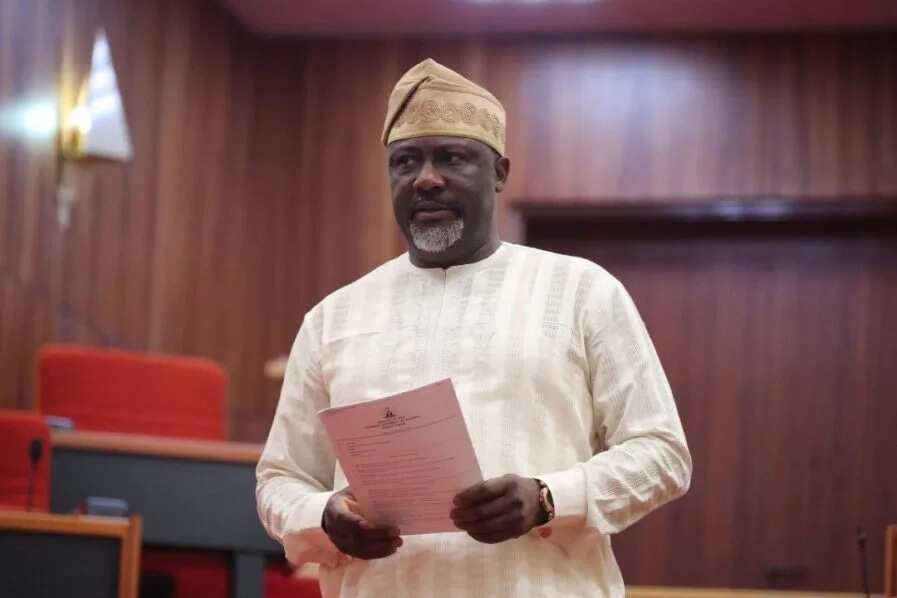 READ ALSO: Breaking: Again, SARS team reportedly arrests Senator Dino Melaye
The Kogi state senator is currently facing the possibility of recall by his constituents.
Recently implicated in a case of unlawful possession of prohibited firearms, the Nigerian police declared Melaye wanted following his failure to comply with criminal summon issued on him by the Federal High Court, Lokoja on alleged involvement kidnappings and robberies, murders and other violent crimes in Kogi state.
On Monday, April 23, the Nigerian Immigration Service (NIS) arrested Melaye at the Nnamdi Azikiwe International Airport, Abuja.
Sunday James, the spokesperson for the immigration service had earlier said that Melaye was arrested by Immigration officials 'based on instruction'. The embattled senator was later released, but for a few hours.
On Tuesday, April 24, he was re-arrested by operatives of the Special Anti-Robbery Squad (SARS) and moved to the Special Anti-Robbery Squad (SARS) Headquarters, Guzape, Abuja.
On being conveyed to Kogi state to appear before the court, Senator Melaye reportedly jumped off the police van; perhaps in a desperate attempt to escape. He got himself injured and was rushed to Zankli hospital in the Mabushi district of Abuja.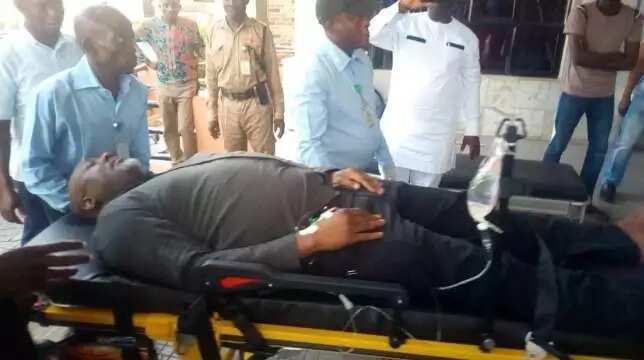 What is significant to note, however, is that Senator Melaye is not a stranger to the recent travails unfolding around him.
In an exclusive interview with Legit.ng about a year ago, Melaye revealed that he was arrested 14 times during the administration of former Goodluck Jonathan.
His words: "I am one of the most investigated Nigerians maybe what they are yet to find out is where my placenta was buried and they will have to go to Kano to get that.
"Anyone who has any negative thing about me should please come out. Even right now, I am being investigated, petitions with the Economic and Financial Crimes Commission (EFCC), some with the CCB, I even got information that the bureau is investigating me, I laugh at this because it will turn out to be a beautiful nonsense.
"I am a straight Nigerian and have never been involved in anything illegal. Today I can buy a private jet and I will buy one and put a D on it. I did not steal, I cannot steal and I will not steal. I am not frivolous, I know the value of money. I am big time into properties.
"I am a politician. Whatever I do is my business but I will never do anything illegal. I was arrested last year alone by Jonathan's administration 14 times."
One of the things that seem to put the Kogi senator in the negative limelight is his generally acclaimed flamboyant lifestyle.
PAY ATTENTION: Read the news on Nigeria's #1 news app
It was reported that some aggrieved Nigerians also called on the EFCC to probe Melaye to reveal his source of wealth.
The Civil Society Network Against Corruption (CSNAC), an anti-corruption coalition, reportedly petitioned the EFCC to probe Senator Melaye over his lifestyle.
In the petition signed by Olanrewaju Suraju, the chairman of CSNAC, the group mentioned several instances of questionable wealth belonging to the senator representing Kogi West senatorial district. The anti-corruption coalition recalled the media reports claiming that Melaye purchased a home in Abuja estimated at 1.3 billion naira.
Dino Melaye and 2019 Criminal Conspiracy | Legit.ng TV - Nigeria News
Source: Legit.ng