- The ACF has called on security agents to unmask the perpetrators of the attacks on Ukpabi Nimbo community in Enugu state by suspected Fulani herdsmen
- The group commiserates with the government and people of Enugu state over the attacks on the community
- Says traditional Fulani nomads have coexisted peacefully with their host communities and have been grazing their cattle for decades all over Nigeria without any such attacks
The Arewa Consultative Forum (ACF) has warned that Nigeria cannot afford to graduate from Boko Haram insurgency to an unwarranted attack by unknown gunmen alleged to be Fulani herdsmen.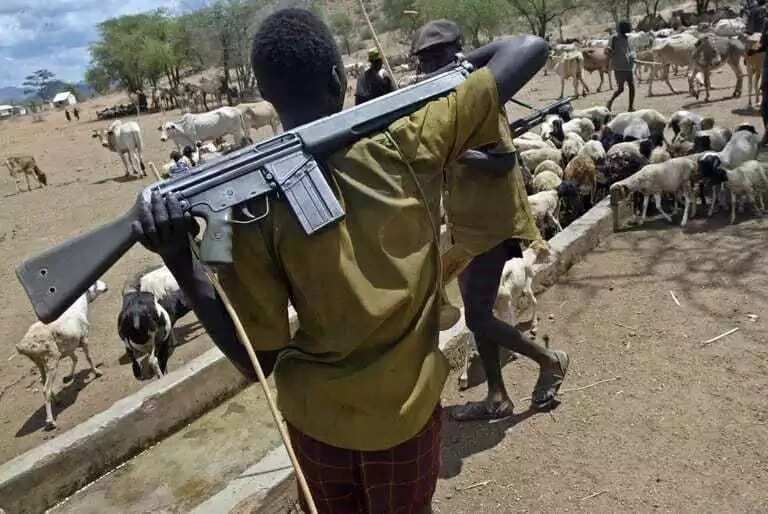 The ACF reacting to attacks on Ukpabi Nimbo community in Enugu state by suspected Fulani herdsmen called on security agencies to unmask the perpetrators of the heinous attacks.
READ ALSO: Soyinka comes for Buhari over Fulani attacks
According to Vanguard, the group in statement on Thursday, April 28, by its national publicity secretary, Alhaji Muhammad Ibrahim, commiserated with the government and people of Enugu state over the attacks.
ACF said: "The traditional Fulani nomads have coexisted peacefully with their host communities and have been grazing their cattle for decades all over Nigeria without any such attacks. 
" ACF is therefore disturbed and seriously concerned with this recent development.
"It therefore calls upon the security agencies to do a thorough investigation into the identities of the suspected gunmen in order to stop this dangerous generalization of labelling certain tribe or people of certain faith as responsible for these attacks.
"This will cause mistrust and likely incite people of different tribes and faith who have lived together peacefully for decades."
READ ALSO: Pandemonium in Enugu as Fulani herdsmen attack community
The group called on security agents to fish out the criminals hiding under whatever guise and committing heinous crimes against innocent people and the state to be dealt with according the law.
Meanwhile, Major General Edward Nze, the chairman of defense headquarters committee on persistent crisis between herders and farmers, on behalf of General Abayomi Olonishakin, the chief of defence staff, raised an alarm over the recurrent deadly clashes between both groups.
According to Mr Olonishakin, the existing crisis is highly likely to turn into a national security issue superior than Boko Haram if left unattended. He expressed his concern to newsmen during a courtesy call on the acting governor of Benue state, Benson Abounu, at the Benue Peoples House on Wednesday.
Source: Legit.ng