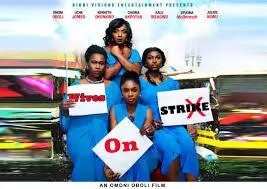 - Omoni goes triple threat in this production where she directs, writes and produces
 - "Wives on strike" is a hilarious comedy about a group of market women who take a stand against their husbands in a bid to protect a young girl from underage marriage.
 - It stars Omoni Oboli, Uche Jumbo, Kenneth Okonkwo, Julius Agu, Chioma Akpotha and Ufuoma McDermott
This advocacy movie written by Omoni Oboli creates a comical and witty movie that is apt at telling a meaningful story to Nigerians. The movie adopted Pidgin English style in almost all the dialogues in such a way that everyone could understand the message clearly.
READ ALSO: With a wife and daughter like this, you are finished!
Kenneth Okonkwo who played Omoni s husband was extremely hilarious and dare, say this is one of his best roles till date, from wanting to "mount" his wife at the height of the strike and assuring her that no one would know to his many beer parlor scenes with Julius Agu, (One of the husbands)
Julius Agu, a comedian by trade also shone brightly in the movie, married to rebel leader and canteen owner Uche Jumbo, Julius tried to quench his "Konji" by patronizing ladies of the night who incidentally were on strike also.
READ ALSO: Who is the sexiest among these 10 Yoruba actors (photos)
Director/producer Omoni Oboli creates a funny and comical movie full of wit, and a meaningful message targeted at Nigerian citizens. "Wives On Strike" which was filmed two years ago should have no trouble finding an audience as the film adopts the use of Pidgin English which presents the dialogue of the actors in such a way everyone can understand it.
"Wives On Strike" uses humour to pass across clear messages. It gestures at taking action against underage marriages and the need for women to speak up more. The Child Rights Act which was passed in 2003 is explained in a way Nigerians from all walks of life can understand it. Oboli could have produced this film as a deep drama instead she adopts a comical view in which as you roar with laughter watching the "Wives On Strike", a powerful message about child-brides and standing up for what is right sinks into your consciousness. This movie was a brilliant attempt and it couldn't have been timelier.
Have you seen 'Wives on Strike'? Watch the trailer below: