- Five parents of the abducted Chibok schoolgirls received calls from the phone numbers of their missing daughters
- When the anxious parents called back the lines, they were told off and even threatened by the respondents at the other end
- Hosea Tsambido, the chairman of Kibaku Area Development association, said that the incidents would be reported to the government for security agencies to investigate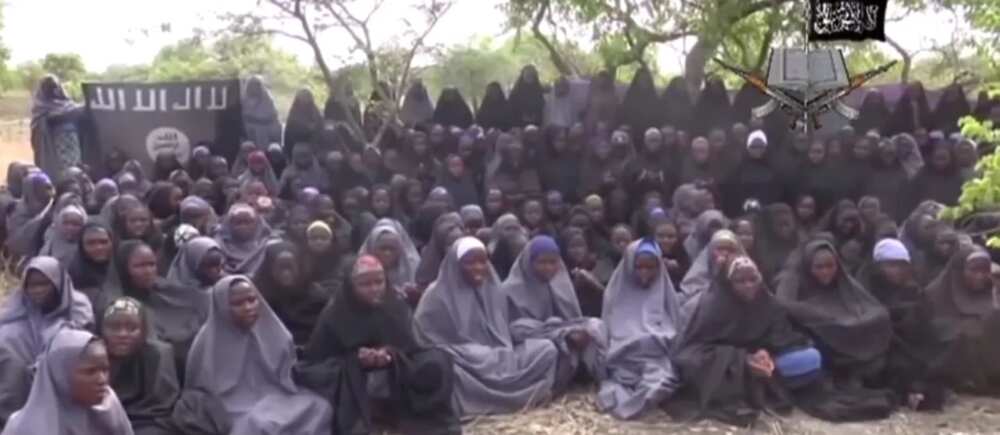 Agony of parents of the Chibok schoolgirls have increased after having received several calls from the phone numbers of their missing daughters.
The Nation reports that the anxious parents called back the lines but were told off and even threatened by the respondents at the other end.
The unknown callers also gave conflicting information on their location with some claiming to be speaking from Ondo or from Cameroon.
Speaking with journalists on Tuesday, April 12, Hosea Tsambido, the chairman of Kibaku Area Development association, an association that represents the Chibok community in Abuja, revealed that Yakubu Nkeki, the chairman of the Chibok girls' parents, gave him the information.
READ ALSO: Chibok girls secondary school to be rebuilt?
Nkeki is a 58-year-old schoolteacher, whose 17-year-old adopted daughter Maimuna Yakubu Usman is among those missing.
The man has recently noticed a missed call from his daughter. However, when he took the phone and redialed the number that was answered by a man who said the phone belonged to his wife.
Commenting on the development, Tsambido said:
"The speculation that a Chibok girl phoned her father is not exactly like that. It is actually the telephone numbers of about five girls that are being used to call people but when the parents call back, different people answer, some will say they are in Ondo or in Cameroon. All the parents that were called missed the calls."
Tsambido revealed that Nkeki was not the only parent who received such strange calls.
"Five parents informed me that they have been receiving calls from their daughters' phones, but when they called back, the persons that responded said the phones were their own and that they should stop calling the lines.
"We don't know if the network (telecom firms) had allocated the girls' lines to other persons or if the callers were just playing pranks on the parents; we will report this to the government for security agencies to investigate," he said.
READ ALSO: Boko Haram finally demands ransome for release of Chibok Girls
Meanwhile, Kashim Shettima, the governor of Borno state, has expressed optimism that the Chibok girls will soon be rescued and reunited with their families.
Speaking during his visit to Sani Sidi, the director-general of the National Emergency Management Agency, he said:
"I am an optimist, and based on information at our disposal, the Chibok girls are still alive and will be united with their families soon. We are hopeful that the girls will be recovered.
"Though security falls within the area of responsibility of the federal government, the government is doing all it can not only to rescue the girls but to care for the well-being of the generality of the people. We have started rebuilding most of the communities, we are determined to rebuild all."