- A group, Conference of Minority Tribes of Nigeria has threatened to drag the leadership of the Indigenous of People of Biafra the International Criminal Court
- The group called on the Nigerian government to hold the IPOB responsible for the recent killings northerners in Abia state
- It cautioned the federal government to start monitoring all the activities of the IPOB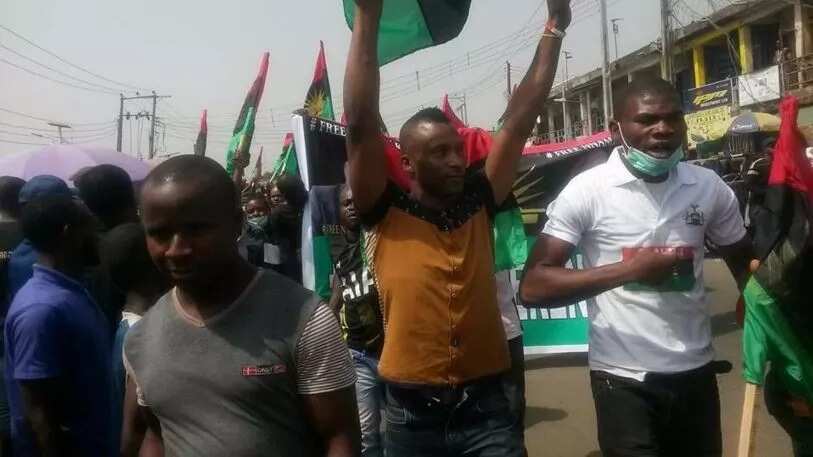 A group, the Conference of Minority Tribes of Nigeria (CMTN) on Monday, April 11, called on the Nigerian government to hold all leaders of the Indigenous People of Biafra responsible for killings of Hausa-Fulani in Abia state.
Speaking at a press briefing in Abuja, the secretary general of the group, Samson Babalola said the killings of five Northern Nigerians as alleged by the Department of State Services is a crime against humanity.
Describing the killings as a blow the belt incident threatening the cordial relationship between ethnic nationals in Nigeria, Babalola said the group is set to drag the leadership of the IPOB to the International Criminal Court (ICC) over the alleged killings by the group.
Babalola said: "However, by killing these innocent people, whose only offence is possibly that they were of a different ethnic stock from IPOB, these separatists have proven that they do not deserve and must never get the backing of other tribes and ethnic nationalities in the country."
READ ALSO: Fulani mass graves: I have not received any official report – Abia state governor
He also called on relevant agencies of government to start critical monitoring of the activities of the IPOB.
"They work hard to build public anger against anything Nigerian online making it difficult for their moderate sympathizers to contribute to national discourse without coming under threats. This has greatly shrunken the space for intellectual discourse and actively endorsed promotion of violence against the state as a precondition for being considered loyal to IPOB ideals," Babalola said.
Cautioning the IPOB and its leadership to adhere to internationally set rules towards achieving self-determination, the CMTN said it is determined to drag those named by the DSS to the Hague.
He also called on security agency to take necessary actions towards curbing these killings before they degenerate.
"This is an unbearable narrative that must be condemned by all irrespective of tribal or ethnic affiliations. It is a matter of time before IPOB separatists turn on the rest of us if we remain silent on this matter.
As for those sponsoring this national blight called IPOB, it is not too late to return to the path of national integration," he said.
READ ALSO: Biafra: DSS should look for better reason to keep Nnamdi Kanu in jail – Brother
On Saturday, April 9, the DSS in a statement said it discovered over 50 shallow graves in Isuikwuato local government of Abia state.
The DSS also said it was able to identify the bodies of five Hausa-Fulani herdsmen among the graves discovered.
But in a reaction to the DSS statement, Prince Kanu, the brother of the leader of the IPOB, Nnamdi Kanu, said the IPOB is a non-violent, non-terrorist group.
Prince also said that the IPOB has never clashed with any other group in Nigeria and does not involve in itself with violent activities.
He further called on the DSS to desist from demonizing the IPOB and seek better reasons to jail his brother, Kanu.