- The Abia state government has disputed the claims by the Department of State Services (DSS) about mass graves in the state
- The DSS had claimed its operatives discovered mass graves of Hausa-Fulani residents in the state
- The  DSS further claimed that the  residents were kidnapped and killed by the members of the Indigenous Peoples of Biafra (IPOB)
The Abia state governor, Dr Okezie Ikpeazu has reacted to the information that circulated in the media yesterday, April 10, that the DSS uncovered 55 Shallow graves in a forest in Abia state, where the remains of five Hausa-Fulani men were allegedly buried.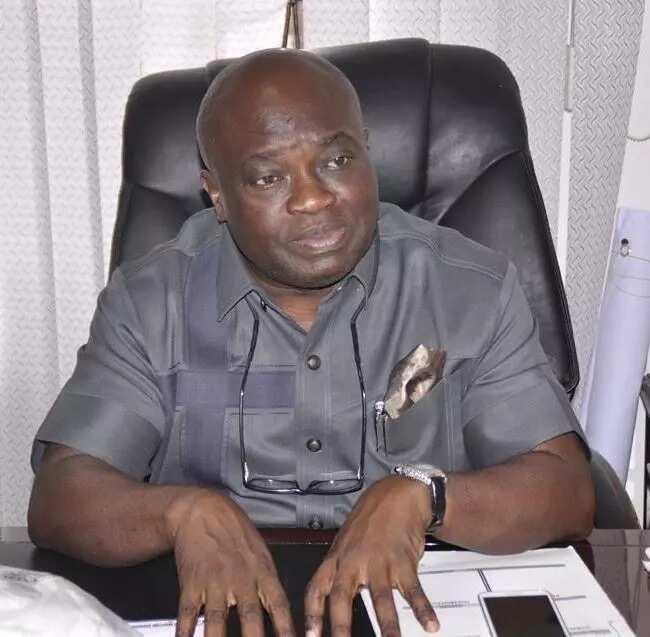 In a statement released to the media by the chief secretary to the governor, Godwin Adindu and obtained by Legit.ng, the governor said the state is highly embarrassed by the report.
According to the statement, the governor stated that the report is capable of causing ethnic/communal crisis in the country.
READ ALSO: Biafra: Panic over DSS alleged plans to exterminate Igbos
''The governor believes that stakeholders in information management in the country should be conscious of national security and therefore be cautious and reticent in their approach to such sensitive news.
''We feel even more angry because our check with the security agencies in Abia has confirmed that the information did not emanate from any of the security units in Abia.
''Both the DSS in Abia, Police and Army have all denied ever issuing such information,'' the statement noted.
The statement further noted that Abia state enjoys a very peaceful and cordial inter-ethnic relations.
''There has been cooperation and harmony amongst all ethnic groups and all issues and pocket of breaches have also been amicably resolved and settled by the government,'' the statement concluded.
Meanwhile, a brother to the leader of the Indigenous People of Biafra (IPOB), Nnamdi Kanu has called on the DSS to desist from branding Biafra agitators as terrorists.
READ ALSO: Biafra: DSS was silent when 500 Idomas were massacred in Agatu – FFK
Prince Kanu told Legit.ng that the statement of the DSS is aimed at demonizing the IPOB.
In a related development, the new leader of the Movement for the Actualization of the Sovereign State of Biafra (MASSOB), Uchenna Madu, recently stated that the activists would remain resolute on their peaceful agitation.