Lawyer goes blind after police assault (photo)
 - Some policemen attached to Onipanu division of Lagos state have beaten a lawyer to a pulp
- The lawyer identified as Sunday Elimihe said he was beaten for his refusal to give a police officer N1,000 bribe
- Elimihe is currently battling for his life at the hospital with a partial blindness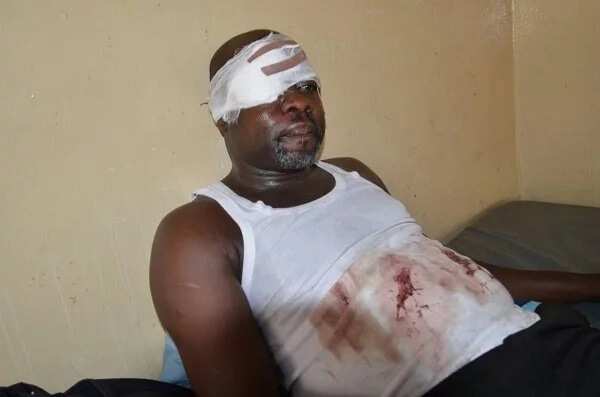 A Lagos based legal practitioner identified as Sunday Elimihe, who was assaulted by some police officers attached to the Onipanu division in the state has gone partially blind.
READ ALSO: Delta woman butchered to death, attacker apprehended
The Nation reports that the 42-year-old lawyer was rushed to the Shomolu General Hospital on Thursday, April 7, after the alleged assault.
Elimihe told newsmen that he was beaten to stupor by the police officers for refusing to give them N1,000 bribe, adding that the policemen, however, stole the N150,000 he kept in his car's pigeon hole.
The lawyer urged President Muhammadu Buhari and Governor Akinwunmi Ambode to rescue innocent Nigerians from daily police brutality.
Narrating the full ordeal from his hospital bed, the victim said trouble started after a certain Corporal Alonge accused him of using forged tinted glass permit. He alleged that he was beaten for 30 minutes inside the cell, after a policewoman collected Alonge's gun who had threatened to shoot him.
"On my way coming from Lekki where I went to check a property with my client, I decided to use the Onipanu police station road, by Apata.
"Immediately I drove into the street close to the station, one Corporal Alonge stopped me, demanded for my vehicle particulars. I gave them to him, then he demanded for my driver's license, which I also gave him.
"When he discovered I did not commit any offence, he asked for my tinted glass permit which I gave him. He told me I was using a forged tinted glass permit. I told him I could not have forged a police document as a lawyer.
"He became furious and said he was going to arrest me. He jumped into my vehicle and insisted I must give him N1,000 to bail myself. I said I was not going to give him any money since I have not committed any offence.
"He pounced on me and cocked his gun threatening to shoot me if I make a move. Another policewoman who sighted us came and dragged the gun from him.
"The policeman after being disarmed descended on me and gave me the beating of my life. He pushed me into the cell and another policeman came inside the cell, locked up the cell and beat me for 30 minutes.
"I see this as intimidation of the highest order, not because I am a lawyer, but because I am an average Nigerian. I was humiliated like a common criminal.
"This is oppression. One of my eyes is partially blind. I have been vomiting blood since yesterday. It was the intervention of a good policeman in the station who warned them not to kill me. I would have been dead by now," he said.
The state's police command spokesman, superintendent Dolapo Badmos, could not be reached for official statement as at the time of filing this report.
READ ALSO: How man killed his wife's lover in Kwara
Meanwhile, it was later gathered that the commissioner of police, Fatai Owoseni has summoned the officers at the command's headquarters for interrogation.
Police brutality is gradually becoming a daily occurrence in this part of the world as it would be recalled that some police officers in Edo state also brutalised a 41-year-old Lagos-based interior designer businessman identified as Stephen Akams.
The Punch reports that the victim is currently battling for his life at the University of Benin Teaching Hospital (UBTH) after receiving serious beaten from some police officers. Akams, who is currently on admission at the hospital is also battling with a damaged eye.
Source: Legit.ng