800 Boko Haram members surrender to Nigerian army
- No fewer than 800 members of the Boko Haram terrorists group have surrendered to the Nigerian army
- Brig. Gen. Rabe Abubakar, acting director defence information made the disclosure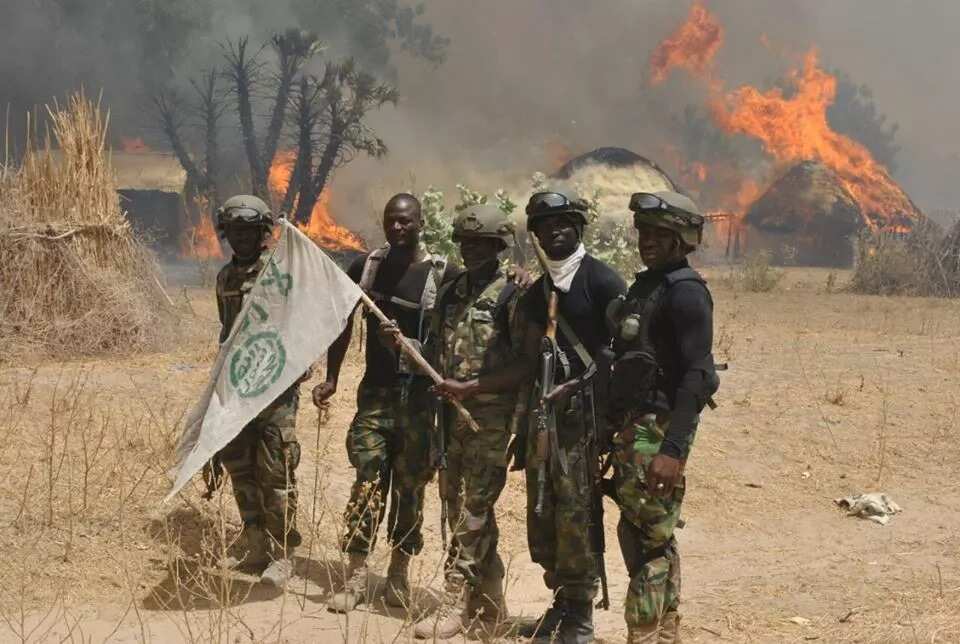 The Nigerian army has informed that no fewer than 800 members of the Boko Haram terrorists group have surrendered their arms in the last three weeks.
READ ALSO: Boko Haram commander Shekau's right hand man nabbed
Ynaija reports that the acting director defence information, Brig. Gen. Rabe Abubakar made the disclosure on Wednesday, April 6.
"I can confirm that about 800 of the Boko Haram members have surrendered to the military," he said.
This announcement comes on the heels of the Nigerian army's successful rescue of about 11,595 persons' held hostage by Boko Haram terrorists within the last one month.
Colonel Sani Kukasheka Usman, the acting director army public relations in a statement said: "On 1st March 2016, troops of 155 Task Force Battalion received 10,000 refugees from the Republic of Cameroon at Banki and Bama axis. Two days later, Army Headquarters Special Forces (AHQ SF) Battalion also rescued 63 persons held captives by terrorists at Maleri. The same unit on 5th March 2016 rescued 779 persons at Fotokol general area, a border town between Nigeria and Cameroon.
"Within the first week of March 2016, the 254 Task Force Battalion also rescued 45 persons at Kuaguru, while 143 Battalion similarly rescued 27 persons at Gadayamo,15 at Galadadani Dam in Madagali and 10 persons from Disa village.
"On 11th March 2016 troops of 231 Battalion and Armed Forces Strike Force (AFSF) also rescued 7 persons held captives by Boko Haram terrorists at Betso village; 5 of whom were elderly women and 2 young girls.
"Similarly 117 Task Force Battalion on 15th March 2016, received 14 refugees from Sahuda a border town with Cameroon. The Battalion equally rescued 59 at Bitta general area on 19th March 2016.
"In similar vein, troops of 22 Brigade in conjunction with Army Headquarters Strike Group (AHQ SG) rescued 309 hostages from Kala Balge general area on 23rd of March 2016. While on 30th March 2016 troops of 25 Task Force Brigade rescued 45 men, 85 women and 137 children from the Boko Haram terrorists at, Zahdra and Weige villages.
"Thus the total number of persons rescued by the troops during the ongoing clearance operations is 11,595 from February 26th, 2016 to date."
READ ALSO: Boko Haram releases another video
The Boko Haram terrorists in a recent video warned President Muhammadu Buhari regarding making any move, which could backfire on him and the generality of Nigerians.
In the new video, leader of the insurgents read out a prepared written text, saying it could be forced to attack Aso Rock Villa. The insurgents also spoke of their continued oath of allegiance to the Islamic State (ISIS).
The sect's recent threat is considered to be a reaction to what the US secretary of state, John Kerry said a few days ago, while acknowledging the efforts of President Buhari's administration to bring an end to the activities of the terrorist group.
Source: Legit.ng