- The lingering fuel scarcity in Nigeria will not end until May as against the promised Thursday, April 7 date
- The marketers said their ability to import petroleum products would be determined by foreign exchange availability fuel
- Over the weekend, only one vessel with PMS arrived the country instead of the two vessels promised by NNPC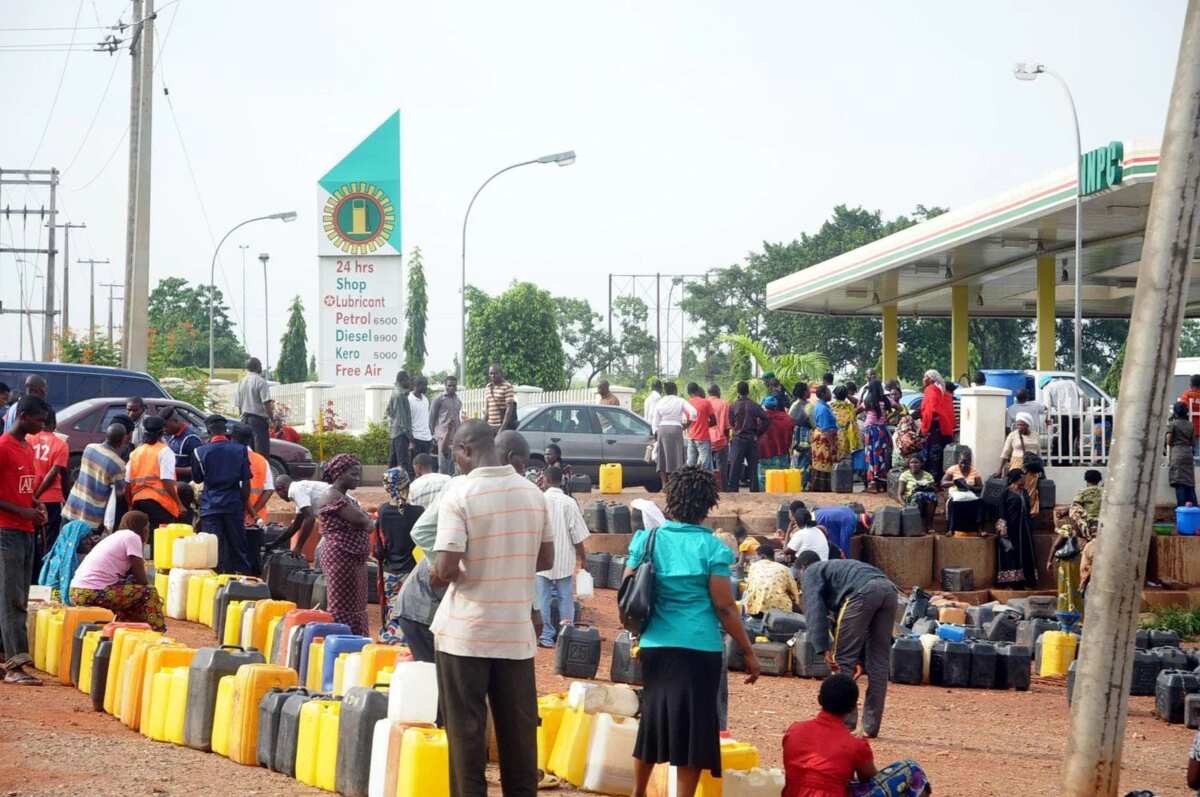 Fresh report has revealed that the lingering fuel scarcity in Nigeria will not end until May as against the promised Thursday, April 7 date given by minister of state for petroleum resources, Dr Ibe Kachikwu.
According to a report by Punch newspaper, marketers and depot owners on Sunday, April 3 said petrol would not be readily available at filling stations this month as only one of the three parking spaces at the Apapa Port was discharging Premium Motor Spirit.
READ ALSO: 2 dead, houses razed in Edo communal clash (Photo)
The report also said only one vessel with PMS arrived the country instead of the two vessels that the Nigerian National Petroleum Corporation had promised would discharge by last weekend.
The vessel which carried 21 million metric tonnes of petrol, berthed at the Apapa Port on Thursday and only commenced discharging its content on Saturday, April 2.
"The system is dislocated and even if the marketers decide to import now, it will take a minimum of 21 days for the fuel to come to Nigeria. The arrangement before now was for the marketers to import 60 per cent of the country's petrol need, and the NNPC to bring in the balance.
"But the arrangement was changed midway for the NNPC to import 78 per cent, while the marketers were left with 22 per cent. However, the corporation lacks the capacity and facilities to do this well. It is doing less than 60 per of its allocation; so, I don't know what magic it will perform to end the fuel scarcity by Thursday," a marketer who spoke on the condition of anonymity was quoted.
READ ALSO: Read what Dayo Adeneye said about development in Ogun state
The marketers said their ability to import petroleum products would be determined by foreign exchange availability of fuel.
But the executive secretary, depots and petroleum products marketers association, Mr Olufemi Adewole, said the NNPC had assured the marketers that foreign exchange would be provided for them through the Central Bank of Nigeria.
Recall that Ibe Kachiku has been advised to step down from the position and face his job as the managing director of the Nigerian National Petroleum Corporation (NNPC).