Nigerian Army reacts to tribal war at Enugu Barracks
- Easternradio.com.ng reports three two soldiers and a commander lost their lives after war ensued in 82 Division Enugu Barracks over tribal difference
- Nigerian Army reacts to the allegation
- The Nigerian Army describes report as baseless and at best, mere figment of the author's cynical imagination.
The Nigerian Army on Sunday, April 3, dismissed as untrue a reported tribal war at the 82 Division, Enugu, which allegedly claimed the lives of three soldiers.
Easternradio.com.ng had reported that following a perceived "tribal deployment of troops to the Niger Delta", crisis engulfed the 82 Division, leading to the death of a military commander and two soldiers.
According to media outfit, 82 Division Nigerian Army Enugu were giving a mandate to shortlist about 54 soldiers to join hands and combat Niger Delta Militants uprising, which the GOC Brigadier Gen Ibrahim Attahiru assigned to two commanders who hails from Northern and another from South Western Nigeria respectively. These commanders will however shortlist all 54 Igbo soldiers.
READ ALSO: Abia to sell Made in Aba boots to Nigerian Army, Police?
Subsequently, one of the enlisted soldiers, saddened by the outcome of this list questioned the process, but the commander picked offense and demanded to know what gave him the audacity to question him, talk more off conceiving to disobey a military order.
The said Commander in display of anger pulled out his gun and shot this young soldier on the forehead, killing him instantly. Another soldier who is among the enlisted soldiers immediately withdrew his own gun and fired the commander thereby killing him too.
However, in a press statement made available to Legit.ng, Colonel Sani Kukasheka Usman, the acting director, Army Public Relations described the report as baseless and at best, mere figment of the author's cynical imagination.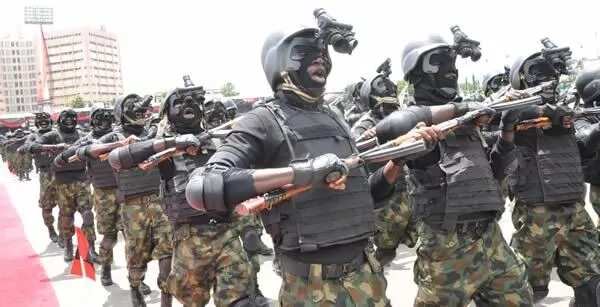 READ ALSO: How Boko Haram condemned children to the scrap heap
The statement by the Nigerian Army reads: "The attention of the Nigerian Army has been drawn to a deliberate and calculated campaign of calumny aimed at misleading the public and cause disaffection among troops, being circulated in the social media by a faceless and obviously subversive group named "EASTERN RADIO". The group created and posted a story titled  "Tribal War at Army Barracks, 82 Division Enugu Three Soldiers Feared Dead" on various social media platforms.
"In the write up, they alleged that there was an altercation in an unnamed barracks in 82 Division over nomination for "peacekeeping operations" which led to exchange of gunfire among imaginary troops that resulted in loss of lives. Apart from obvious flaws and inconsistency in the narration, the Nigerian Army wishes to emphatically state that no such incident occurred anywhere in the Nigerian Army, let alone 82 Division.  In fact, the alleged reported incident existed only in the obviously negatively skewed minds of the authors of such fabrication.
"The intent and goals of this band of miscreants  is to cause distrust amongst own troops and the country's populace at large, which unknown to them is an exercise in futility because the Nigerian Army is cohesive.  Their methodology is to employ such campaign of calumny and distortion of an established reign of peaceful, harmonious and esprit-de-corps culture in 82 Division and the entire Nigerian Army.  However, the campaign is a failed one as the entire Nigerian Army remains indivisible, unprovoked and not gullible to such cheap and heinous insinuations.
"The general public is therefore please requested to discountenance the false story of EASTERN RADIO and their affiliated secessionist groups as there is no iota of truth in the story.
"We would like to inform the public that the 82 Division Nigerian Army is intact in all its locations and deployments, same goes for all the various formations, units, cantonments and barracks of the Nigerian Army. 
"Above all,  the Nigerian Army remains committed to providing aid to civil authority as enshrined in the Constitution of the Federal Republic of Nigeria 1999 (As Amended) and wishes to assure the public of the Chief of Army Staff's unalloyed commitment to protect lives and property whenever called upon to do so in line with extant provisions of the law.
"We wish to also reassure all well-meaning Nigerians that the Nigerian Army remains a national institution which emphasizes peace, unity and mutual co-existence devoid of any sentiments or such variables as ethnic, tribe or religious differences. Any attempt by any individual or group of persons to associate the military and indeed the Nigerian Army with such will be a total waste of time, energy and resources. We are proud professionals bound by discipline, unflinching love, loyalty, espirit-de-corps and love for our colleagues and our country. We would remain focussed and would not be distracted by irritating campaigns of calumny or fabricated lies by some unscrupulous elements.    
"It is therefore very imperative at this point to warn all those mischief makers to desist from these unpatriotic and  obviously subversive acts in any guise."
Meanwhile, the dreaded Boko Haram sect has denied any suggestion it might surrender, saying the war will not end.
In a new video released on Friday, April 1, which had men holding AK-47s posing in front of Toyota Hilux pick-up trucks and a lorry mounted with a military cannon, the sect said it was a potent fighting force.
READ ALSO: Nigerian army recruitment – should I join the army or airforce?
Source: Legit