- Nnamdi Kanu explains his decision to restore Biafra
- He claims that Biafra is raised up, or I am lowered in the grave
- The IPOB leader also said that Biafra can't secede from Nigeria as it's older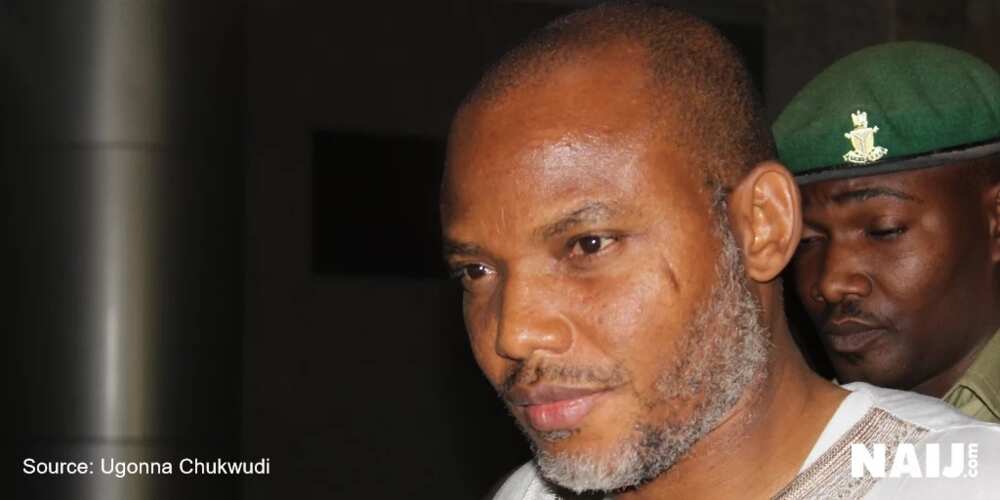 The leader of the Indigenous People of Biafra (IPOB) Nnamdi Kanu in the interview granted to Ejike Ofoegbu from Family writers speaks about the Biafra issue.
Speaking on why he decided to restore Biafra Kanu said: "First. It was not a choice I made to restore Biafra, it was a call from the must high Chiukwu Okikiabiama to lead his people out from the contraption called Nigeria, which have no meaning, what so ever. And I have dedicated my life to get Biafra or I die trying to restore Biafra. The reason why my mother gave birth to me, is to restore and save Biafrans."
READ ALSO: Why Buhari supports Western Sahara, but won't tolerate Biafra – presidency
He added: "The Biafran race will be cleaned up from the face of the earth, you will come back home, if you are living outside the country, you will no longer no the road to your fathers land.
"How can I encourage my people to work towards the upbringing of Nigeria, when we don't hear the same language, we don't eat the same food, we don't have the same culture, in fact if I come to their land to practice my culture.. I will be beheaded. Their women wear hi-jab, and Biafran women don't, and on the point that our women don't wear hi-jab, they will be seen as infidels, and on that note will be beheaded. We are 100 % Christian. This people are Muslims who see killing as a culture.. From where I came from, it hard for my people to kill a human being, because in my language human being is called Mmadu which means the beauty of life, now you see it will never work, the only solution is Biafra."
Kanu further stated that there is no regret in his dictionary, adding that he is ready to spend a thousand years in a prison.
"I said and will continue to say that, is either the flag of Biafra is raised up, or I am lowered in the grave," the Biafra leader noted.
While being asked what he wants to say his supporters, Kanu said: "ProBiafra means supporters of Biafra, we are Biafrans, so I can't be a supporter of Biafra. And also we are not trying to secede from Nigeria. We are older than Nigeria. You can only talk about seceding if Biafrans are they ones that colonized Nigeria. But we are older than that contraption. So we can't secede rather we just want to go back the way we were before the British came. It is Biafra or death, even Buhari knows that…"
READ ALSO: Check out 5 powerful reasons why some Biafrans are not supporting independence
Kanu, who is a dual British-Nigerian citizen, was arrested in Lagos in October by Nigerian intelligence agents during a visit from London. He leads the IPOB, a separatist movement calling for the independence of the southeastern territories that made up Biafra in the late 1960s.
The Biafra leader denied all six of the charges against him, which include treasonable felony, a charge that carries a possible life sentence.
He wrote to the British government asking to press President Buhari to release him from the custody.