- Captured would-be suicide bombers had 24 kg of explosives on themselves
- BringBackOurGirls group says self proclaimed Chibok bomber is a victim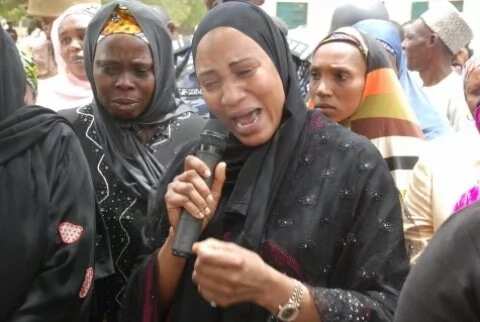 One of the young women who was arrested in Cameroon and claimed to be Chibok girl had 12 kilogram of bombs with her.
The regional governor Midjiyawa Bakari said that the second would-be suicide bomber also wear a belt load of 12 kilos (26 pounds) of explosives.
He said: "Two suicide bombers were arrested by members of Limani's vigilance committee.
"Each of them was carrying 12 kilos of explosives… (and) was looking for somewhere to blow themselves up during the Easter weekend."
READ ALSO: One of the Chibok girls turned to suicide bomber found in Cameroon
"During questioning, one of them said she was "one of the girls kidnapped from (Chibok in) Nigeria, but we are treating this statement with caution," the governor stated adding that the matter would be investigated.
"Such would-be attackers "are often drugged and can say anything," he added.
The two girls were taken for investigation by the Cameroonian force of the five-nation force set up to fight Boko Haram that also comprises Nigeria, Benin, Chad and Niger.
The BringBackOurGirls (BBOG) group has said that the supposed suicide bomber is a victim despite the situation.
The BBOG added that the claim by the young girl should re-awaken the Nigerian authorities on the need to quickly rescue the Chibok girls who will soon be celebrating two years in captivity.
"This development suggests that we now have a possible source of credible intelligence as to what transpired, where the others are, and other leads required to facilitate their rescue.
READ ALSO: Boko Haram kills scores in a fresh raid 
"Regardless of whether she is one of our Chibok girls or not, our thoughts and sentiments remain the same.
"Using children, girls who should be in school (or any humans at all) as suicide bombers is not only tragic and cruel, it is completely reprehensible and we denounce it;
"These children suicide bomber are themselves victims, and must be seen and treated as such," the group said in a statement.
Presidential media aide Garba Shehu has said that two parents from Chibok selected to embark on the trip to Cameroon to verify the identity of thee girl are Yakubu Nkeki, chairman of the Chibok Abducted Girls Movement, and Yana Galang, the group's women leader, whose 16-year-old daughter Rifkatu is among the missing.
He said: "We hope that the Chibok parents will be able to identify the girl and determine whether she is indeed one of their missing students."
276 schoolgirls were abducted by the Boko Haram on April 14, 2014 as they were preparing for end-of-year exams in the Chibok town. This development caused an international outrage.
Later 57 of girls managed to escape within hours of the attack, but there has been no news about the remaining 219 still held in captivity.