- Indications have emerged that the All Progressives Congress (APC) has not paid some of its outstanding campaign expenses
- More than 70 outdoor advertising companies contracted to handle the Ambode/Buhari campaign billboards in Lagos are still waiting to get paid
- Advertising practitioners reveal that they are enduring a choking debt burden
Legit.ng has been told that the companies that ensured that President Muhammadu Buhari and Governor Akinwunmi Ambode billboards took over 95% of the available billboards in Lagos have not been paid up to 5% of their payments for the job.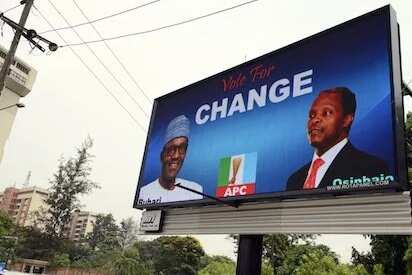 The outdoor advertisers lamented that they were invited by the former Lagos State Signage and Advertisement Agency (LASAA) managing director, George Noah during the election campaigns to do the jobs but only one or two who insisted on being paid were paid partially, with more than 70 companies remaining in limbo.
"The new MD, Mr. Mobolaji Sanusi has refused to honour the agreement between us and his predecessor, yet his men have started clamping down on our members since around October last year, shutting down our billboards for non-payment of their own dues.
"He has also sent new bills for the year while the billboards are not working since he shut them down but we have explained that the APC billboard monies have not been paid to us by the former MD, George Noah who he claimed has been paid by the All Progressives Congress, Lagos," a part of their statement read.
READ ALSO: Buhari attends Murtala's 40th memorial lecture, extols former president (photos)
When pressed on why they have not met with Noah over the matter, a member of tone of the companies said: "Our association has met with him but he is insisting that the APC is yet to pay him, all he keeps saying is that he is still talking to his principal but all we are asking for is payment for jobs we did."
On why they have kept quiet about it till now, another interviewed member representing one of the affected companies said: "We hesitated from coming out till now because we don't want to embarrass the government or the APC but we were advised by the current LASAA MD, to go after George Noah and the company he used to issue the media order, 'Media Worth'.
Meanwhile, media reports earlier today suggested that President Buhari may deactivate some of his social media accounts.
The president's media aide on a new media Tolu Ogunlesi said an audit had started with a view to close down the redundant ones.