FG suspends pension boss, three others
- Nellie Mayshak, the executive secretary/director general of the Pension Transitional Arrangement Directorate has been suspended
- The federal government did not give any reason for her suspension
- The minister of finance, Kemi Adeosun, who confirmed the suspension also disclosed that three other senior officials were suspended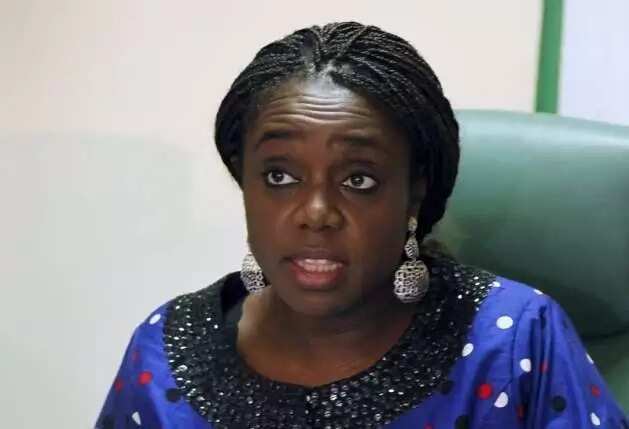 The federal government has suspended Nellie Mayshak, the executive secretary/director general of the Pension Transitional Arrangement Directorate (PTAD), Premium Times reports.
READ ALSO: FG to save N4bn on annual travel costs
The minister of finance, Kemi Adeosun, who announced the suspension on March 18, declined to give reason for the federal government's decision.
She confirmed that the indefinite suspension takes immediate effect, adding that three other senior officials of the directorate were also suspended.
Mrs. Adeosun said a director from the office of the accountant general of the federation (OAGF) has been appointed as acting executive secretary/director general of the agency.
She described Mrs. Mayshak's suspension as a normal civil service procedure aimed at creating the way for unhindered investigation into the activities of the directorate under her leadership.
The minister promised pensioners that the suspension of the former pension directorate helmsman would not interfere with pension payment and services.
Mrs. Adeosun also pledged to make public the discoveries of the investigative panel on the issues that resulted in the suspension of Mrs. Mayshak and others.
The Pension Transitional Arrangement Directorate was established in August 2013 under the Pension Reform Act of 2004 to supervise the management of pensions under the defined benefit scheme for pensioners not transiting to the contributory scheme.
READ ALSO: CBN suspends deputy Gov, directors for multi-million naira fraud
The suspension might connected with the alleged fraud running into billions of naira that was recently discovered at the office of the federal ministry of finance. Though details of the alleged fraud are still sketchy, the recently introduced biometric registration by banks also exposed many shady activities in the directorate.
The Cable reports that Mrs. Mayshak allegedly received a monthly salary of N60 million, which is believed to be the highest of any government official in the country.
Source: Legit.ng