Lawmakers dump Kwankwaso's red cap, support Ganduje
- 44 Kano lawmakers dump the dominant red cap, an identity of the Kwankwasiyya movement, the political slogan of the former governor
- The lawmakers pinch tent with the Gandujiyya Akida movement to support incumbent government, Abdullahi Ganduje
- The change by the lawmakers brings an end to the era of 'redcap revolution' introduced in 2011 by former governor Kwankwaso
At least fourty-four Kano state legislators on Tuesday, March 15, angrily removed their symbolic red caps, as a symbol of their support to the incumbent governor, Abdullahi Ganduje, who recently fell out with his predecessor, Senator Rabiu Musa Kwankwaso, The Nation reports.
The mild drama occurred when the Kano state House of Assembly members paid a solidarity visit to Governor Abdullahi Umar Ganduje, at the state government House.
Led by the Speaker Kabiru Alhassan Rurum, the lawmakers decided to publicly show their support to Ganduje, as they wore different attires and caps, a departure from the dominant red cap, an identity of the Kwankwasiyya movement, the political slogan of the former governor.
READ ALSO: Agitation as Ganduje, Kwankwaso battle for supremacy
The change by the lawmakers brings an end to the era of 'redcap revolution' introduced in 2011 by former governor Kwankwaso.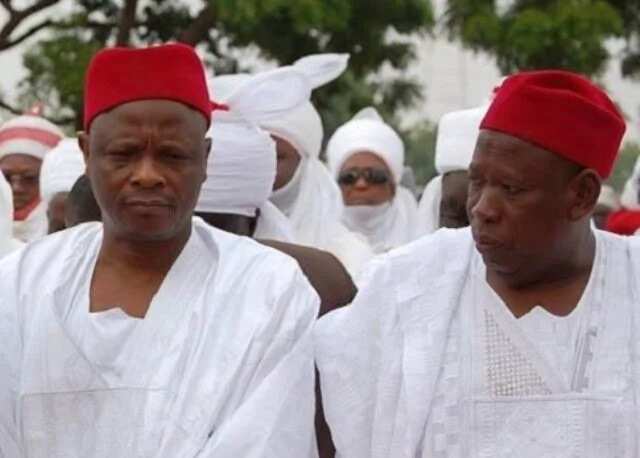 It was gathered that the 44 local government chairmen dumped the red cap in support of the Gandujiyya Akida.
A lawmaker, who preferred anonymity, said: "As you can see, the Speaker and members came here for a solidarity visit and to reassure the governor that we are behind him.
"We have dumped the red cap and joined the Gandujiyya Akida Movement. We promise to ensure its success."
The Speaker said they had decided to get rid of the red cap that had become a fashion, not only amongst the political class but virtually all male persons in Kano.
READ ALSO: FG announces Ocholi's official burial date
According to them, their decision is to allow the present state government have space to fulfil its mandate to Kano people.
Governor Ganduje had earlier accused Senator Rabiu Musa Kwankwaso of encouraging and promoting political thuggery. Ganduje hinted that Senator Kwankwaso was not on the same page with President Muhammadu Buhari.
His remarks came after Senator Kwankwaso had led a group of party supporters to condole with him over the death of his mother.
During the visit, which was the first major political outing of the senator, his supporters were said to have continuously insulted the bereaved governor and his cabinet members, turning what ought to have been a sober event into theatre of political conflict. They were also said to have waved banners supporting the senator to run for president again in 2019.
Kwankwaso ran his first tenure as governor of Kano state in 1999 but lost his re-election bid to Governor Ibrahim Shekarau who was in office for eight years, from 2003-2011.
However, Kwankwaso was re-elected governor in 2011 and proceeded to the Senate in 2015 at the expiration of his tenure. Before proceeding to the Senate, he ran for president on the APC platform but had lost the party's presidential ticket to Muhammadu Buhari, ending in second place.
Source: Legit.ng