- President Muhammadu Buhari explained that 150 billion cubic meters of associated gas (AG) is flared yearly out of which Africa flares about 40 billion cubic meters yearly
- President Buhari stressed the need for APPA to identify the development of domestic refining capability in oil and gas as it is critical to sustainable economic growth
- Buhari tasked African ministers of energy to seek more cooperation mechanisms to expand regional refining capacities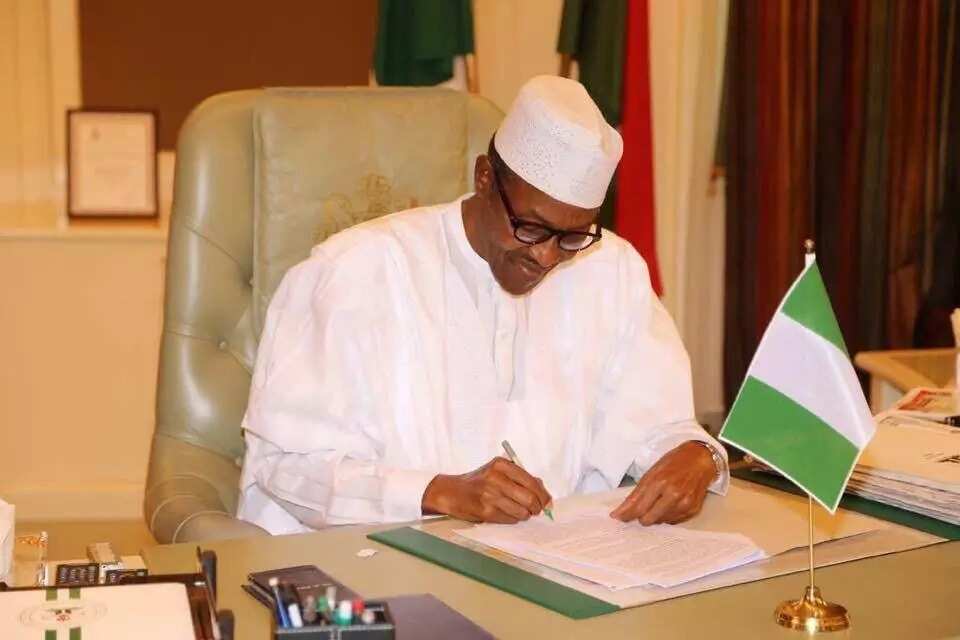 As part of efforts to reposition the country's oil sector, President Muhammadu Buhari has set new target for the production of crude oil, The Nation reports.
READ ALSO: Buhari's single issue government and the change of lies
The president, who was represented on March 14 by Vice President Yemi Osinbajo at the sixth African Petroleum Congress and Exhibition (CAPE VI) in Abuja, disclosed that government has commenced the process of cutting production costs to boost exploration in order to achieve a production level of about 2.8 million barrel per day (mbpd).
President Buhari said the quantum leap would be 30% increase of production level of 2.4 mbpd being pursued.
"In Nigeria, as part of our strategies to reposition the oil industry, this administration has commenced the process of implementing carefully conceived initiatives, to reduce production costs and encourage efficiencies in oil exploration so as to achieve a 30 per cent increase in daily production levels (to about 2.8mbpd)," he said.
The president further revealed that the country is working on ways to reduce gas flaring through Joint Venture (JV) contracts that will expand infrastructure and deploy liquified natural gas (LNG) for domestic and industrial uses.
He reminded the ministers of energy of the 33rd Ordinary Session of the Council of Ministers of African Petroleum Producers Association (APPA) that in processing Africa's hydrocarbon resource, environmental issues should be serious considered.
The president stated that globally, no fewer than 150 billion cubic meters of associated gas (AG) is flared yearly, adding that out of this figure, Africa flares an estimated 40 billion cubic meters annually.
"In Nigeria, gas flaring amounts to about 23 billion cubic meters per annum; in over 100 flare sites constituting over 13 per cent of global gas flaring. Nigeria is a member of the World Bank Global Gas Flaring Reduction (GGFR) Partnership and with the support of our legislature; we will sign the United Nations Agreement of "Zero Routine Flaring by 2030" although our national target is 2020. I urge all APPA member countries to set realistic targets for gas flare-out in the region," Buhari said.
The president, who noted that Africa must substantially achieve value addition in the exploitation of its natural resources, reiterated the need for APPA to know that the development of domestic refining ability in oil and gas sector is crucial to sustainable economic growth.
READ ALSO: FG discovers N3.3 trillion fraud in its agencies
"I challenge African Ministers of Energy to further explore cooperation mechanisms to expand regional refining capacities in an efficient and cost effective manner. Let me assure that Nigeria is ever ready to provide support in manpower development through the Federal University of Petroleum Resources, Effurun and the Petroleum Training Institute, Warri," Buhari said.
As efforts continue to reposition the nation's oil and gas sector which is the major source of revenue to the Nigerian government against the backdrop of global fall in crude oil prices, Dr. Ibe Kachikwu, the minister of state for petroleum resources, who recently spoke in Abuja, disclosed that Nigeria is targeting 2.4 million barrels of crude oil per day (mbpd) in output in 2016.
The minister made the disclosure while listing his plans and strategy for the nation's oil and gas sector for the year. He also explained that the production volume of 2.4mbpd would be pursued by his ministry even though it wasn't used as a production benchmark of the 2016 budget.
Source: Legit.ng