- Pa Jacob said has has not being paid his N15,000 monthly salary for the past six months
- pa Jacob said the robbers used machete to chop off his wrist when he went to check an unusual noise at the plant house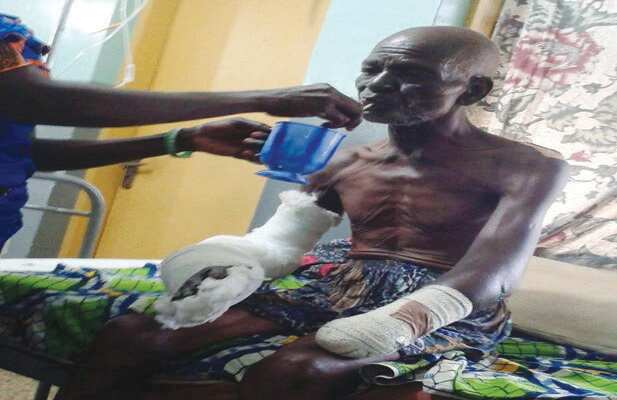 An old man identified as Pa Jacob Ikilo has lost his wrists to dare devil armed robbers at Eyaen village, on the Benin-Auchi Road, Edo state.
The elderly man who lost his wrists while on night duty as a security man is currently receiving treatment at the Male Orthopaedic Ward of the University of Benin Teaching Hospital (UBTH), where doctors are reportedly battling to save his right wrist after a tiny blood vessel kept it alive.
The wrists requires N380,000 to be fixed back.
READ ALSO: REVEALED: Ambode plans on Poverty alleviation in Lagos
Speaking on the incident, pa Jacob said the robbers used machete to chop off his wrist when he went to check an unusual noise at the plant house.
"When I was coming from the generator house, they surrounded me. They just cut off this my hand (left hand). As I shout, they said shut up and cut the other hand. I fell down and started asking them to leave me, that I was dying."
Pa Jacob said has has not being paid his N15,000 monthly salary for the past six months.
Source: Legit.ng