The age of 'youth' has for too long been seen as an age of much strength and vigour channeled into foolishness, however, the times have changed and knowledge has increased. The world has experienced innovations and exploits in various facets of life, championed by young people.
Hence, following the trend of this age in which the youths or young people as some may term them, are doing greater things than their fathers and generations before them, many nations have thought it wise to place trust in the capabilities of their young people to actualise the transformation agenda.
It is in this light that a nation like the US continued in its tradition of believe in youths, by giving Barack Obama the mandate to rule. As of the time of his inauguration on Tuesday, January 20, 2009, the brilliant Obama was only aged 47 years, 169 days.
READ ALSO: 18 facts about luxurious penthouse of the new president of the USA Donald Trump (photos)
Now bringing it down home to Nigeria, the military era saw a rule by very young individuals; and many analysts argue that the era was a very prosperous one especially when compared to most of the civilian dispensations. For instance, a recent survey by Nairametrics has revealed that former military president of Nigeria, late General Sani Abacha, performed more than every other Nigerian ruler since 1999 with the capital expenditure against the recurrent expenditure.
Back to age playing a role in the growth of the era, statistics shows that asides from Abacha who was 50 when he assumed power, and the caretaker government of General Abdulsalami Abubakar who was 56 at the time; the oldest of Nigeria's military rulers was 44; and that was between General Olusegun Obasanjo and General Ibrahim Badamosi Babangida.
Others were between 30 and 40, and asides the troubles that accompanies dictatorial government, most Nigerian military rulers  performed optimally; hence debunking all the usual rubbish about the youth age.
This yardstick has been set, having taken into consideration the average age of all those who have ruled Nigeria both past and present. However, you will be fascinated at the age of these top seven candidates who have been chosen based on their works, achievements and outstanding records.
7.  Adeniyi Olusegun
This journalist was born in Ile-Ife on November 6, 1965. He chairs that editorial board of This Day newspapers and was a former presidential spokesman for the late President Umaru Musa Yar'Adua.
He holds a BSc in International Relations from Obafemi Awolowo University, Ile-Ife with a Masters in International Law and Diplomacy (MILD) from the University of Lagos in 1997.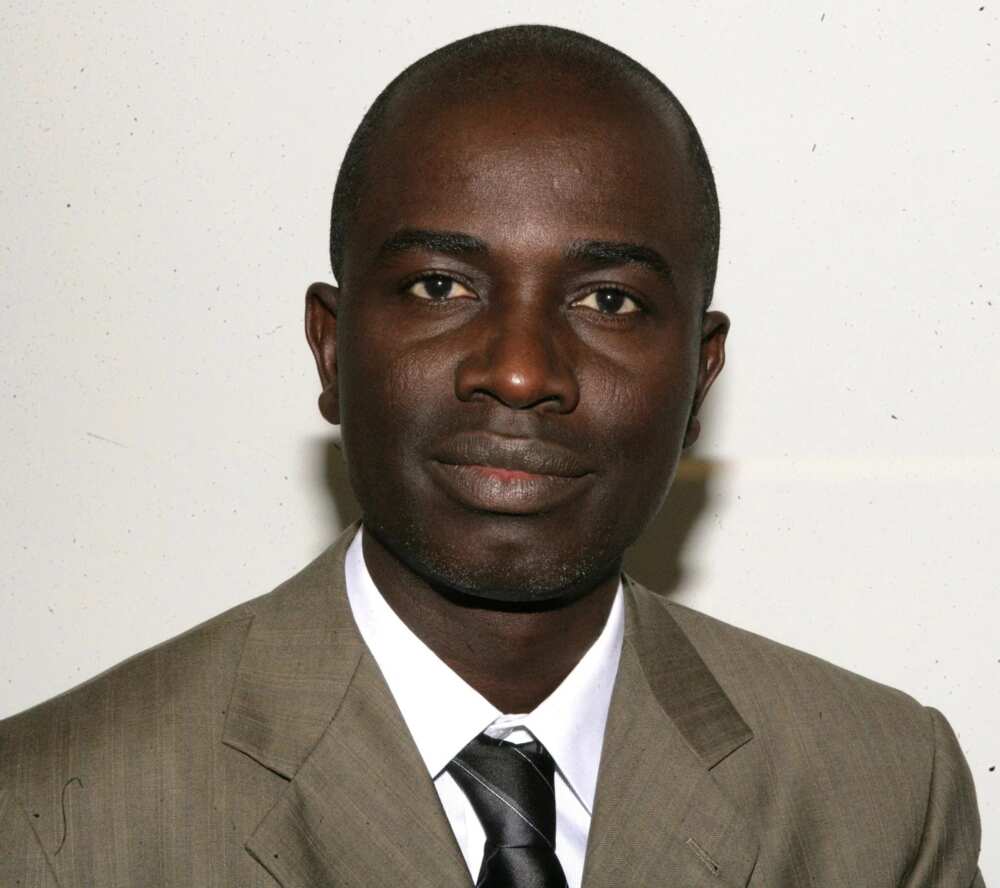 He was also a Fellow at the Weatherhead Centre  for International Affairs, Harvard University where he spent the 2010/2011 academic session. He conducted his research on the factors that shape incumbent presidential elections in Africa.
This astute journalist and learned fellow is a founding member of the National Stakeholder Working Group of the Nigeria Extractive Transparency  Initiative (NEITI).
In 1992, he won the Jakande Prize or Political Reporter of the Year at Nigeria Media Merit Awards (NMMA).
6. Kayode Fayemi
Born on February 9, 1965, John Olukayode Fayemi, is the former governor of Ekiti state and a native of Isan-Ekiti in Oye local government of Ekiti state.
A well read fellow, he attended Christ's School Ado Ekiti from 1975-1980 and received degrees in History, Politics and International Relations from the Universities of Lagos and Ife in Nigeria and his Doctorate in War Studies from the prestigious King's College, University of London, England, specializing in civil-military relations.
His research and policy interests include: Democratisation, Constitutionalism, Security Sector Governance, and Regionalism in the Global Context.
Fayemi ran for the Ekiti state governorship in the 2007 elections on the platform of the Action Congress party.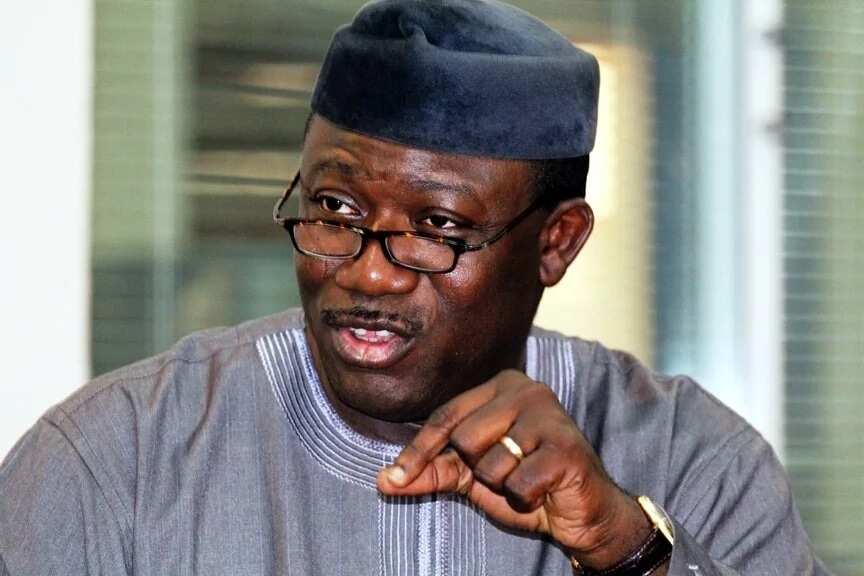 Fayemi has headed many organizations, including the Centre for Democracy & Development. He was also a technical expert to the Economic Community of West African States (ECOWAS) on small arms and light weapons and United Nations Economic Commission of Africa on governance issues.
READ ALSO: Must read: These ten Nigerian leaders caused Boko Haram, Biafra and corruption
A member of the Africa Policy Advisory Panel of the British Government. At other times he has served as a consultant to the OECD on Security Sector Reform and chaired the Commonwealth Human Rights Initiative's Committee of Experts on developing guiding principles and mechanisms of constitution making in Commonwealth Africa.
5. Senator Shehu Sani
This Nigerian lawmaker was born on October 29, 1967. He is an author, a playwright and a renown human rights activist.
He is the president of the Civil Right Congress of Nigeria (CRCN) and the chairman of Hand-in-Hand, Africa.
He was a leading figure in the struggle for the restoration of democracy in Nigeria.
The senator has experienced incarceration by past successive military regimes in Nigeria. He was released from life imprisonment when democracy was restored in Nigeria in 1999. He contested and won the Kaduna Central Senatorial District on March 28, 2015.
Sani was born in Tudun Wada Kaduna. He had his primary schooling at Local Government Education Authority (LGEA), Badarawa, and Kaduna between 1975 and 1980.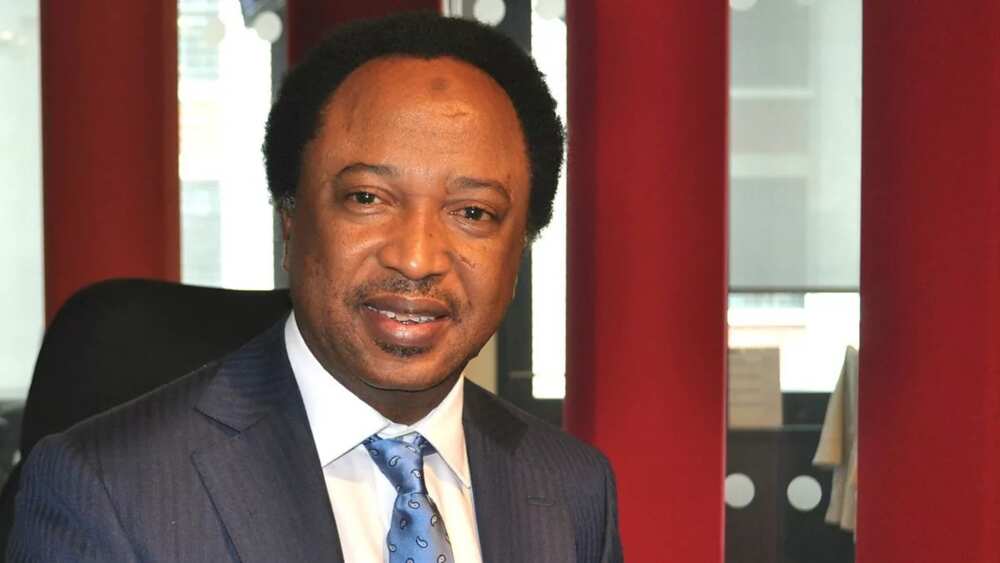 The legislator enrolled at Government Day Secondary school, Kagara, Niger State 1980–1984 and proceeded to Government Science College School, Kagara, Niger state.
He gained admission into the Kaduna Polytechnic in 1984, to study Agricultural Engineering up to HND level, in 1993.
In September 4, 2015, he became the first and only Nigerian senator to declare his assets publicly after President Muhammadu Buhari.
He is a very prolific playwright and writer with many awards to show for his ingenuity. To his many accolades is the title "Hero of Democracy" an award bestowed by Tell Magazine.
4. Mallam Nuhu Ribadu
He rose to fame due to the way he carried out his duties while serving as the pioneer Executive Chairman of Nigeria's Economic and Financial Crimes Commission (EFCC), under the Chief Olusegun Obasanjo administration.
Nuhu Ribadu who was born on 21 November 1960 also served as the Chairman of the Petroleum Revenue Task Force.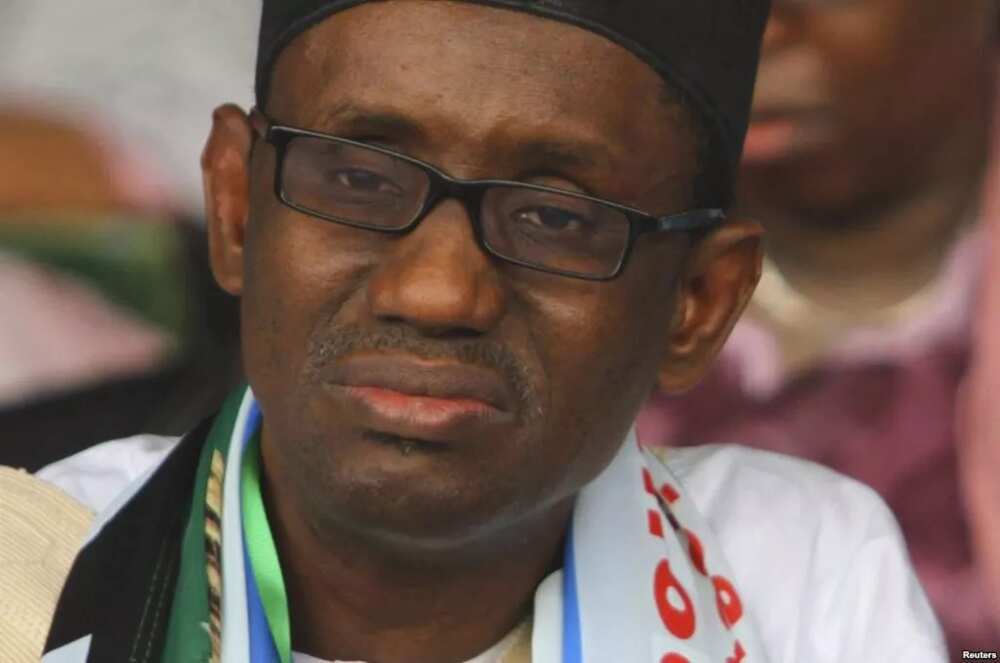 An erudite scholar in his own right, he studied law at Ahmadu Bello University in Zaria, Kaduna state from 1980 until 1983, receiving a Bachelor of Laws degree.
He was called to Bar in 1984, following a year at the Nigerian Law School.  He also earned a Master of Law degree from the same university.
In April 2009, he became a visiting fellow at the Center for Global Development.
He is also a TED Fellow and a Senior Fellow in St Antony's College, University of Oxford, UK.
Ribadu was forced into exile from 2009, following some controversies within the Nigerian police force. In 2010 when he returned to Nigeria and declared his intention to run for President of Nigeria under the platform of the Action Congress of Nigeria (ACN).
On Friday, 14 January 2011, Nuhu Ribadu was adopted as the presidential candidate of the ACN.
In August 2014, He defected to the ruling party PDP with the intention to run for the Governorship of Adamawa State, North East Nigeria.
Ribadu told the BBC on 20 October 2006, that over 380 billion dollars had been stolen or wasted by Nigerian governments since independence in 1960.
3. Dr Akinwunmi Adesina
Former minister of Agriculture and rural development, and current president of the African Development  Bank (ADB), Adesina is a man with an enviable record.
Prior to his appointment as minister in 2010, he was Vice President of Policy and Partnerships for the Alliance for a Green Revolution in Africa (AGRA).
Born on February 6, 1960, in family of an Ogun state farmer, Adesina toed a line of business which he was all too familiar with. He received a bachelor's degree in Agricultural Economics from the University of Ife (Obafemi Awolowo University) and a PhD in Agricultural Economics from Purdue University (1988).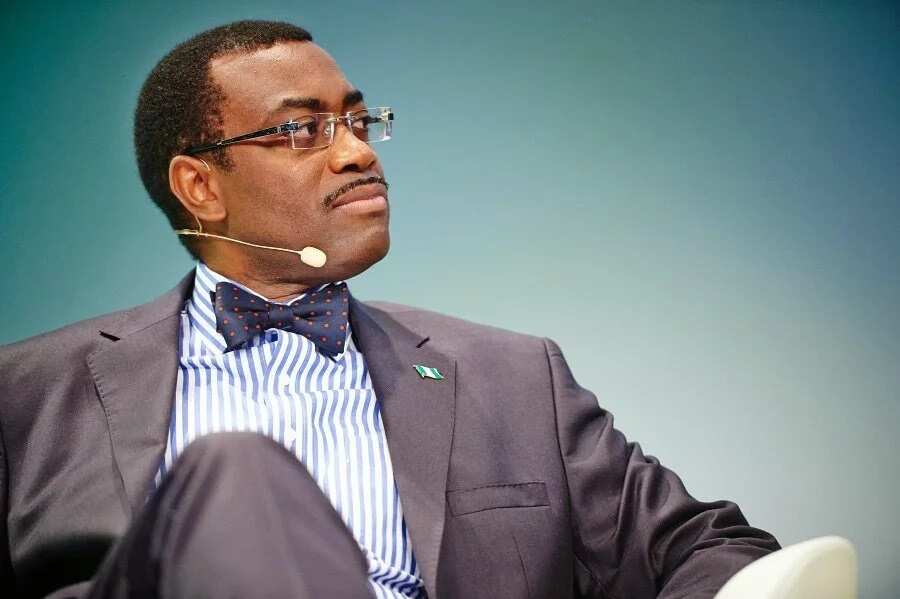 Adesina worked at the Rockefeller Foundation after winning a fellowship from the Foundation as a senior scientist in 1988.
He was the representative of the Foundation for the southern African area from 1999 to 2003, when he began to serve as associate director for food security until 2008.
He was named as Forbes African Man of the Year for his reform of Nigerian agriculture. He introduced more transparency into the fertiliser supply chain, and  also said that he would give away mobile phones to farmers but this proved too difficult. One of the reasons was the lack of a mobile network in many rural areas where agrarian societies thrive.
He is the first Nigerian in history to be President of the African Development Bank.
In 2007, he was awarded the YARA Prize for the African Green Revolution in Oslo. A year after, Purdue University's College of Agriculture gave him their Distinguished Agricultural Alumni Award.
Two years later, Adesina was awarded an Honorary Doctor of Humane Letters by Franklin and Marshall College, and in 2013, he was named as Forbes African Person of the Year.
Silverbird Television gave him an Extraordinary Achievement Award on May 5, 2015.
2. Sullivan Iheanacho Chime
He was governor of Enugu state between 29 May 2007 and  29 May 2015. Sullivan was born on 10 April 1959 at Park Lane Hospital, GRA, Enugu, Enugu state.
The father of five attended the College of Immaculate Conception (CIC) in Enugu for his secondary education (1971 - 1976).
He went on to study for a law degree at University of Nigeria, Enugu Campus, graduating in 1980.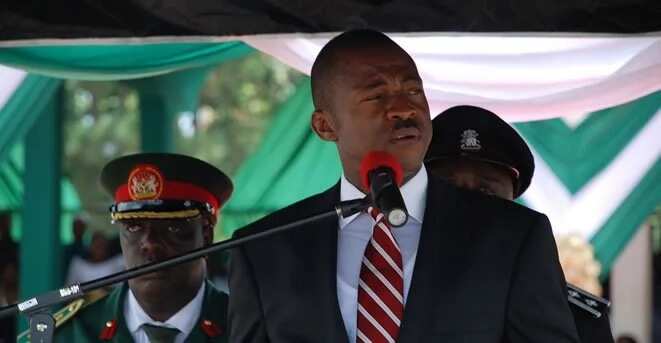 Later, he was appointed special adviser (Legal Matters) to the Governor of Enugu State, Dr Chimaroke Nnamani. In 2001, he was appointed Attorney General and Commissioner of Justice of Enugu State.
While in office, Chime favoured a 4-point agenda for development: Physical Infrastructure, Economic Expansion and Employment, Rural Development and Service Delivery.
Under his administration, Enugu state was declared the state with the least crime rate, and one of the safest places in Nigeria.
1. Donald Duke
Born in Calabar on September 30, 1961, he served as the governor of Cross River state, from 29 May 1999 to 29 May 2007.
Records reveal that his father, Henry Etim Duke, is the second indigenous (after Ayodele Diyan) and longest ever serving Comptroller General (then referred to as Chairman board of Customs and excise duties) of the Nigeria Customs service.
He received an LLB degree in 1982 from Ahmadu Bello University, Zaria, the B.L in 1983 from the Nigerian Law School, Lagos and the L.L.M. in Business Law and Admiralty in 1984 from University of Pennsylvania. He is indeed a learned fellow.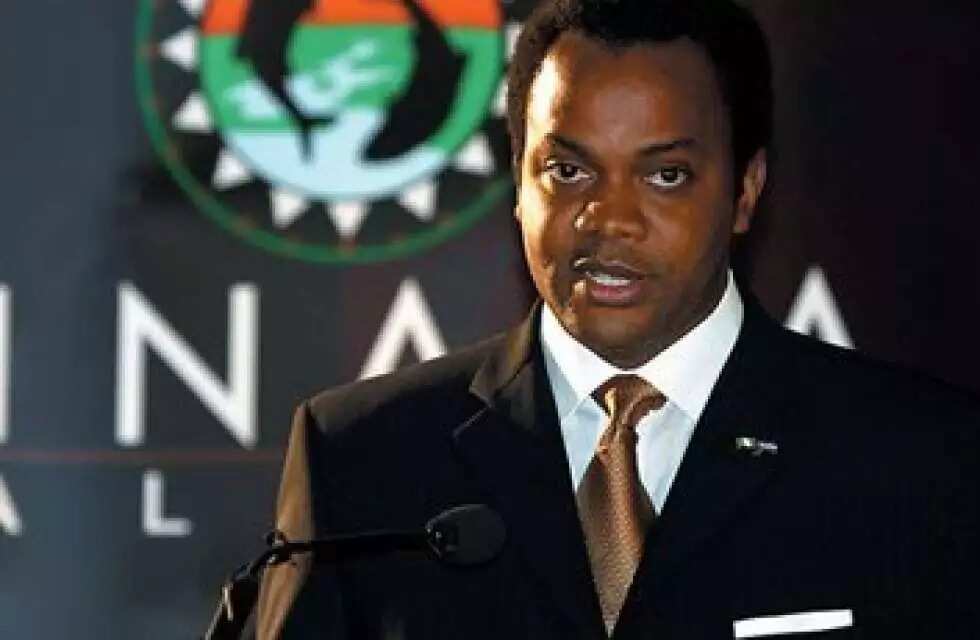 Donald Duke is reported to have spearheaded the incumbent debt of Nigeria, pushing for democracy and against military control.
In one of his ever brilliant and charismatic speeches, he said: "What got the military out of power was not democracy but the dreadful state of the economy. If we, the democratic government, cannot deliver food for the mass of people we can forget about democracy."
Duke has been praised for his contributions to the fields of agriculture, urban development, government, environment, information and communication, investment drive, and tourism.
READ ALSO: Must read: These 5 powerful people may threaten unity of Nigeria in 2017
While serving as governor, Calabar was seen as the "cleanest city in Nigeria.", a quality that is still maintained years after he left office.
In conclusion, a careful observer would notice that no female was on the list. This was done deliberately, Legit.ng would love to know your choices of women or ladies who you believe have the capability to rule Nigeria.
Also for those who have noticed that the people on the list above are about 50 and slight above 50-years. Hence, Legit.ng would also like to know you top five people 40-years and below, who you deem fit to oversee the affairs of Nigeria.