- Fayose is said to be undergoing a multi-faceted probe over sundry allegations
- Ekiti commissioner for finance is undergoing interrogation on how 5.2 billion paid to the state as money spent on federal roads was spent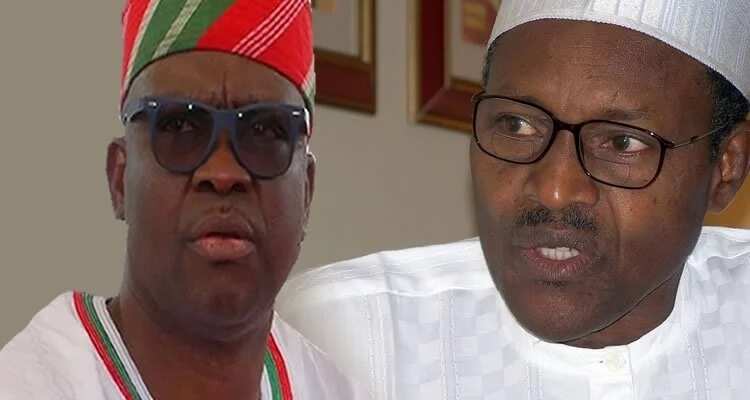 The battle between the Ekiti state government and the Department of State Service (DSS) has taken another dimension has the Ekiti state finance commissioner, Mr Toyin Ojo has been arrested by the DSS.
DSS had arrested two members of the state house of assembly prompting Fayose threatening to ban the secret service from Ekiti government house and other government buildings in the state.
READ ALSO: FG plots fresh heavy sanctions against MTN, Others
According to report, the commissioner was picked on Monday, March 7 when he reported to the national headquarters of the service.
He is reportedly undergoing interrogation on how 5.2 billion paid to the state as money spent on federal roads during the regime of President Goodluck Jonathan was spent.
Punch also reported that two other commissioners have been invited by the DSS. The commissioners are Mr Owoseni Ajayi and Kolapo Kolade the commissioners for Justice and local government affairs respectively.
Also in the net of the DSS is the immediate past chairman of the state internal revenue board, Ropo Ogunjobi.
Fayose is said to be undergoing a multi-faceted probe over sundry allegations, the report added.
READ ALSO: Bribery: Saraki's media speaks on giving journalists money
DSS has also reportedly invited a member of the state judicial service commission, Mr Femi Adewale.
Recall that Fayose has been avid critic of the President Muhammadu Buhari led APC government.
Meanwhile, some members of the Ekiti state House of Assembly have warned of an impeachment plot and revealed that they were offered $1 million to remove Governor Ayodele Fayose.