Analysis: Melaye, Oshiomole and made in Nigeria women
- Senator Dino Melaye had supported a motion seeking Nigerians to buy 'made in Nigeria' products
- The senator mocked Governor Oshiomole for marrying a 'foreign' wife
- Melaye is known for his controversial motions in the Senate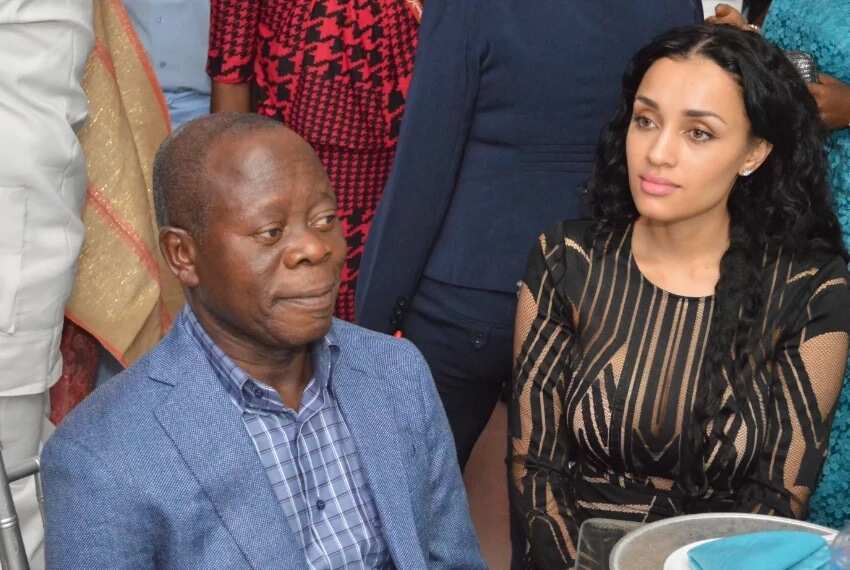 It was Dino Melaye who started it all. The controversial senator needs no introduction. He is the chairman House Committee on Federal Capital Territory, a self-confessed born again politician and self-styled anti-corruption activist. Senator Melaye has been in the eyes of the storm of lately.
It was he who proposed on the floor of the Senate that the house should consider banning or regulating the social media. Even though he got a lot of flacks for that unregulated outburst, he still has not backed down from his many bizarre faux pas.
In one breath, in his brief public life, he has 'transformed' from being a hard-spending, lavish life style to a self-styled anti-corruption activist.
READ ALSO: "We must start appreciating made in Nigeria women"
The senator took his outrage a notch a few days ago when he fired a shot at the Comrade Governor of Edo state, the irrepressible Adams Oshiomole. Well, we all know Oshiomole's story.
The fiery and loquacious labour leader who himself is not known to shy away from controversy had taken a new wife after the unfortunate demise of his first wife. The move had sent tongues wagging.
The dashingly beautiful wife of 'Osho baba' is not a Nigerian. She is from Cape Verde. She is much younger than Oshiomole. Many had worried how a much older Oshiomole will find the energy to cope with the nuptial demand.
But Osho recently proved doubters wrong when the First Lady of Edo gave birth to baby boy. 'Osho baba' showed to detractors that he was in charge.
But we all thought we had got used to the drama of Oshiomole's fairy tale wedding when Melaye added his voice to the charade of 'patronise made in Nigeria product' on the floor of the Senate.
The lazy and 'undistinguished' senators of Nigerian Senate known for their many off the cuff and superficial interventions on national  issues were entertaining themselves on one of their circus shows.
What really happened
This week on the floor of the Senate, Senator Melaye while contributing to a motion initiated by another joker of a senator, Eyinnaya Abaribe seeking the need to patronise products made in Nigeria, mocked Oshiomole for marrying a foreign wife.
Melaye, who is from Kogi West senatorial district, while contributing to the motion, took a swipe at Oshiomole, saying Nigerians should not emulate the governor whom he said opted not to "patronise 'made in Nigeria women but a foreign one".
Melaye was referring to Iara, the wife of Oshiomole, whom he married from Cape Verde in the region. In his characteristic boisterous, holier than- thou postulation, Melaye had said:
''I want to celebrate the 'Made-in-Nigeria senator' for bringing up this motion. In considering goods produced in Nigeria, we must look at the enabling factors that will necessitate the goods.
"It is beyond having one made in Nigeria attire and having over 70 designers' attires in your wardrobe. We must reduce the allocation for made-in-Nigeria goods and services to the basics. "What are those factors limiting the production of these goods?
''We must tackle them. We must also begin to look at our legislation, then we will begin to talk about made-in-Nigeria goods. We will also move in order to encourage made-in-Nigeria products and begin to talk about made-in-Nigeria women.
"Apologies to my uncle, the Governor of Edo State, we must as a people stop paying dowries in dollars and pounds. It is time for my colleagues here to become born again. What is wrong with finding a foreign wife?''
Now it beats my imagination why a Senator of the Federal Republic should target a sitting governor and a member of his party over his personal choices.
How does Oshiomole marital choices put food on Nigerians table? How does it affect the price of garri in the market or put fuel in our cars?
And even if Oshiomole's marital decision can solve all our problems as a nation, how does the warped analogy by Melaye justify patronising made in Nigeria goods?
Has it not been said that out of the abundant of the heart the mouth speaks?
Perhaps Dino Melaye has an axe to grind with the Edo governor. Otherwise, why raise such personal issue on the floor of the House?
READ ALSO: Oshiomole's daughter defends her dad over his marriage
Now let's take a holistic view of Melaye's needless rant. Does marrying from outside of Nigeria makes a leader less patriotic? Does marrying from else-where makes a man or woman less Nigerian? Why should where a person come from determine love relationship?
What if Oshiomole is a private citizen? There are many Nigerians who found love outside of the shores of Nigeria. While should Oshiomole be singled out? Is there any clause in the Nigerian constitution that banned public officials from marrying outside Nigeria?
If we condemn Nigerians for marrying foreigners, we can as well condemn inter-marriage between the various tribes. This is what makes the outburst of Dino Melaye a hollow analogy.
Targeting Oshiomole's marriage is even more dangerous because by doing that, you are mocking Nigerians who have found love outside and who may find themselves in a position of power tomorrow.
Now, what has marrying a foreign wife got to do with being an authentic Nigerian? I thought the question of patronising 'made in Nigeria' is buying Nigerian products produced in Nigeria by our industries.
When did women become objects to be picked off the shelf with a made in Nigeria tag? Now I get it, Dino Melaye is a chauvinist who still consider women as goods to be bought off the shelf. It's a shame.
READ ALSO: Melaye under fire for tacit attack on Oshiomole
It is not surprising, like many patriarchal thinking Nigerian men, Dino Melaye is a worst example of men who still see women as object. No wonder he picked on Oshiomole's wife. It's a shame. I am happy Nigerians have seen through the hollowness of his argument and put the Senator where belonged.
Meanwhile, it will be nice to ask if Melaye's has been patronizing made Nigeria goods with his advertised exotic foreign made cars and expensive lifestyle. While I am not holding brief for Oshiomole, I believe there are other matters of public importance that should engage the time of our senators.
In any case, if they want to preach patriotism they should begin with themselves. And someone should tell Melaye and the senator who moved that frivolous motion that Nigerians are not deceived by the Sermon on the Mount.
Source: Legit.ng