- Oba Ogunwusi, the Ooni of Ife has demanded that indigenous languages be used as means of instruction in schools
- The Ooni has urged the Yoruba people to prioritise speaking and teaching their language
- Oba Ogunwusi says the Yoruba race is unique, hence, the need to preserve its culture
The Ooni of Ife, Oba Adeyeye Enitan Ogunwusi Ojaja 11 has called for the use of indigenous languages as means of instruction in the nation's private and public schools. He said such a move would enhance proper understanding and rapid development of the country particularly in the area of technological breakthrough.
Oba Adeyeye who was recently appointed chancellor of the University of Nigeria in Nsuka (UNN), stressed the need for Yorubas at home and in the diaspora to place premium on the speaking and teaching of their language if the race is to make appreciable progress in the comity of nations.
The Ooni spoke on Sunday, February 28 at this year's "Mother Tongue Day'' celebration held at Oba Okunade Sijuwade Memorial Hall, Enuwa, Ile Ife, Osun state.
He charged the Yorubas to embrace their indigenous language and give it the needed attention, warning that failure to do so might portend serious danger to the survival of the language.
The Guardian reports that the Ooni traced the etymological history of languages, noting that the most spoken languages all over the world today like English had their origin in Yoruba language.
READ ALSO: Royal families react to alleged EFCC investigation of Ooni of Ife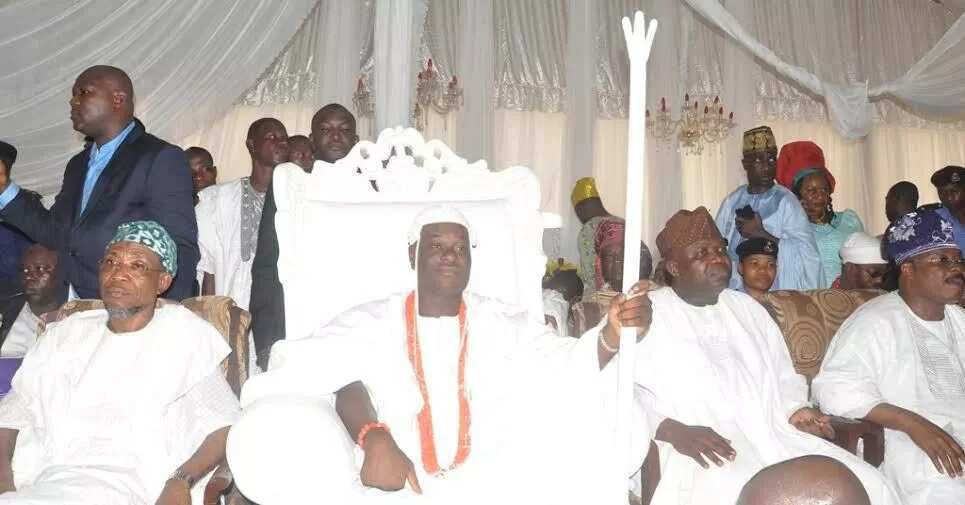 He condemned the situation where foreign languages are being giving more attention over the Yoruba language, which he said is
richer and deeper in content.
He observed that despite the chequered history of Yoruba race with slavery and slave trade wherein their brethren were taken to America and Europe and forced to work in the sugarcane farms, the development did not obliterate the use of their mother tongue completely.
READ ALSO: See what Ooni of Ife was spotted doing with eminent Igbos in Enugu (photos)
Oba Ogunwusi therefore charged the Yoruba home and in the Diaspora to remember their roots and pay special attention to the resuscitation, sustenance and growth of their mother tongue if they wanted to sustain their cultural identity and heritage within the global community.
He said the Yoruba as a race is unique as they are descendants of Oduduwa just as the Jews are unique as descendants of Jacob.
The monarch noted that the unique attribute has so much to do on their mother tongue, which makes it distinctive from other languages all over the world.
Oba Ogunwusi urged the Yoruba to always live in peace and show love to one another saying doing so would promote cultural affinity in their places of abode.
President Muhammadu Buhari recently appointed Oba Enitan as the chancellor of UNN, making him the youngest chancellor in Nigeria. On Saturday, February 20, the Ooni of Ife was present at the university's 45th convocation ceremony and was also officially sworn in as the new chancellor.