Exclusive: Nigeria has over 6,000 illegal borders - NATFORCE
-The director general of NATFORCE, Osita Okereke has revealed that there are over 6,000 illegal borders currently been used to smuggle dangerous weapons into Nigeria
-He stated that NATFORCE recently intercepted a truck load of arms to Nigeria from Ghana
-He accused the Nigeria Customs Service of undermining its efforts to reduce the influx of illegal arms to Nigeria
-The Indigenous People of Biafra (IPOB) members have resolved to start carrying guns in self-defence from Wednesday, February 17, 2016.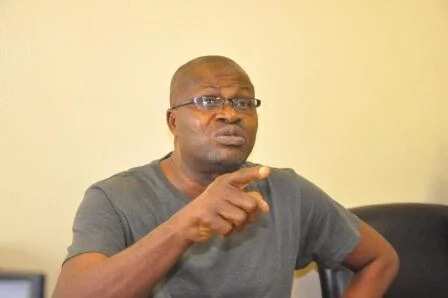 The director general of the National Task Force to Combat Illegal Importation of Small Arms, Ammunition and Light Weapons (NATFORCE), Emmanuel Osita Okereke has alleged the Nigerian Customs Service of undermining its efforts to reduce the influx of illegal arms into Nigeria.
Speaking exclusively with Legit.ng in Abuja on Thursday, February 18, Okereke revealed that Nigeria has over 6,000 illegal borders are currently being used to smuggle dangerous weapons into the country.
He stated that some NATFORCE officials recently intercepted a truck load of arms from Ghana to Nigeria.
He revealed that some Customs officials had illegal diverted a ship loaded with arms to Calabar adding that the said ship had come into Nigeria from Ivory Coast through the Onne seaport in Port Harcourt.
In his words: "I monitored a ship loaded with arms from Ivory Coast to Onne seaport in Port Harcourt. When we notified Nigeria Customs that we wanted to be part of the inspection, they refused and immediately shut down the port. After two months, they diverted the ship to Calabar and that was the end of the matter."
READ ALSO: Dasukigate: Deport Children Of Beneficiaries, NATFORCE DG Tells FG
"Again, we monitored a trailer load of arms  with a Ghanaian registered plate number to Onitsha. We apprehended the truck and handed it over to the police. The truck is still there at the state police command in Awka. The problem is, Customs believe that we are duplicating their job, which is not suppose to be so." 
"Personally, my life has been in danger. I insisted that we must fight against illegal arms. They have paid so many people to assassinate me. They even bribed the Economic and Financial Crimes Commission (EFCC) to the declare me wanted. Unfortunately, Ibrahim Larmode who declared me wanted embezzled over 2.5 trillion.
"The Biafra people said they want to start carrying guns, well until we are allowed to begin full operation because right now, we are not allowed to do what we should really do," he added.
He called for collaborations between security agencies in the country to expedite actions towards protecting borders and other entry points into Nigeria.
Meanwhile, the NATFORCE DG, Emmanuel Okereke had called for a probe on the former president, Olusegun Obasanjo over alleged corruption.
Source: Legit.ng