- Adebayo Shittu says the satellites would boost NIPOST activities
- Disclosed that federal government is in talks with some foreign partners
- Denied rumours about NigComSat
Mr. Adebayo Shittu, the minister for communications and technology has revealed Federal Government plans to launch two new satellites into orbit, The Nation reports.
Speaking on February 16 after returning from a facility tour of the satellite and communications infrastructure of Nigeria Communications Satellite (NigComSat) Limited and the Nigeria Postal Service (NIPOST) in Abuja, he said the feat would be accomplished in the next two years.
READ ALSO: House of Reps and ministry of foreign affairs disagree over budget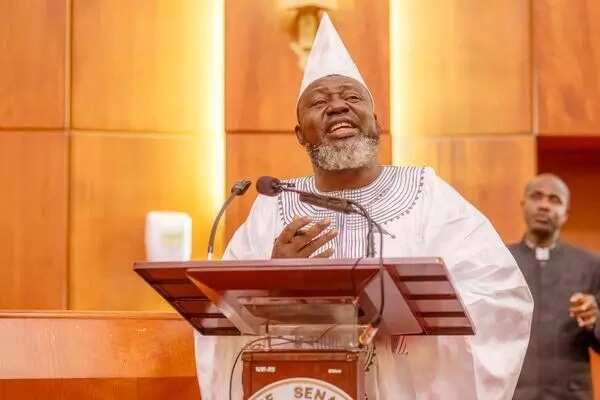 The minister also disclosed that discussions were on between the federal government and some foreign partners on the financing of the NigComSat-2 and NigComSat-3 satellites to support the NigComSat-1 in orbit.
He assured that the federal government upon laying hands on funds would execute the project within the next two years.
Shittu, who denied speculations that Nigeria would privatise NigComSat, advised that circulating such rumour is not in the interest of the country considering the billions naira that has been spent on it.
"In fact, I was astounded that we have this kind of facility, which is the only one in Africa. I have been told that Nigeria is the only country in Africa with a full-fledged satellite centre as this. No doubt it is a pioneering effort, but I'm convinced that because of paucity of funds and because over the years government has not provided the attention for Nigeria's ICT industrial revolution, we are still at the level we are.
"We all know that all we find here is to support one satellite in orbit. Nigeria has one satellite in orbit and this is not good enough and the analogy for you to understand the risk and the danger of having one is like a transporter who ply Lagos to Abuja, he has four tyres but he doesn't have extra tyre and should something happens, certainly his passengers, who have paid for that trip, will also be stuck and that explains the need for us to have more than one satellite in orbit so that other countries and agencies and companies who are patronising us and paying money for satellite services will be rest assured that their investment will be secured and safe.
"And it is for this reason that we are making efforts since we came on board to ensure that we get foreign financiers to assist with loans to build a second and possibly a third satellite in orbit so that we can be rest assured that we have enough capacity to host Africa in regard to satellite provision," Shittu said.
According to him, the private sector has the freedom to put resources together and to establish satellite if it feels it needs it.
"This is one national treasure I don't believe we must cede to the private sector. We must have something we can call our collective own; something that will remain our national pride. And for anybody to want to sell this national pride is merely to shortchange Nigerians and so, as long as I'm minister of Communications, I will never be party to any such unholy sale because it does protect Nigeria's interest.
"To have an extra satellite, you will be talking about between $250 to $300 million and certainly we are looking, and if we can get enough funding for two satellites, I will prefer that. I can assure you that two companies, including the China Exim Bank, is willing to assist us fund this new project. Once we secure funding within the next two years, we would have new satellites in orbit," he said.
READ ALSO: Reps to investigate Abuja land swap policy
The minister, who also visited NIPOST headquarters, hinted that plans were in the pipeline to diversify the agency's activities into three key areas in order to improve its revenue as well as make it more important to the people.
He said President Muhammadu Buhari-led federal government want the agency to play key role in moving goods across the country in addition to making some of its 4,000 postal agencies in rural areas ready for financial/banking inclusiveness and GSM call centres.
Malam Muhammad Musa Bello recently took a swipe at the past administration of former FCT minister, Bala Mohammed, saying his early interactions with stakeholders has shown the true state of the city.