-Nigerian soldiers fighting Boko Haram suffer from non-payment of the salaries
-Defense Headquarters and Chief of Army Staff begged urgently address the problem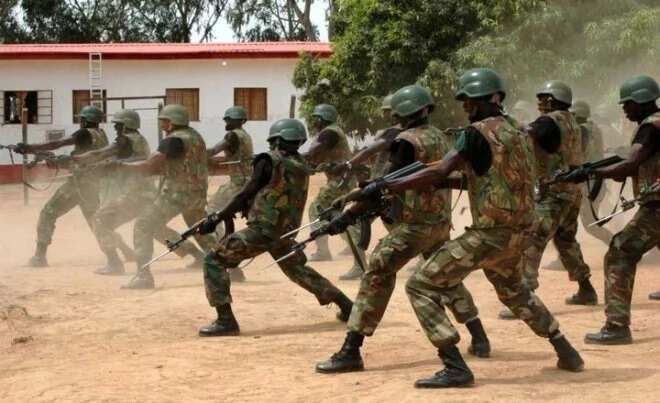 Up to 22,000 soldiers fighting the Boko Haram in the north-east of reportedly didn't receive their full salaries for several months.
Sahara Reporters spoke with some some soldiers, who asked not to be named.
They said that many of servicemen have not received their allowances from the past three months. Nigerian troops are subjected to this development despite their efforts fighting Boko Haram.
READ ALSO: Boko Haram female suicide bombers kill at least 55 in IDP camp
The non-payment of their salaries has made life very difficult for many soldiers. One of the soldiers said that he was forced to borrow a friend's cell phone to call his family because non-payment of his salary that he couldn't purchase or recharge it in Maiduguri, the Borno state capital and headquarters of Operation Lafiya Dole.
These soldiers said that they did not want to report their superior servicemen but they had little choice now. They addressed to President Muhammadu Buhari to investigate their problem.
One soldier said: "Our families have been complaining seriously about this hardship. Providing food for our family has become difficult."
"I beg Defense Headquarters and Chief of Army Staff to urgently address our pending allowances so that we can give our best in military service. Morale has been low."
READ ALSO: Figures speak: See the evidence that Buhari defeated Boko Haram
A staff sargent from another unit added that the salaries of his servicemen were paid "but the allowances of more than 22,000 personnel has not been paid for three months."
Nigerian soldiers fighting Boko Haram reportedly earn N49K monthly as the salary. Daily feeding is N500.
The Nigerian Army has increased its efforts in Boko Haram war, records new success.
Recently 500 Nigerians were rescued from the insurgents while weapons were recovered and at least 50 Boko Haram fighters were killed.