- New DLC center encourages study from any part of the world
- Institution to increase admitted students from 6,000 to 50,000 over ten years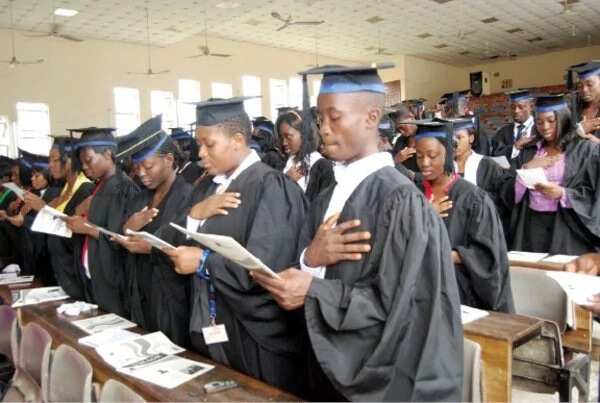 The Ahmadu Bello University (ABU), Zaria, Kaduna state has joined the drive to make education available to more Nigerians by introducing its Distance Learning Center (DLC).
Legit.ng gathered that after introducing the distance education programme, the institution also unveiled seven Diploma programmes that will be offered on the e-Learning platform.
The Vice Chancellor of the University, Professor Ibrahim Garba, who briefed newsmen on the latest development, said: "We have plans to raise the number of students being admitted into the institution from 6,000 to 50,000 over the next 10 years. Included in this plan is the introduction of our distance learning center and today we are glad that it is a reality.
"The only solution to the limited admission spaces in our tertiary institutions is through embarking on distance learning education."
The director of ABU Distance Learning Center, Professor Hassan Adamu Zoaka, who also lent his voice to the new arrangement, noted that students everywhere in the world can have access to the institution's e-learning programmes.
He said: "ABU's Distance Learning Center seeks to provide practical solution to the problem of accessing quality tertiary education in the country. Now students anywhere in the world can have access to ABU's quality education without restrictions.
"Students in the eLearning programme will get the same certificate as on-campus students and Online or Distance Learning will not be stated on their certificates. ABU's Diploma is admissible for all relevant degree programmes (on campus or by Distance Learning) in ABU and other institutions."
The center is offering the following programs via the e-learning mode: "Diploma in Mass Communication, Diploma in Social Work and Development Studies, Diploma in Local Government Studies, Diploma in Public Administration, Diploma in Peace and Security Studies, Advanced Diploma in Public Administration and Higher Diploma in Local Government.
The ABU DLC programme allows students to attend lectures without coming to the physical campus as lectures are delivered electronically through a tablet device.
Also, assignments and quizzes are also taken and submitted online and examinations would be taken at different test centers across the country. Students will thus not be required to travel to Zaria to take their examinations.
Students can apply for the programmes by visiting the institution's website, register.abudlc.edu.ng.
All processes - application, registration, screening and examinations are done online. Applicants with four (4) credit passes, including English, at not more than two sittings are eligible to apply.