- Governor Ayo Fayose reacts to  Dr. Tope Aluko, the former Peoples Democratic Party (PDP) secretary in Ekiti state that former president Goodluck Jonathan gave him the sum of $35million cash to prosecute the state governorship election
- Fayose's aide describes Aluko as one with unstable character
- Aluko says what he has presented to Nigeria is the truth and nothing but the truth
Governor Ayo Fayose has reacted to the allegation by Dr. Tope Aluko, the former Peoples Democratic Party (PDP) secretary in Ekiti state, that former president Goodluck Jonathan gave him the sum of $35million cash to prosecute the state governorship election.
Aluko gave a breakdown of how the election was rigged in favour of the PDP governorship candidate Governor Ayodele Fayose in an interview on Channels Television and monitored by Legit.ng's correspondent.
Explaining a process he alleged was used in rigging the election, Aluko said: "Before the primaries, we had this believe that because Jonathan was coming out for second term and because we are going to be the first election in the south-west, at a meeting, we told him (former President Goodluck Jonathan) that north-east, north-west and north-central may not be too sure for him because the Hausas are clamouring for presidency and that you now have south-east and south-south, you must manage the south-west. It was on the basis of that that we told him that he must manage south-west. Because of his interest, even before winning the primaries, we did so many security reports to tell Mr President then that he must make sure that we manage south-west zone and it was because of that that he gave us the head of security agencies."
READ ALSO: Fayose Reveals Why He Won't Stop Attacks On PMB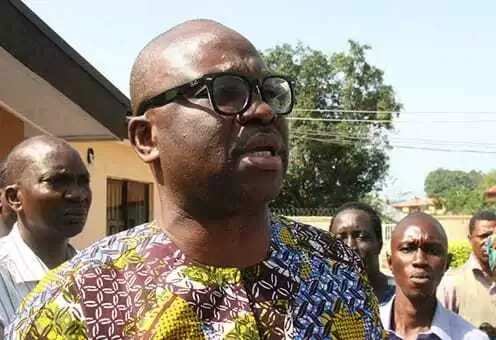 READ ALSO: Fayose's Airport Project: Protest Rocks Ekiti
He further told Channels Television that the Minister for State for Defence and Minister of Police Affairs were made to give attention to the election because "we know that APC was everywhere in the southwest and we must naturally capture part of southwest if we want to balance what our brothers in the north were likely to bring on".
Aluko had testified at the lower tribunal held to look into the election held last year, but he denied saying at the lower Tribunal that the election was not rigged.
He said that there was an agreement to take out some members of the All Progressive Congress to ensure that they do not give adequate support to their members.
His words: "There was a strike team, a mixture of the DSS, military, the mobile police… that is about all. We had a meeting at Aso Rock on security and funds. We were given security and funds. Those in the meeting include the Commander-in-Chief of the Armed Forces the former PDP chairman, Adamu Mu'azu, Governor Fayose and himself (Aluko).
"At the meeting President Jonathan agreed that if he needed Ekiti, he would support us to ensure that we delivered. At the second meeting we had Obanikoro, Jelili, Omisore… It was a combination of Osun and Ekiti people and they were discussing how we were going to move to take the south-west.
"Before the primaries, His Excellency, Ayodele Fayose, said that we can only win using the military. Then we came up with a plan about May. 
"We swore on the arrangement that we had before we embarked on the political venture.
"Him (Fayose) becoming the Governor, myself becoming Chief of Staff and Honourable Femi Bamisile becoming the Deputy Governor," he explained, dismissing claims that he was coming out with the truth because he could not get what was agreed.
"For the military to indict its members because of the election of a state you will know that what I am saying is not a lie."
However, speaking via his Special Assistant on Public Communications and New Media Lere Olayinka on Channels Television and monitored by our correspondent, Governor Fayose labelled Aluko as one with unstable character.
"This man here (Aluko) is a man of unstable characters and everything he has said here is a lie. It is an election, fund must be spent. People must donate money to fund an election. Governor Fayose's friends, associates, brothers, sisters, families, artisans, including his enemies donated money to his electoral campaign, I also donated money.
"The military panel was set up to investigate the role of military officers in Ekiti, Osun, Akwa Ibom, Rivers state, including presidential election. Those who have been sanctioned, can you tell me categorically that they were sanctioned on their involvement in Ekiti state. On Janaury 14, Ekiti state government wrote to the military to demand for copy of the military panel report. However, by January 31, we don't have that report.
 "He (Aluko) should be angry because he didn't get the position of Chief of Staff but you don't need to be angry such that you need to commit criminalities. You don't need to be angry so that you now begin to waste your time. When I was told I have to come here to come and discuss military panel report, I asked myself, what role will the military panel report play in an election that was conducted 19 months ago? Every process that should be passed through has been done from the tribunal to Appeal Court and to the Supreme Court, so you cannot go back.
"Even in this case of Ekiti, the military is not a party to the matter, the police is not a party to the matter.  At the tribunal, Appeal Court and Supreme Court levels, the military was the first respondent in the case and the police was the fifth respondent. The Supreme Court said this people are not necessarily parties in this case. That's to say the military have never been part of the electoral matters.
"The military can decide to indict itself, there was an election and there were observers. The United State government and foreign observers said the Ekiti state governorship election was credible and efficient and that the military collaborated efficiently with the government in providing a safe environment free of major incident. If US can applaud the military and they go ahead to indict themselves, that's their business."
However, when asked if it was true that some people swore with the Bible on oath with Governor Ayo Fayose on getting appointment from him, Lere Olayinka said: "If anybody is coming here to say all that, I feel ashamed. So being governor in Ekiti has become, I want to be governor, you want to be deputy and I want to be Chief of staff, some of these things are political makeups.
"If he (Aluko) comes here to say some of these things, you should just laugh it off. He had said it by himself that he was here to say all these because Governor Fayose did not make him the Chief of Staff. If he received a call that he had been appointed as the Chief of Staff, he will come back here to say that all he said was not true. He's a selfish person. Governor Fayose is not moved by these lies because in 2003, he defeated an incumbent governor and there was nothing military being used to rig the election. In 2009, Fayose assisted former governor Segun Oni, In 2014 he defeated another incumbent governor. So again I say it, the governor is not moved."
However in a swift response Aluko said: "The young man (Olayinka) here is highly misinformed. He doesn't know anything we are talking about, was I not the one that allowed him enter Fayose's room? I was the leader of the pro-primary of Fayose. He doesn't even have first degree and he's talking. I want to use the opportunity to tell the whole Nigerians to critically look at what he has said. He didn't address the issue because he was never there. When I was in the bedroom of Fayose, people like him were in the compound.
"So all the documents have presented today are very valid and we are in court. Are you now saying the military people are stupid for indicting themselves."
On Senator Buruji Kashamu denying releasing any money to fund Fayose's campaign, Aluko said: "Sen Kashamu cannot deny that, he cannot deny me."
Aluko added: "I'm saying this because I want to deepen our democratic structure. I'm saying this because I want everybody to know the truth. What I have presented to Nigeria is the truth and nothing but the truth."
Aluko had also claimed that a sum of $2million was offered by Patrick Ifeanyi Ubah, the CEO of capital oil, one of Nigeria's largest distributors of petroleum, to Governor Fayose on March 23, 2014 at the NNPC towers, which was used to prosecute the primary election. According to him, he was there to witness the transfer alongside Hon Femi Bamisile.
But in a swift reaction to the allegation, Ubah categorically label Aluko as the