Oyo State Thrown Into Mourning As Olubadan of Ibadan Dies
Oba Samuel Odulana Odugade 1, the Olubadan of Ibadan is reported to have died.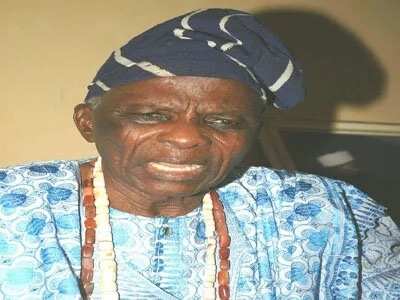 The Nation reports that the Olubadan passed away in the evening of Tuesday, January 19 after he lost consciousness
READ ALSO: Power Tussle: Why Nine High Chiefs Have Been Demoted
[article_adwert]
Oba Odulana who turned 100 years in 2014, was reportedly taken to a morgue late into the night to avoid drawing attention, as his death some fear will stir great bitterness over the entire city.
The details of his death were sketchy and when contacted, one of his sons, Prof Femi Lana, declined to comment.
Chief Isiaka Akinpelu, the personal assistant to the late monarch, denied the death, dismissing it as a rumour. He stressed that the Olubadan is still hail and hearty.
According to tradition, the next in line to the throne is the Balogun of Ibadan land, High Chief Saliu Adetunji.
Oba Odulana mounted the throne in 2007 as the 39th Olubadan of Ibadan land. He was the 17th Olubadan since the title was elevated from Baale Ibadan to the Olubadan in 1930. The first traditional ruler to bear the new title was Oba Okunola Abass who reigned from 1930-1946.
Source: Legit.ng