Ekiti state governor, Ayodele Fayose, has come up with unbelievable prophecies for Nigeria in 2016.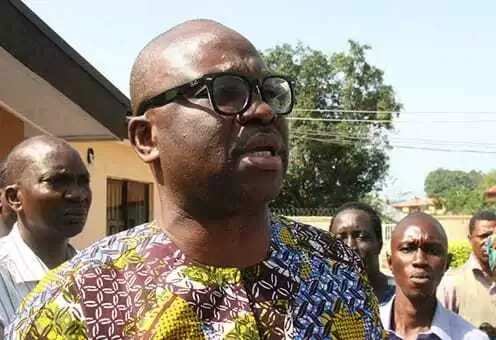 [article_adwert]
He gave the prophecies during a press briefing in Lagos on Sunday, December 13, 2015. Fayose had lambasted the Senate for the controversial 'Bill for an Act to Prohibit Frivolous Petitions and Other Matters' otherwise known as the anti-social media bill. Fayose said the bill was part of a plot by the All Progressives Congress to hide corruption and prevent Nigerians from exposing them. He also said the intention of the Senate to gag the social media is one of the wishes of the President Buhari.
READ ALSO: APC, Fayose At It Again Over Alleged Blackmail
He however went further to say that: "We are going to release a lot of things. They have attempted to cow everybody and that is why they are sponsoring the anti-social media bill in the National Assembly. They want to cow the press and the people. I am surprised that the media is quiet about this bill. The press can't talk again, they are afraid and it shouldn't be so.
"Most of those who supported Buhari one way or the other will regret it because when you promote a lion and don't remember to guard the claws and the jaws of that lion, one day, you will end up in its stomach," he warned.
The governor predicted 15 things that would happen in Nigeria in 2016. He said:
1. Corruption under Buhari will be on the increase, poverty in the nation will be at its highest in history. He said: 'I want to tell you that power generation will be at its lowest ebb in 2016. Our earnings will be low. I can't remember some (predictions) but I will address another press conference to tell Nigerians what to expect. We cannot continue with this deceit and propaganda.'
READ ALSO: Controversy: Fayose Lambasts Obasanjo
2. Power generation would drop while 6.7 million Nigerians would lose their jobs.
3. Chibok girls would not return in 2016.
4. There will be removal of oil subsidy within the first-quarter of next year.
5. There will be so much disobedience to court orders.
6. "In 2016, our girls will never come back because the BBOG people has started enjoying the booty. Why will an armed robber be fighting a pickpocket?"
The governor ended by condemning  the federal government's probe of a former National Security Adviser, Sambo Dasuki. He urged the President to "make public, the monies spent by the Office of the National Security Adviser in the last 16 years."
Fayose never gets tired of attacking President Buhari. Recently, he urged the president to resign if he cannot solve the economic hardship in the country.
Before that, he had accused Buhari of being selective in the fight against corruption, saying he should be bold enough to probe Obasanjo's administration and others so that his anti-graft war can be total.