Notorious pirates who have made traveling to and from Bonny Island in Rivers state a hellish experience met their waterloo on Monday at the hands of a joint team comprising the Nigerian police, army and young men from the island.
The team made up of law enforcement officers, soldiers and concerned citizens took action in response to yesterday's attack on three boats carrying passengers to and from Bonny.
The action was ordered in response to an assault on former leader of Bonny Youth Federation Maclayton Halliday, whose whereabouts remain unknown almost 48 hours after he was attacked.
"In the course of their search [the action team] encountered the pirates who were poised to launch another attack and after a brief gun fight, they apprehended one of the suspected pirates while others escaped," an eyewitness claimed.
READ ALSO: Gunmen Kidnap 78 Years Old Woman In Rivers State
The arrested pirate is said to be assisting the police by providing information.
Seafarers and local residents have been subjected to a great deal of misery due to the heinous activities of the pirates and just last month they urged President Muhammadu Buhari to come to their aide.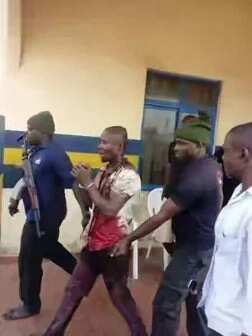 The eyewitness, who said he is from Bonny, said "the sea pirates attack us at will and dispossess travelers of their valuables ranging from cash to jewelries and other items."
"Most of time they [the victims] are pushed into the river or ordered to alight onto the muddy shores of the river," he added.
The pirates are believed to belong to a gang from Asarama Town.
Tension remains high in the area as many people in Bonny and Andoni fear that a possible inter-communal conflict between the two neighbouring communities could break out after the attack on the pirates.
Local residents have made a passionate appeal to the Rivers state authorities, the security agencies and other responsible agencies, pleading for them to intervene.