Actress Ini Edo has sent out words of advice to her fans, urging them to stay strong in the face of criticisms regarding their body and weight issues.
On Thursday, December 4, the Nollywood star went on Instagram and shared the post in which she also talked about her body shape and size saying she 'was born chubby' but that didn't stop her from sealing endorsement deals with brands, nor from starring 'in over 300 movies' till date.
She further encouraged her fans to stay focused explaining that size or shape doesn't determine success or acceptance in society, adding that the world will always be dissatisfied whatever the case is.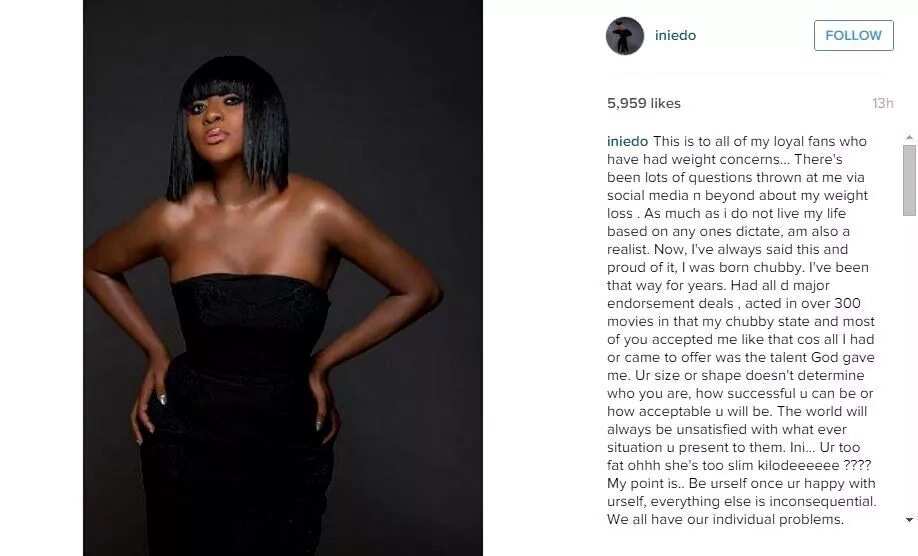 READ ALSO: EXCLUSIVE: Revealing The Corruption In Nigerian Entertainment Industry
[article_adwert]
See her full post below:
"This is to all of my loyal fans who have had weight concerns… There's been lots of questions thrown at me via social media n beyond about my weight loss . As much as i do not live my life based on any ones dictate, am also a realist. Now, I've always said this and proud of it, I was born chubby. I've been that way for years. Had all d major endorsement deals , acted in over 300 movies in that my chubby state and most of you accepted me like that cos all I had or came to offer was the talent God gave me. Ur size or shape doesn't determine who you are, how successful u can be or how acceptable u will be. The world will always be unsatisfied with what ever situation u present to them. Ini… Ur too fat ohhh she's too slim kilodeeeeee ???? My point is.. Be urself once ur happy with urself, everything else is inconsequential. We all have our individual problems. Some people find succor in social media by playing ghost and spitting flames in de dark to mask their bitterness. Don't look at them. Take care of urself. What I did? I hit de gym, reduced my carb to de barest minimum, lots of green tea n lemon and detox. It's extreme discipline. I had Thai noodles today and seafood wooooh I enjoyed it. Hmmm yea too much carbs but it is what is. However, if u loose weight to impress anyone, u will be depressed cos after all of that hard work, those complaints will take the direct opposite dimension. Lesson is … Love urself cos world people WILL ALWAYS have something to say. It's standard."
Ini is clearly looking beyond the ordinary things of life judging by her recent posts on Instagram.
A few days back (Tuesday, December 1 precisely), she took to Instagram and shared a similarly positive message wherein she urged her fans to stay focused and not deceived by the selfishness of the heart of men.
See the full post below:
READ ALSO: I Fell In Love Quite Early - Helen Paul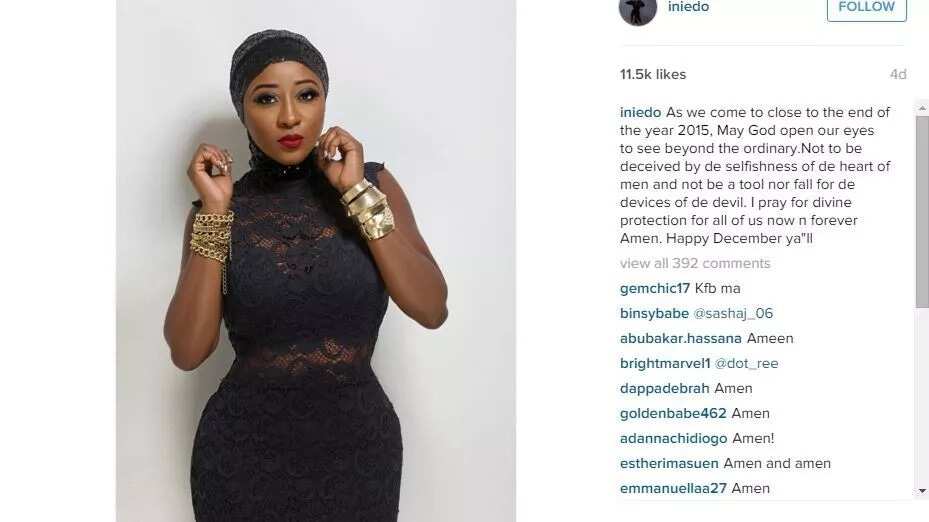 Ini Edo is a Nollywood actress who shot into prominence following her debut in 2000.
The Theatre Arts graduate of University of Calabar was once married to Philip Ehiagwina but their relationship reportedly ended in 2014.