Islam is the world's fastest-growing religion in the world, which will overtake the number of Christians by the end of the century, research suggests.
According to the Pew Research Center study, Islam is the world's fastest-growing religion by number of conversions each year. The statistical data shows there were 1,6 billion Muslims in the world as of 2010, wich is approximately 23% of the global population.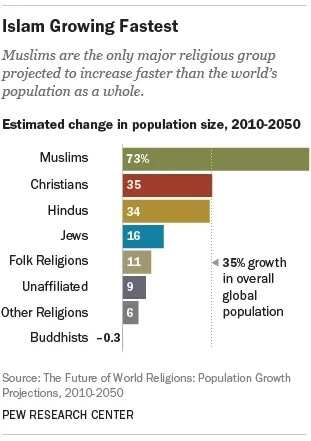 Around 60% of Muslims are living in the Asia-Pacific region --  India, Pakistan, Bangladesh, Iran and Turkey. At the moment Indonesia is the country with the world's single largest Muslim population but India is on its way to have more than 300million Muslims in 35 years.
READ ALSO: Hundreds Of Muslims Protest Against Terrorism, Call For Peace
[article_adwert]
The researchers prognose that by 2030 Muslims are to represent about 26,4% of the world population (out of a total of 7.9 billion people). By 2050 10% of all Europeans will be Muslims and 2,1 % of the Americam population will say they are Muslim.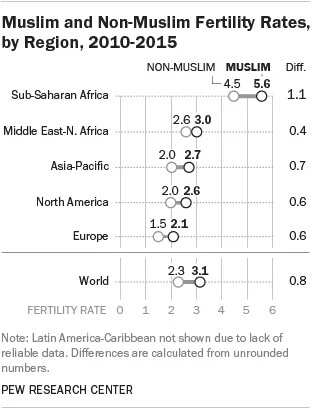 Why is the global Muslim population growing?
There are two major factors behind the rapid projected growth of Islam. For one, Muslims have more children than members of other religious groups. Around the world, each Muslim woman has an average of 3,1 children, compared with 2,3 for all other groups combined.

READ ALSO: See People's Reactions To Bible Quotes When Told They're From Quran (PHOTOS, VIDEO)
And the second, Muslims are also the youngest (median age of 23 years old in 2010) of all major religious groups, seven years younger than the median age of non-Muslims. This, combined with high fertility rates, will fuel Muslim population growth.
Source: Legit.ng