Following the recent policy by the management of Facebook to activate Safety Check for the recent shooting and bomb attack in Paris which led to the branding of profile pictures to French flag on the social media, many Nigerians have taken to their profile timelines to lash out on other Nigerians already buying into the idea.
In one of the posts by a user of the platform, Ugoji Maximillian, he said: "No Nigerian should try changing hisor her profile picture in support of France. This attack on France is a child's play to what we have suffered in the hands of Boko Haram. They are calling for a global support now because France was hit by her own people?
"Let France cry their own cry for now, because we've got a lot of cries to cry as Nigerians. Am not against the principle of 'different nations, different cultures, one globe', I am not against the interdependence of nations in this our globalized world. I am simply being realistic. It's unpatriotic to be crying for France when we have more corpses buried every day."
READ ALSO: Horror: 42 Pensioners Killed In Bus Crash (Photos)
[article_adwert]
But Cynthia Ogunedo-Oguntoye, another Facebook user, does not agree with Ugoji's submission. She said: "I think a lot of people have it wrong. It is about basic respect for human life. Do you remember how the world stood with Nigeria when the Boko Haram bombings started? No one could comprehend the shock and support that came with the Eagle square bombings; or the UN bombing; or the Chibokgirl's kidnappings.
"But this is what happened when things degenerate in a country - when killings become a norm. When bombings and kidnappings become a way of life - I don't think the world's reaction would have been the same if Paris had bombs and suicide bombers exploding themselves every day.
"The reaction would not have been the same if that were the norm like it has become for many of us here that pick the routes we follow every day to avoid having bombs blow up in our faces. Either way, I do not think that standing against terrorism in any way one can, should be criticised in anyway."
However, the founder of Facebook, Mark Zuckerberg, has in a reaction to many questions over the French-flag profile picture issue said: "Many people have rightfully asked why we turned on Safety Check for Paris but not for bombings in Beirut and other places.
"Until yesterday, our policy was only to activate Safety Check for natural disasters. We just changed this and now plan to activate Safety Check for more human disasters going forward as well.
"Thank you to everyone who has reached out with questions and concerns about this. You are right that there are many other important conflicts in the world. We care about all people equally, and we will work hard to help people suffering in as many of these situations as we can."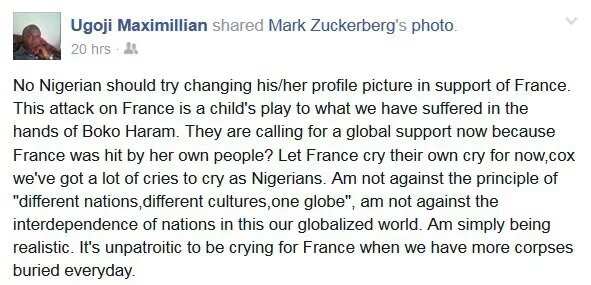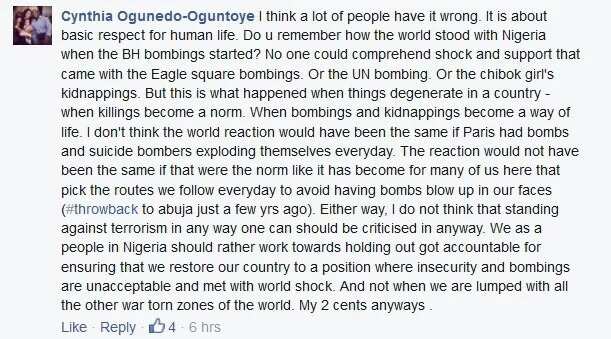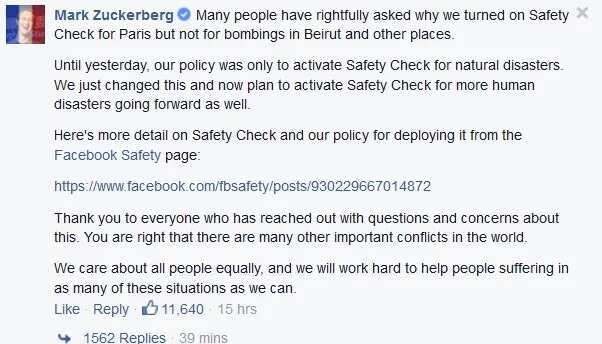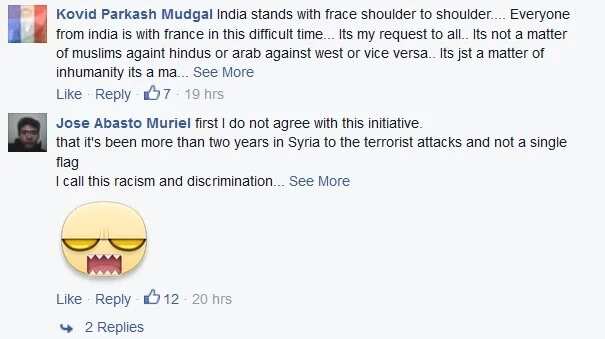 Meanwhile reports have it that the terrorist attack in the French capital, Paris, has left over 120 people dead and about 280 injured.
Also in another development, several gunmen opened fire with Kalashnikov rifles at the Petit Cambodge restaurant in the 11th district.
Shooting was heard near the Bataclan arts centre, where an unknown number of terrorists took over 100 people hostage. Police evacuated bars and restaurants in the area and cordoned off the shooting zone.