The 36 ministers that were recently screened and cleared by the Senate were inaugurated by President Muhammadu Buhari today, November 11.
This brought an end to the five months wait of Nigerians who have been worried over the delay in appointing ministers.
During their swearing in, Buhari announced their portfolios. Alhaji Lai Mohammed from Kwara state and the current national publicity secretary of the All Progressives Congress (APC) was appointed minister of information.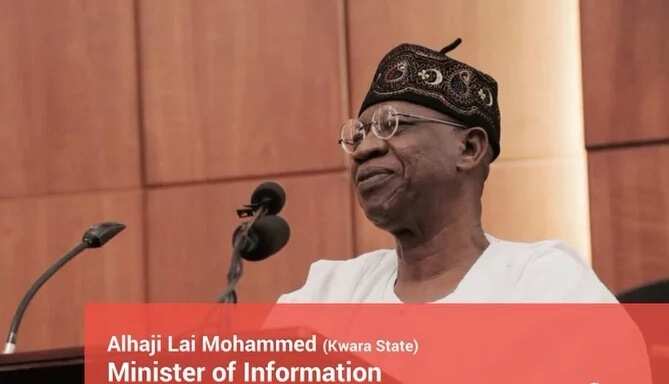 Below are some things you should know about him.
1. He was born on December 6, 1951 born in 1952 into the family of Alhaji Mohammed Adeleye.
2. Mohammed holds a B.A. (Hons) French (1976) (Ife), LL.B (1985) (Unilag) & B.L (Hons) (Nigerian Law School) (1986). He also  attended Centre Audio Visuel de Langues Modernes, Vichy France.
READ ALSO: Lai Mohammed, Shittu React To Buhari's Portfolios
[article_adwert]
3. He was a foundation member of the Social Democratic Party and member of the National Democratic Coalition.
4. In October 2002, he was a governorship candidate for the April 2003 Kwara state elections on the Alliance for Democracy platform.
5. He was the national publicity secretary of the defunct Action Con­gress of Nigeria (ACN) which later teamed up with the Congress for Progressive Change (CPC), the All Nigeria Peoples Party (ANPP) – and a faction of the All Progressives Grand Alliance (APGA) to form APC in February 2013.
6. He served as Chief of Staff to former governor of Lagos state, Bola Ahmed Tinubu.
7. He is the national public­ity secretary of the APC.
READ ALSO: 8 Important Things To Note About Today's Inauguration
8. Mohammed did not become APC spokesman by accident. His works at the defunct Action Con­gress of Nigeria (ACN) handed him the office.
9. In October 2015, he was named as one of the ministerial nominees appointed by President Buhari.
10. He caused a little frenzy during his ministerial screening. The moment Mohammed came up to be screened, senators who seemed to be those on the platform of the APC began to yell at the APC scribe saying: "Bow and go… bow and go." It took the intervention of the Senate president, Bukola Saraki for the senators to have allowed him to speak.
Meanwhile Nigerians have been reacting to appointment as minister of information.
Source: Legit.ng