The new chairman of the Economic and Financial Crimes Commission (EFCC) Ibrahim Magu on Wednesday, November 11, assumed office in an acting capacity.
During the handing over ceremony at the commission's office in Abuja, Magu called on all staff of EFCC to get positioned for a greater fight against corruption in Nigeria.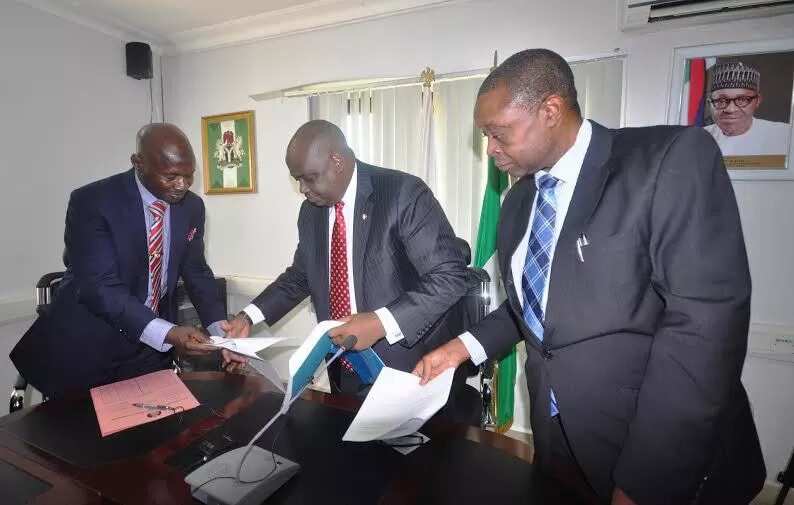 The new acting chairman said with corruption, there would never be a meaningful development in Nigeria.
He said he has come to the commission to "ginger up the anti-corruption campaign".
"There is the need to make sure that whatever is gotten for common use did not end up in private pockets," Magu said.
He further called all staff of the commission to personally channel their grievance to him as he will be solely responsive to the welfare of EFCC'S staff.
"I am ready and willing to work with everybody without any primordial concerns," the new acting chairman said.
READ ALSO: 9 Things You Should Know About The New EFCC Chairman
[article_adwert]
Magu also cautioned personnel to remain dedicated to their jobs.
He said no form of indiscipline or abuse of office will be tolerated.
Describing his exit as an act of God, the outgoing chairman Ibrahim Lamorde admonished EFCC staff to support and encourage his successor, he said it is pertinent that the commission and its personnel avoid media distractions and focus on the anti-corruption fight ahead.
Lamorde said: "As a human being, you have the right to disagree with someone, but if you disagree with your leader approach him yourself, instead of going out there to grumble."
Lamorde, who had held the EFCC chairman position since 2011, was removed on Monday, November 9. He was replaced with Ibrahim Magu, a top level official of the Economic and Governance Unit of the EFCC.