Ahead of the Boxing Night being held on Sunday, October 25, at the Indoor Sports Hall of the National Stadium, Lagos, opponents have been swapping boasts of decimating each other.
Nigeria's Isaac "Grenade" Ekpo, a former Commonwealth Super Middleweight champion, has vowed to stop his opponent Jules "Tyson" Kabore of Burkina Faso in the fourth of their 10-round contest when they meet in the event's headline bout.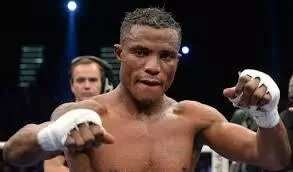 READ ALSO: Boxing Night Returns, Promises To Be Explosive
"Kabore is taller than I am, but that will have no bearing on the fight. I will be celebrating my birthday on Sunday and I have to give myself a birthday present. Stopping Kabore in the fourth round is the present that I want and deserve. He is not going beyond that and he knows," raved Ekpo.
Kabore is also talking-up his own chances against an accomplished opponent.
Responding to Ekpo's claim that he cannot be defeated in Nigeria, Kabore said: "I won four of my seven fights via TKO. I am undefeated since turning pro. I am taller and better than Ekpo. Tell him that. He will fall. That is not a subject for debate."  
Nurudeen "Prince" Fatai, the National Lightweight champion billed to fight Joe "Otto Boy" Joseph in a challenge contest, has dismissed his opponent's chances of defeating him as non-existent. "I have been a champion for ten years. It takes something to be a champion, which Ottoh does not have. Many have tried and failed. Ottoh will fail," he said waspishly.
Ottoh's response was similarly threat-filled. "Tell him that he has spent his time. This is my time. I will beat him and tell him that his time has gone. No story," he bragged.
Olaide "Fijaborn" Fijabi, who won the one million cash prize for the best boxer at the last edition of the GOtv Boxing Night, is convinced that he will repeat the trick when he takes on Saheed "Happy Boy" Olayiwola in a National Light Welterweight challenge duel.
Fijabi said his opponent will transmute into a sad boy from "Happy Boy". "He calls himself Happy Boy, but when I finish with him, he will be the saddest boy in the whole of Nigeria. Just wait and see," he boasted. Happy Boy, however, is convinced that he will be the happier guy at the end of the fight.
"Fijabi is a small boy. I will teach him boxing and he will go home crying like a baby," he retorted.
READ ALSO: Why WWE Embarrassed Hulk Hogan, Removed Name From Website
GOtv Boxing Night, an initiative to revive boxing in Nigeria, will feature six professional fights. The others are six-round duels which will see Jamiu "Naval Man" Olabode, take on Pelumi "Haggler" Sodubi in a Welterweight challenge,  while  Stanley "Edo Boy" Eribo will duel with Isiaka "Easy Lion" Yusuf. Waidi "Skoro" Usman will take on Taofik "Taozon" Bisuga in a Featherweight challenge contest.
[article_adwert]
The event, which starts at 4pm, will be broadcast live on SuperSport.