#NigeriaAt55: Track And Field Athletes That Dumped Nigeria (Part Two)
To think that some athletes would refuse to represent Nigeria is an anomaly in its own right.
The chance to represent one of the most competitive nations in world and continental athletics does not come more than once. For every Falilat Ogunkoya, Mary Onyeali, Olusoji Fasuba there will always be a Francis Obikwelu.
As Nigeria celebrates its 55th birthday, Legit.ng sport compiles a list of the most popular athletes that dumped Nigeria to represent other countries.
[article_adwert] 1. Marilyn Okoro (GB): 31 year old Okoro is a British track and field athlete of Igbo Nigerian ancestry. She finished third in the 800 metres at both the 2007 and 2008 IAAF World Athletics Final.
She was on the bronze winning 4 × 400 m relay at the 2007 World Championships in Athletics. She represented Great Britain at the Beijing Olympic Games in 2008 and finished sixth (1:59.53 mins) in the semi-finals.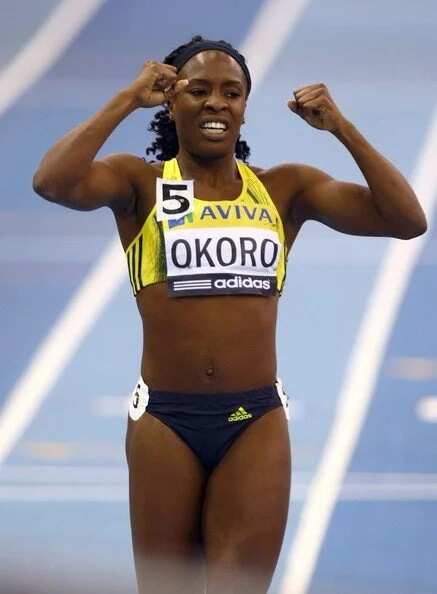 Born in London, England, she speaks four languages (English, French, Spanish and Igbo) and sings in the jazz band The Felonius Monks.
Oluseyi Smith (Canada): Born in Ile-Ife Osun state, 28 year old Smith opted to represent Canada. He took part in the 2012 Summer Olympics in the 4x100m relay with teammates Jared Connaughton, Gavin Smellie and Justyn Warner.
In the final, the Canadian relay team arrived in third place and initially believed they had won bronze but they were disqualified when officials judged that Connaughton had stepped on the lane line just before passing the baton.
2. Ezinne Okparaebo (Norway): born in Imo state, Nigeria, 27 year old Okparaebo as been living in Norway since the age of nine. Okparaebo represented Norway at the 2008 Summer Olympics in Beijing. She competed at the 100 metres sprint and placed second in her first round heat after Kerron Stewart in a time of 11.32 seconds.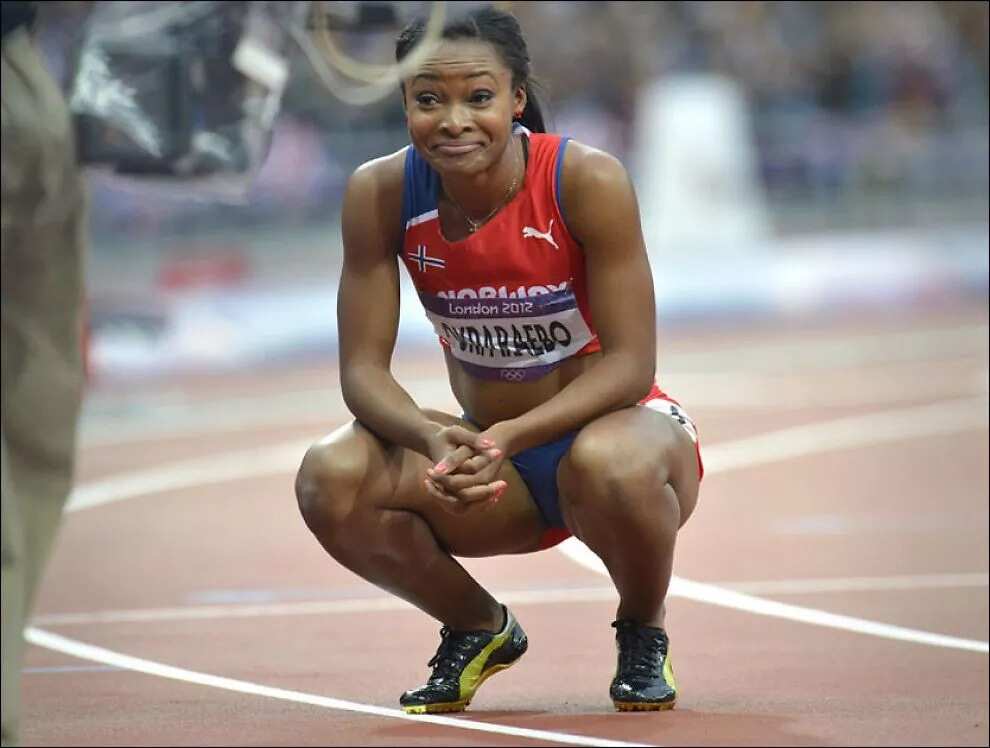 She qualified for the second round, in which she failed to qualify for the semi-finals as her time of 11.45 was the fourth time of her race.
READ ALSO: #NigeriaAt55: Top Five Nigerian Basketballers
3. Tiffany Porter (GB): Porter was actually born in America but runs for the Great Britain. she specialises in the 100 metres hurdles.
She represented the United States as a junior, but began representing Great Britain in 2010 after moving to England and competed for Great Britain at the 2012 Olympic Games in London.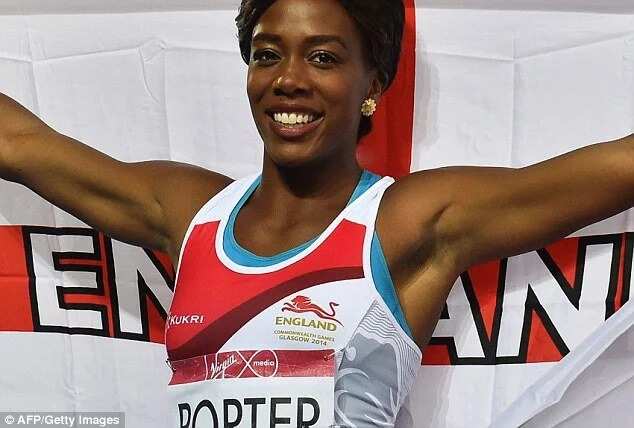 He father is Nigerian while her mother is British of African descent. She describes herself as "proud to be American, British and Nigerian. Porter married American hurdler Jeff Porter in May 2011, and began to compete under her married name in July 2011, initially as Tiffany Ofili-Porter, then simply as Tiffany Porter. She graduated from the University of Michigan with a PharmD (Doctor of Pharmacy) degree in 2012.
4. Cindy Ofili (Britain): Ofili is actually Tifany Porter's sister. The 21 year old, like her sister was born in America but represents Britain.
In 2015, she placed second in the women's 100 m hurdles at both the NCAA championships and British championships, qualifying to represent Great Britain at the World Championships.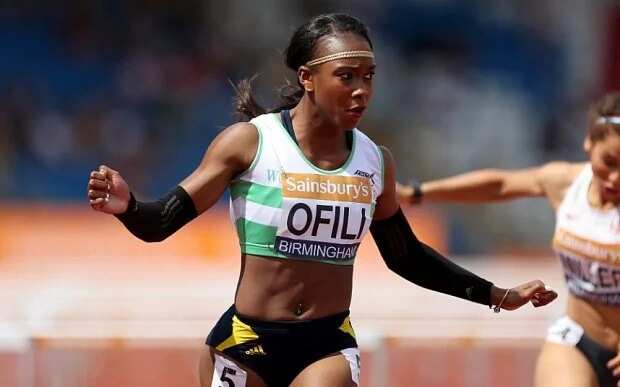 Ofili could have chosen to internationally represent either the United States, Great Britain or Nigeria (her father's country of origin); in June 2015 it was announced that she had selected Britain, following her older sister Tiffany Porter. The move caused some controversy in Britain, with detractors labeling Ofili a "plastic Brit"; Ofili stated she felt British.
5. Christine Ohuruogu (GB): 31 year old Ohuruogu is a British Track and field athlete who specialises in the 400 metres, the event for which she is the former Olympic, World and Commonwealth Champion.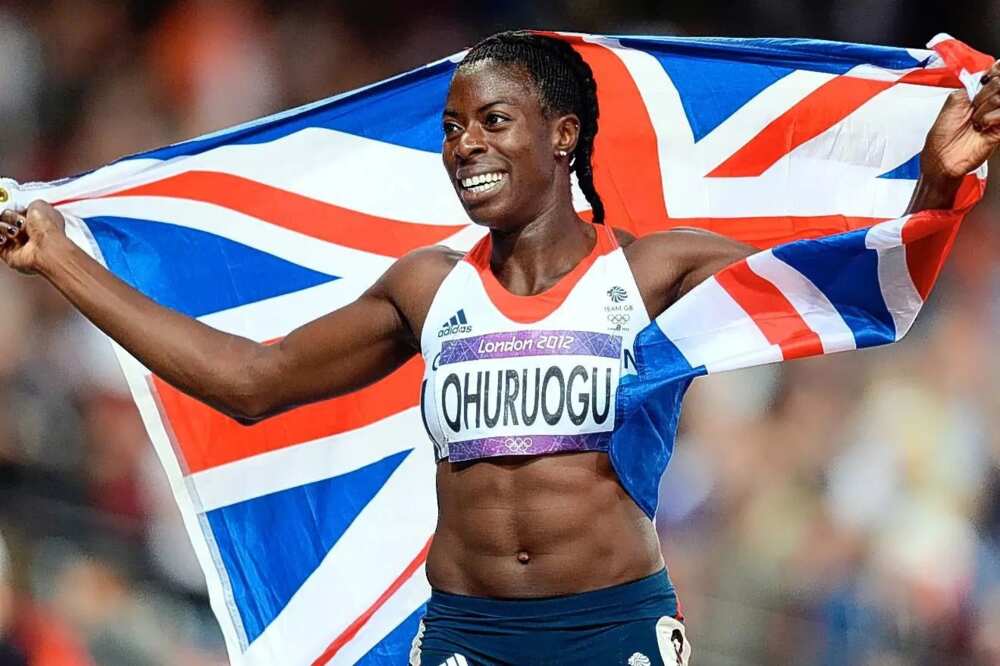 The Olympic champion in 2008, and silver medalist in 2012, she is a double World Champion, having won the 400 m at the 2007 and 2013 World Championships. She has also won four World championship bronze medals in the women's 4 x 400m relay as part of the Great Britain and Northern Ireland team.
6. Ayodele Ikuesan (France): Paris born Ikuesan specialises in the 60 metres and 4x100 metres relay. Ikuesan won the 4 x 100m relay gold medal at the 2009 Mediterranean Games.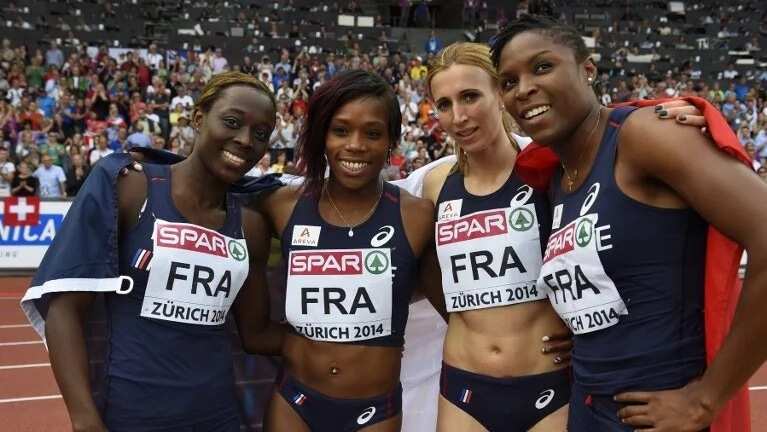 READ ALSO: #NigeriaAt55: Track And Field Athletes That Dumped Nigeria For Other Countries (Part One)
7. Samuel Francis (Qatar): Probably the most popular name on this list, Francis was born in Port-Harcourt and is one of many talented athletes to dump Nigeria for another nation. Like Ogunode, he represents Qatar. His personal best of 9.99 seconds is the former Asian record for the 100 m before it was broken by Nigerian, Femi Ogunode who also represents Qatar.
At the 2007 Asian Championships, the 28 year old set a new championship record of 10.18 seconds during the heats. In the final he ran in a new Asian record, breaking the 10-second barrier with a time of 9.99 seconds, bettering Koji Ito's mark of 10.00 seconds at the 1998 Asian Games.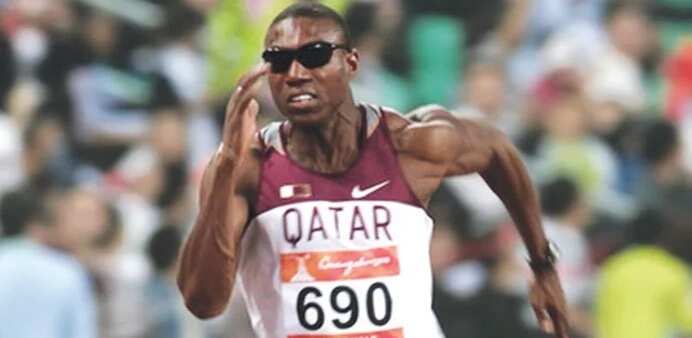 He also went onto to win the silver medal as part of the 4×100 metres relay team for Qatar. At the 2007 World Championships held one month later, his goal was to reach the final. He did not finish the race, however, exiting in the first round.
He won the 60m event at the 2008, 2010 and 2014 Asian indoor competitions.
8. Kemi Adekoya (Bahrain): Adekoya courted controversy with the manner with which she switch nations. Born in Nigeria, she actually established herself as a hurdler at national level in Nigeria in 2011, placing fifth at the Nigerian championships.
Making her debut on the 2014 Diamond League circuit, she defeated the entire elite 400 m hurdles field in a surprise win. Her time of 54.59 seconds was a world-leading one, and also a Bahraini national record – she had switched nationality to the oil-rich state at the start of the year and displayed a banner saying "I love Bahrain" after her victory.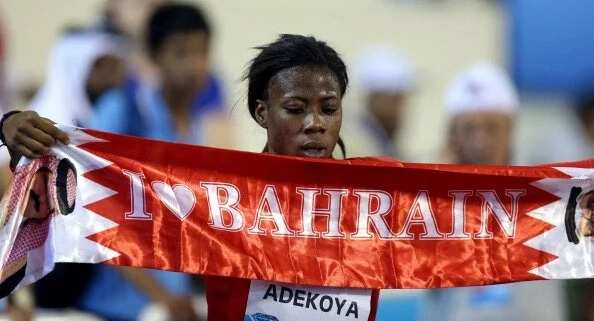 This move was unknown to Solomon Ogba, the head of Athletics Federation of Nigeria, who was present at the race in Doha and lodged a complaint with the International Association of Athletics Federations, claiming her move as out-of-process.
However, as Adekoya had never formally registered with the national federation, the country could not block the move.Nigerian officials and media noted the case as an example of African nations losing their top home-grown athletes to richer non-African nations.
Source: Legit.ng