Since Nigeria gained independence on October 1, 1960, football unarguably has laid a foundation for peace and unity in the country.
Regarded as the "Giants of Africa", Nigeria is blessed with some of the best raw talents across the world.
From the likes of Austin Jay Jay Okocha to Nwankwo Kanu, down to Segun Odegbami, this country is blessed with some of the best footballers to have ever played the game.
Legit.ng has compiled a list of the top 10 Nigerian footballers of all time in order of how great their accomplishments were in football both locally and internationally.
10. Daniel Amokachi – Popularly regarded as the "Bull", Amokachi was discovered by the then coach of the National team, Clement Westerhof while playing for Ranchers Bee.
He was a key player in the glorious 1994, 1996 squad and help Nigeria lift the AFCON trophy in 1994 as well as the Olympic gold in 1996 after beating Argentina in the final.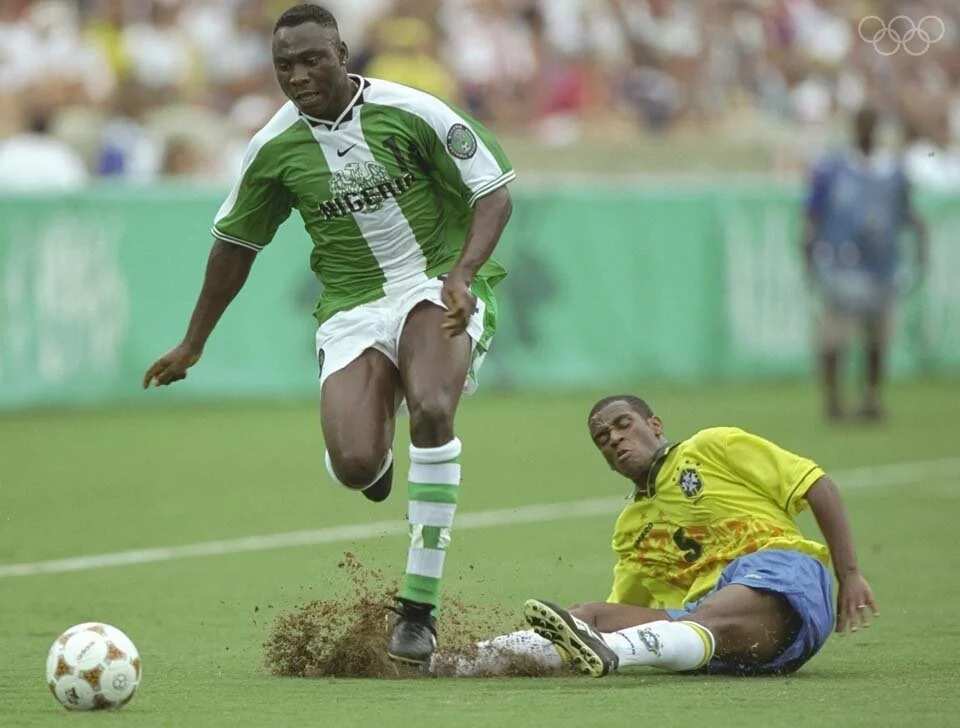 9. Stephen Keshi - Born on January 23, 1962 in Azare, Bauchi state, Nigeria, Keshi is still Nigeria's longest serving skipper.
On the field though he was an excellent marksman and occasionally had goals of his own.
He was a key player of the Nigerian national team and appeared at the 1994 FIFA World Cup, he played in five African Cup of Nations championships and was also part of the team when they won the 1994 African Cup of Nations.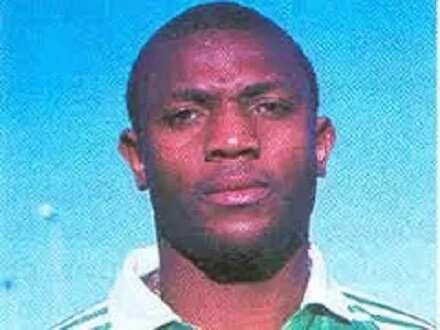 The former Super Eagles coach managed the Super Eagles till July 5 2015, after he was shown exit door.
He is one of only two people, along with Egypt's Mahmoud El-Gohary, to have won the Africa Cup of Nations as both a player and coach after leading Nigeria to the AFCON 2013 title.
Keshi died on June 7 2016 at the age of 54. May his soul continue to rest in peace.
READ ALSO: Nigeria at 58: 16 golden Nigerian sporting moments since 1960
8. Uche Okechukwu – A formidable force at the centre of the defence in his playing days, Uche Okechukwu became famous following the retirement of Stephen Keshi.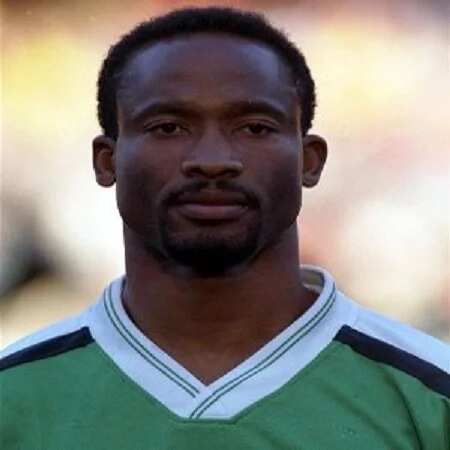 Okechukwu retired in 1998 following Nigeria's disappointing performance at the World Cup. He made 46 appearances for the Super Eagles scoring 2 goals.
7. Sunday Oliseh –The former Super Eagles player and coach is arguably Nigeria's best defensive midfielder of all time.
Oliseh was highly successful in the 90s as he played for top clubs in all around the world including Ajax, Borussia Dortmund, and Juventus.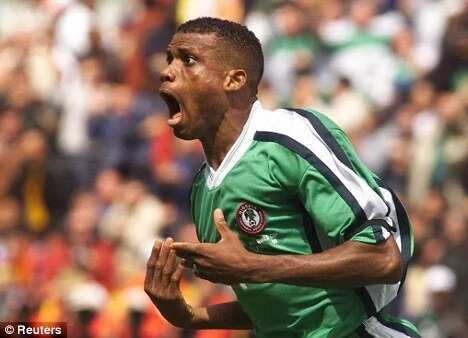 He will be forever remembered for his remarkable winning goal in Nigeria's stunning victory over Spain in the 1998 France World Cup, where the Super Eagles overcame one of the tournament's favorites in a shock 3-2 victory.
He retired from international football in 2002 after being left out of the World Cup squad.
Oliseh scored four goals in 63 appearances for Nigeria
6. Taribo West - Although the former Derby County, Plymouth and Inter Milan defender will most likely be remembered for his trademark haircuts, West was quite a character on and off the field during his time.
A member of the Nigerian National team that won gold medal at the 1996 Olympics in Atlanta, USA, West was a big problem for many strikers in his playing days.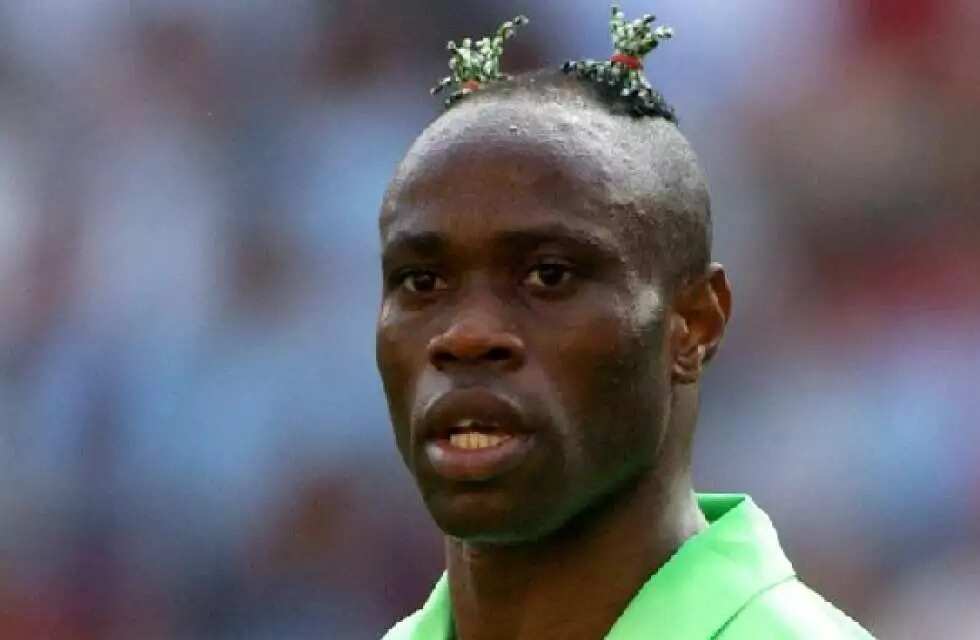 West who is now a pastor however admitted that he used charms during his playing days to win games.
5. Finidi George – Many rated him as the best right wing player in the world at some point because of his ability to set up goal scoring chances for Nigerian attackers especially Rashidi Yekini.
After moving from Nigerian club Sharks of Port Harcourt in 1993, George enjoyed a successful playing career in Europe with fellow teammate Kanu Nwankwo.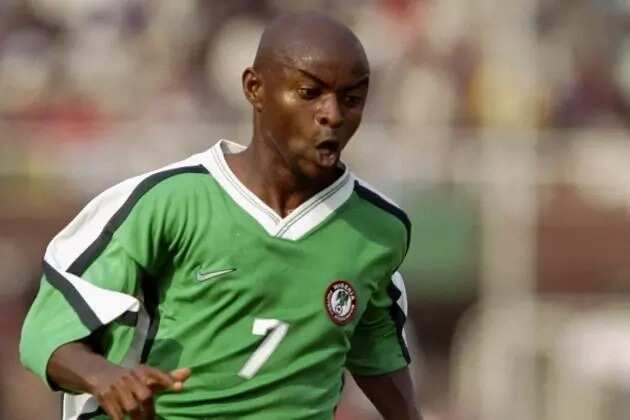 His best spell was at Ajax, where he became one of the best passers of the ball in Europe.
George scored four goals in 27 games to help Ajax win the Eredivisie title, which was also achieved in the following two seasons.
Alongside compatriot Nwankwo Kanu, he became the first Nigerian to win European club football's most coveted accolade beating AC Milan in the 1994-1995 season. He then left the Dutch giants to join Real Betis after turning down a bid from Real Madrid.
He scored eight goals in 62 games for the Super Eagles.
4. Segun Odegbami – Popularly regarded as "Mathematical" during his playing days, Odegbami started playing football in the Northern city of Jos, Nigeria where he grew up.
Odegbami played for IICC Shooting Stars of Ibadan his entire career, from 1970 to 1984.He won 46 caps and scored 23 goals for his country, and guided Nigeria to its first African Nations title at the 1980 African Nations Cup.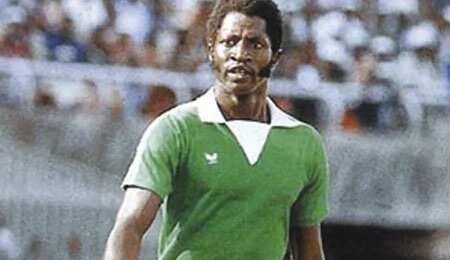 In September 2015, former Nigeria national football team captain Segun Odegbami stated his intention to run for FIFA presidency.
READ ALSO: Nigeria at 58: 5 iconic moments in Nigeria's rich sporting history
3. Rashidi Yekini – Nigeria's leading all time goal scorer, Yekini was a menace to any defender during his playing days as his record breaking 37 goals in only 70 appearances is still a record for the Super Eagles.
Yekini started his professional career in Nigeria with Shooting Stars.
He was a prolific goal scorer and he became the leading goal scorer in the Portuguese's League with 34 goals in 32 appearances for Vitória Setúbal, in the1993–94 season.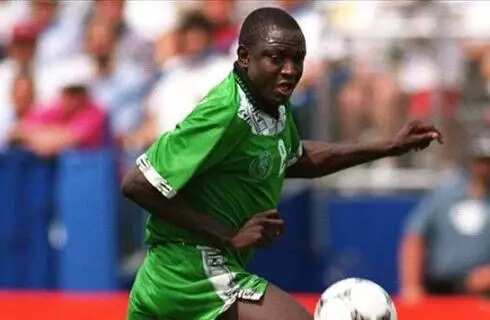 He scored Nigeria's first World Cup goal, and also helped Nigeria win the 1994 Africa Cup of Nations, unsurprisingly he ended as the tournament's top goalscorer.
But on a sad note, Nigeria lost one of its greatest football legends in 2012 when Yekini died in Ibadan at the age of 48 after he reported to be ill for an extended period of time.
However, one unique thing about Yekini is that he started and ended his career in Nigeria as he last played for Gateway FC before his demise.
2. Austin Okocha – He was so good that he was named twice, "Jay Jay" Okocha.
Okocha started his footballing career at age 20 and was part of the 1994 World Cup golden squad.
Okocha finished second in the African Player of Year award twice, becoming arguably the best player never to win the award.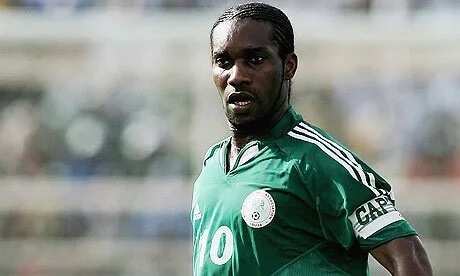 But he however won the inaugural BBC African Footballer of the Year trophy. He later retained the award. In 2004, Pele listed Okocha in his list of the greatest 125 living players of all time. Okocha was voted the 12th greatest African footballers of the past 50 years in 2007. He will also be remembered for scoring the 1000th goal of the Africa cup of nations in 2004 in Nigeria's match against eventual winners in that tournament Tunisia.
1. Nwankwo Kanu: Popularly regarded as "Papilo" during his playing days, Kanu is arguably the best Nigerian player to have ever played the game.
Nwankwo Kanu started his football career locally in the Nigerian league playing for Iwuayanwu National at age of 15 (now known as Heartland FC) before being discovered and invited to play at the 1993 Under 17 junior world cup in Japan.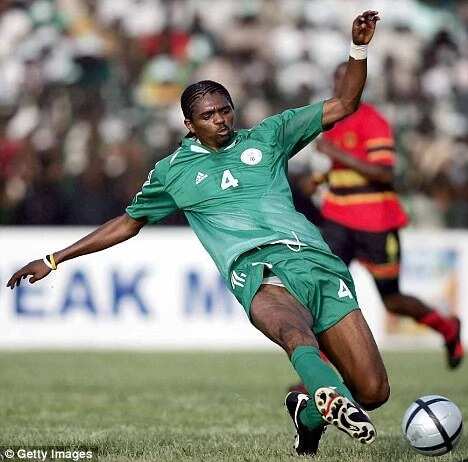 Today, Kanu is one of Africa's most decorated footballers in history. He has won a UEFA Champions League medal, a UEFA Cup medal, three FA Cup Winners Medals. He is also one of few players to have won the Premier League, FA Cup, Champions League, UEFA Cup and an Olympic Gold Medal.
Kanu was voted by his club Arsenal, as their 13th greatest Gunner of all time. He was a member of the Nigerian national team from 1994 until 2010, scoring 13 goals in 82 appearances.
Who is the better coach, Mourinho or Conte? - on Legit.ng TV