"Hello fine girl!" I turned abruptly to look towards the area I thought the very confident and manly voice had come from.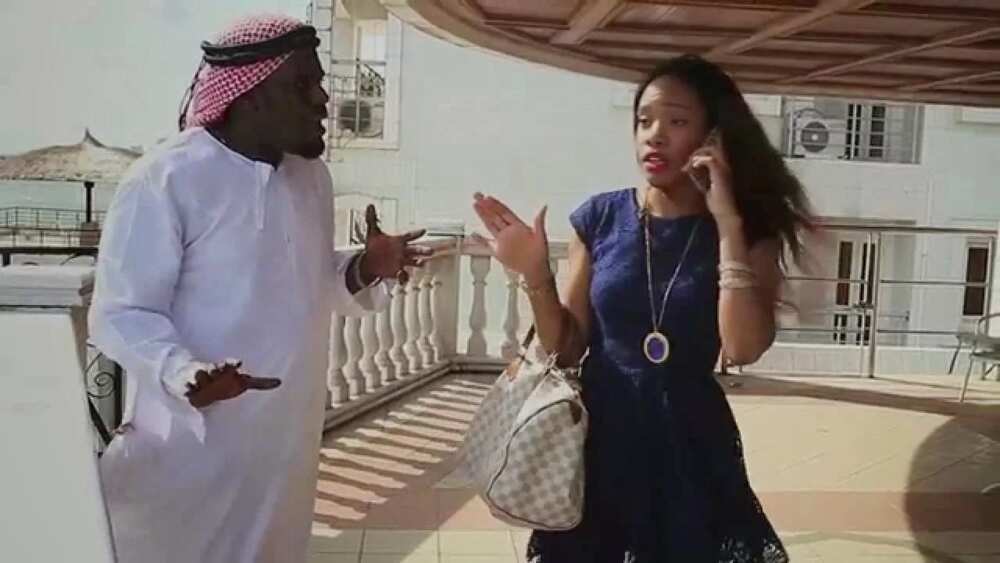 "What can a damsel like you be doing here all alone by herself?" the voice of the tall, but not-so-fluent man, who seemed to be in his early 50s, jerked me back from my mental rambling.
I had thought it was Michael, my 24-year-old younger brother whom I had been patiently waiting for.
[article_adwert]
READ ALSO: Revealed: Top 5 Reasons Why More Lagos Girls Are Doing 'Runs' (PHOTOS)
We had earlier parted on entering the new Ibadan shopping mall to pick up a few personal effects for the two days we planned spending in the ancient but peaceful town.
We were in town in order to stay away from the bustle and hustle of Lagos, Nigeria's busiest state. I however finished getting my stuff before Michael who had decided to 'sleep' at the sport aisle of one of the shops, so I had been alone before the voice got me startled.
I pretended as if I didn't know his antics were directed at me. To ward him off, I began to fiddle with my phone. Phones are lifesavers for girls; especially the internet-enabled ones like IPhones, Blackberries and Androids.
As I 'buried' my head deep into my IPhone6, the man took a sit and sat directly opposite me on the same table.
I could not ignore his presence as there was something so unusual about his body spray. I looked up, but feigned not to know that he had come for me the moment he sat on the seat. His brief smile and sparkling designer shirt suggested he's well to do.
"What are you doing here, sitting all alone?" he repeated his probing question.
"A beauty like you must not be left all alone because of the hovering lions in this our cool city. I am Sif Owonikoko," he added in a distinct intonation which all but revealed that he was a native of Ibadan.
READ ALSO: 13 Reasons Ladies Still Fall For Wrong Guys Easily
I was caught in the middle of disgust and laughter. How can a man of this age be ridiculing himself in front of a 26-year-old Lagos babe who is not even bothered about his rantings? Did he just call himself 'Sif' instead of 'Chief'?
I was totally lost as to what reply to give this man seated right in front of me. His fingers were elaborately adorned with rings.
Well, it was not my first time of meeting men who are old enough to be my dad, trying to throw bants at me. But this was totally a different ball game, as 'Sif' or Chief Owonikoko looked more confident than the ones I had met in the past.
Before I could say 'hello' to everything he said, he had beckoned one of the attendants in the eatery to take my orders. I was having my Hollandia Yoghurt when he got to my seat. This yoghurt remains my best 'meal' anytime I need to pick between snacking and drinking.
During my service year, fellow corps members in camp described me as 'the Hollandia Yoghurt girl'. This can paint the vivid picture of how my love for Yoghurt has been from way back.
As I was through telling the attendant that I would not be taking anything, Chief Owonikoko's phone rang, and observing the expression on his face as he looked at the display name on his phone, I knew it was a call that came at the wrong moment.
He was impatient as he kept telling the person on the other end, who obviously was a female (apparently his wife), that they would talk later because he was right in the middle of a meeting.
READ ALSO: Taboo: Top 5 Words You Must Never Say In Lagos (Photos)
As he continued with his lies, I sighted a woman who was speaking rapidly on the phone walking towards our table. I was too engrossed with the man in front of me as the woman approached.
Maybe if I had paid serious attention to the woman coming towards us among the crowd and taken cover, I would have been able to save myself from the impending danger. The approaching female was the man's wife!
I got to know too late!
Why do some men lie? Why do some men like to cheat? Someone said it is impossible for men not to cheat because it is in their DNA. But I don't want to start thinking all men cheat. No!
There are many men outside that won't toe the path of that married Ibadan man trying to get the attention of a young girl his daughter's age.
This controversial phenomenon is even worsened by the increasing number of girls who 'don't mind'. But then, most men who cheat have this alibi of wanting to 'experiment' since they are used to 'eating a particular delicacy' every day.
Naturally, it is human to experiment with something different, change 'menus' and explore new 'horizons'. That obviously explains why some men run out of their homes into the streets with their bags of lies, just like 'Sif Owonikoko', looking for young chaps to devour.
And although women have a part of the blame, there is a great need for men to gird their loins and behave like real men. No matter the situation, a real man will not lie, cheat or try to be unnecessarily unfaithful.
Back to the matter, Chief Owonikoko's wife had been trailing her unfaithful husband from the house. But my brother had arrived just in time to whisk me away from the impending disaster.
I will be forever grateful that he came at that moment.
All I heard afterwards was the shameful ranting of the enraged woman as she made to 'eat up' her husband raw for sitting next to and chatting with 'that girl'…me!