Last night reports surfaced that the presidency has reportedly been under pressure to relocate the Villa Chapel, because it is said to be too close to President Muhammadu Buhari's bedroom and kitchen.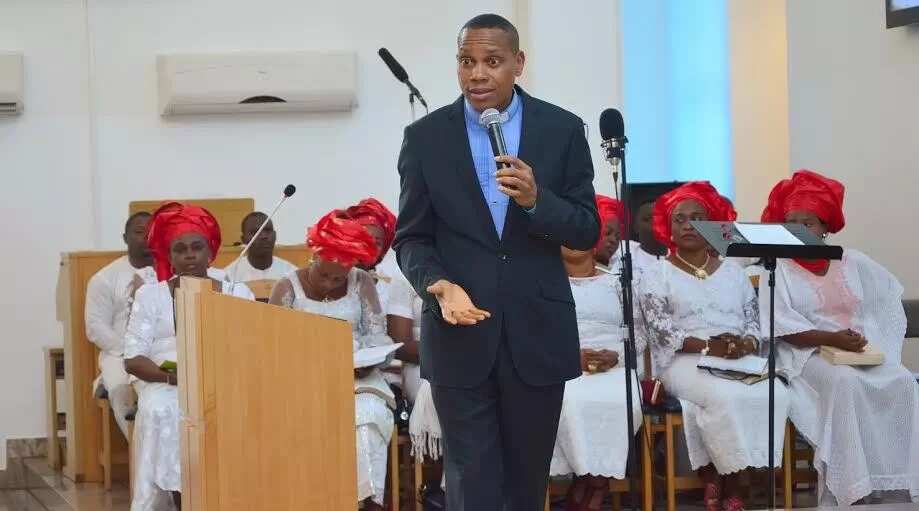 The Villa Chapel, was built and inaugurated by former President Olusegun Obasanjo. It was gathered that the former president built the church at that location to be close to his official residence so that he could enjoy worship from the comfort of his bedroom, but now that does not apply to President Buhari, who is of a Muslim.
The late President Umaru Yar'Adua, who inherited the Villa Chapel from Obasanjo, assured his predecessor that he would not relocate the church despite its closeness to his residence.
Some impulsive aides of President Buhari who were not pleased with the location of the chapel, tried to stop the use of the chapel on Sunday, August 30, causing an uproar, Vanguard reports.
READ ALSO: PHOTOS: Sunday Service At Aso Villa Chapel
[article_adwert]
According to a source in the presidency, it was gathered that there was as a prelude to effecting the plot, as security agents prevented the Villa Chapel choristers from gaining access into the building for their rehearsal on Saturday, August 29.
The plot was to put up canopies and hold the church service there but it was quickly leaked and Vice President, Yemi Osinbajo, had to intervene by reaching out to the president before the security men gave way for service to be conducted that day, the source said.
According to Vanguard, in line with the plan to relocate the chapel, the children's church, which forms part of the Villa Chapel, has been shut and some rooms, converted to shops for storage of food items.
As a result of the closure of the children's church, they were forced to relocate to the office of Pastor Joseph Seyi Malomo, the acting Chaplain of the Aso Villa Chapel, to have their service.
It was learnt that the presidency is considering relocating both the Mosque and the Church from their present locations to a more spacious area in the Villa so as to avoid any more accusations.
READ ALSO: Hit & Run: Priest Killed Close To Winners Chapel
Last week, Femi Adesina, the special adviser to the president on media and publicity, denied rummours about the closure of the church by the presidency when the issue came up, quickly posting pictures of the church service on his Facebook page.
Similarly, the acting chaplain, Pastor Malomo who said the church was not closed did not mention that his office was being used in the place of the closed children's church. He merely admitted that there were some procedural issues that needed to be sorted out, but did not elaborate.