Fake Soldiers, Car Thieves Arrested In Lagos
The Lagos state police command apprehended three fake soldiers, one fake Air Force personnel and three car snatchers.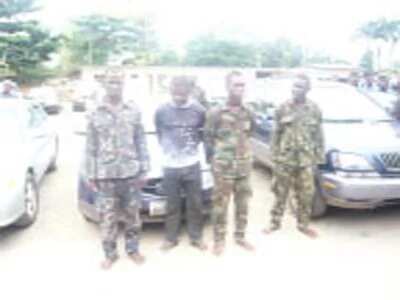 Fatai Owoseni, the commissioner of the police, who paraded the suspects on Monday, September 14, said that five cars and two Sport Utility Vehicles were recovered from them.
According to the police, the 'fake soldiers' are a 22-year-old Markus Gabriel from Ngwa in Abia state and a 39-year-old Ikemefuna Ude from Agwu in Enugu state. Their Air Force accomplice is a 28-year-old Dare Tijani from Ikire in Osun state.
The other suspects are Chukwuma Ikechukwu (31) from Ohafia in Abia state, Lucky Anene (25) from Okuzu in Delta state, and Israel Damascus (32) from Ghana.
Owoseni called on Lagosians to be part of the fight against hoodlums to enhance community policing, The Nation reports.
"Even if you post one million policemen here in Lagos, it will not be enough," he noted.
READ ALSO: Fake Soldiers Arrested In Delta
[article_adwert]
The commissioner said that during the investigation they found out that Tijani, who claimed to be dismissed personnel from the Nigerian Air Force in Kaduna, had never served there.
Owoseni also revealed that the suspect threatened to blow up the Command Headquarters because police officers at Ipaja Division refused to grant his friend bail.
During the interrogation, Tijani confessed that he got the Air Force uniform from his friend Mutiu, who is a soldier. According to the suspect, he wanted to pose as an officer when he goes to meet his fiancée, Shade. However, he was arrested in a bus at Iyana Ipaja.
Tijani said that he was enlisted into the Nigerian Air Force in 2010 and served at the Air Force workshop in Kanduna.
"I came to Lagos to seek for greener pasture after his dismissal from service. On arrival, I started working as a DJ along with some of my friends. One of friend, who is also a DJ, was arrested by the police at Iyana Ipaja while driving. I had gone to secure his bail dressed in Air Force uniform.
READ ALSO: What Re-Arrested Fake Female Soldier Has To Say
"I stormed out of the station when the police at Ipaja refused to accord me my due respect as a man in military uniform and threatened to come back with some of my colleagues. I was subsequently detained and later brought to the command Headquarters. It was during interrogation that the police discovered that I was fake personnel," he added.
Another suspect Ude, who claimed to be a printer, said that the other suspects came to his office at Ojo to scan and print military identity cards because they had lost their original ones. He insisted that he did not know they wanted to commit crime with the cards.
A 25-year-old Anene, who was also arrested by the police, said that he wore the military uniform to escort cars, which he did not know were snatched.
Two week ago, the Imo state police command nabbed a fraudster who pretended to be a major of the Nigerian army.
Source: Legit.ng