One time West African Idol winner, Timi Dakolo aside carving a niche for himself in the music industry, also enjoys spending quality time with his family.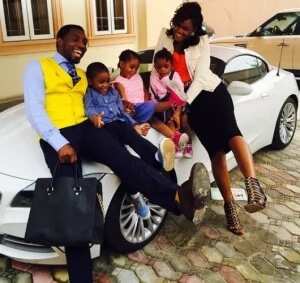 It can be recalled that, Timi never grew up with his parents instead he grew up with is grandmother with whom he learnt his fatherly role.
Speaking with E24-7 Magazine, the music artist disclosed that he does not like the idea of having children outside wedlock because it would have a negative effect on the child.
READ ALSO: Timi Dakolo Caught Making His Daughter's Hair
[article_adwert]
Timi said "I want to watch my own children grow; I don't want them to pick up bad habits. The way the world is now, children pick things from everywhere. I am one of the people that don't support children going away to boarding house; I want to see my children come back to my house every day, so as to assess them continuously. I talk to my children as friends, and they tell me everything that is going on with them. I had one philosophy while growing up, that I want to be the father to my children that I didn't have. I want to do everything for them that nobody did for me, so they don't miss the point".
When asked if any of his children are following his footsteps, he disclosed that his children do not share the same talent.
Timi said "yes, my children have different kinds of talents. My second daughter likes singing; my only son is very good with his hands, and he has started learning how to play the piano, and the last girl is always asking questions".
Read more in E24-7 Magazine.