Many Sins Marilyn Ogar Will Be Remembered For
Marilyn Ogar, a former assistant director, public relations, Department of State Security (DSS) and a member of the presidential committee on security awareness is reported to have been sacked alongside others.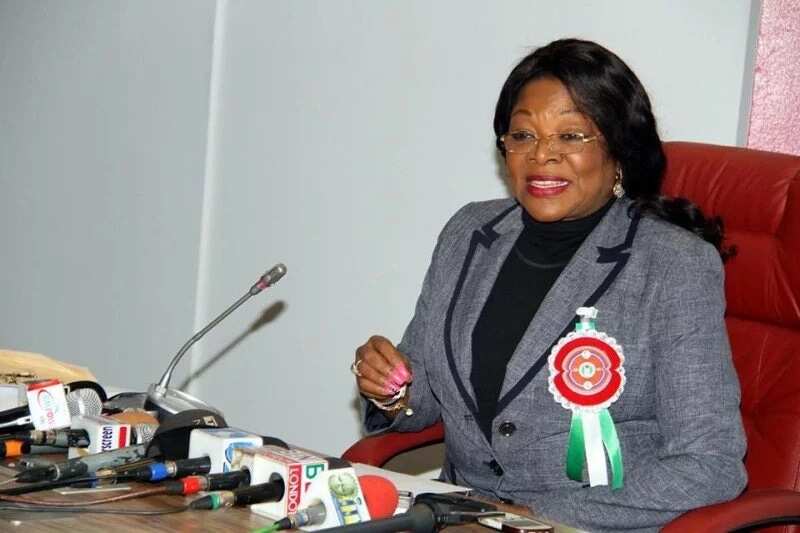 But Among all the directors fired, Ogar is one person no one will forget in a hurry owing to her many controversial statements not minding whose horse is gored.
Known as the most controversial DSS spokesperson, Ogar had on several occasions wounded the reputation of the organisation she represented, the Department of State Security (DSS).
It was alleged at various points that Ogar had times without number committed violence against the psyche of Nigerians through her unguarded embarrassing and unprofessional utterances.
READ ALSO: Nigerians React To The Sack Of Marilyn Ogar
[article_adwert]
Her point-blank accusation of some members of the All Progressives Congress in connection to the Boko haram insurgents in Nigeria made most upwardly mobile class politicians to conclude that Ogar was bought over to help tarnish the image of the people she's assigned to destroy.
The former state security spokesperson obviously made the security outfit look more like any normal agency. This she successfully did and eventually became consistent in her portrayal of the security agency as mere tool in the hands of politicians for political propaganda and absolute bullying of innocent people thereby trading the spirit of professionalism in the security outfit to mediocrity.
Without any considerations for what people would say about her personality, Ogar was always in the media exchanging words with real and imagined enemies which apparently revealed her flagrant partisanship.
EAD ALSO: Marylin Ogar Posted To Maiduguri – Reports
Further recounting her many sins in the security agency, she was also accused of collecting bribes shortly before the governorship elections in Osun state from the Petroleum Products Marketing Company (PPMC) to supply lorry-loads of dual purpose kerosene. This was according to reports obtained from Premium Times some months ago.
It cannot easily be discarded also, the abrupt altercations that ensued between Oby Ezekwesili and her from her malign speeches. For instance, her negative statement belittling the #BringBackOurGirls activities where she had said that the group was connected to various terrorist groups and that there was an indication that Ezekwesili was linked to the disturbing Islamic sect in Nigeria.
Ezekwesili had responded and queried why the SSS would allow itself to be so poorly served by Ogar with pedestrian lies. Ogar had made frantic efforts to discredit the campaigners for the BBOG who were seen as torn in the flesh for the immediate past President Goodluck Jonathan. This led to the confiscation of Ezekwesili's travelling documents by the operatives of the security agency.
READ ALSO: 5 Most Outrageous Things By SSS Under Ita Ekpenyong
As a security agent, whatever allegation she made, Ogar was known never to show any proof as to the reality of such.
How the agency had allowed her allegations that during the Osun elections some members of a political party came to bribe her (which she denied) to scale through withouth investigation was one of the questions that many Nigerians kept asking. There were speculations however that Ogar killed the case from being probed.
As far back as 2011, there was a funny award given to Ogar by a new-age media company that specializes in gathering and analysing data as the scariest women in Nigeria.
Upon her many sins, Ogar was demoted by the new director of the DSS, Lawal Musa Daura owing to matters not unconnected to partisan dirty dealings for the former Jonathan's administration and members of the Peoples Democratic Party.
Source: Legit.ng