Editor's note: Dele Akin Rahman, a guest columnist of the Daily Sun, shares his views on what can stop President Muhammadu Buhari from eradicating corruption in Nigeria.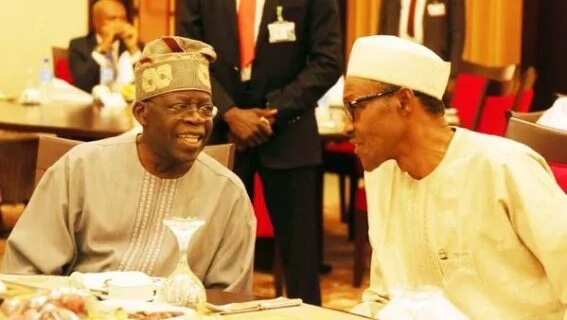 Why Tinubu is Buhari's biggest moral baggage
 President Muhammadu Buhari sure means well for Nigeria. He is disposed to tackling corruption. But let's not make mistakes. He can't fight and totally win any war against corruption. All he can ever achieve, in my opinion, is to substantially curb the menace. To eliminate it will be a very tall order because we live in a human society where there are different shades of want and need. No country in the world has been able to eliminate corruption. From my readings, corruption is not a phenomenon that can be eradicated, like you eradicate polio.
[article_adwert]
However, given Buhari's disposition, and strict disposition to the adherence of the rules, he may achieve a significant percentage reduction. But before he does that, he must address the moral burden he now lives with. That is one huge issue that will continually blight every effort he makes at prosecuting anyone for corrupt enrichment or embezzlement of public funds.
READ ALSO: Buhari Used Tinubu To Get Power - Okunrounmu
Asiwaju Bola Ahmed Tinubu is a moral burden on Buhari. He is also a dent on whatever image Buhari professes to the public, and the world, as far as corruption war is involved. There is no denying the fact that Tinubu was one of the main facilitators of the Buhari presidency. He joined other key political actors to provide the platform and worked out the model with which Buhari achieved his dream of leading Nigeria as a democratically elected president. It will be, therefore, uncharitable to ever think of the Buhari presidency without tying it to Tinubu and his ability to mobilise resources for the feat.
Tinubu delivered his media organs, The Nation, TV Continental, Radio Continental to the Buhari campaign, churning out persuasive messages and propaganda in the pursuit of the vision to enthrone the APC candidate into power.  Yes, the former Lagos governor deployed other resources, financial and otherwise, to galvanise delegates support to deliver Buhari and the APC presidential primary election in Lagos. But despite all these, Tinubu is Buhari's biggest moral baggage.
Tinubu cannot be part of new era in Nigeria
So many putrid things swirl around the former Lagos State governor that no leader who is committed to tackling corruption can gloss over. And that is why voices asking the President to commence the cleaning of Nigeria's Augean stable from his party have refused to be drowned. Tinubu is unquestionably one of the richest Lagosians nay Nigerians as at today. The stupendous wealth certainly can't be located in the matrix of hard work.  It is a product of shady deals, which shames his pretentious progressive credentials.
These are some of his upscale business concerns, which he allegedly acquired after leaving office as governor using fronts, which he has found extremely difficult to explain its financial base: Oriental Hotel, Falomo Shopping Complex, First Nation Airline, Lekki Concession Company, Apapa Amusement Park, Maiyegun Land Project, The Nation, Renaissance Hotel, Ikeja, Tejuoso Market (Joint ownership), Ikeja Shopping Mall, TV Continental. He allegedly converted Lagos Polytechnic land for TVC, owns NNPC office building in Lagos, Radio Continental, School of Nursing building in Lagos. He's involved as tax collector of Lagos State (Alpha Beta).
His blind supporters believe that it is asinine to call attention to this abnormality. But the truth is that no serious nation can sweep such things under the carpet. The shibboleth of the current administration is fight against corruption. Tinubu is askew to that vision. An individual that owns 80 % of Lagos simply because he had the opportunity to govern the state cannot be a face of war on corruption, which the APC government represents. If the country is to hop into a new era of accountability, Tinubu, certainly, cannot be part of it. His socio-political life is strewn with dirts. Not too long ago, an online news magazine, Daily Beast.com, based in the US ran a story of Tinubu's involvement in drug cartel in Chicago. Even though the truth or otherwise of the allegation cannot be ascertained, the man himself has not publicly denied it.
In the same measure, the recurring issue of Tinubu's parental background and state of origin have remained suffused in controversy. This is totally at variance with the personality of the president, whose social life is not in doubt.
READ ALSO: Saraki's Loyalists Move To Reconcile With Buhari, Tinubu
The lifestyle of the former Lagos State governor is largely the reason several Yoruba give cold shoulder to a suggestion that he should wear the armband of the leader of the ethnic group.  Some reasons are always cited for rejecting him. First is his controversial academic claims and secondly, his large appetite for filthy wealth. These traits are opposed to the accommodating and incorruptible lifestyle of Pa Obafemi Awolowo.  The latter sacrificed all for the Yoruba. He was unblemished in every sense of the word. And that informed his choice as the leader of the race.
In contemporary time, Pa Abraham Adesanya lived for the people. He was neither greedy nor overbearing. His simple lifestyle and commitment to the cause of the Yoruba made people of the race to adopt him as their leader.
For now, the person who shares these ennobling values and characteristics is former governor of Ogun State, Chief Segun Osoba. On account of his principled disposition to issues as well as his refusal to succumb to questionable political deals he was elbowed out of APC, a party he helped to build.
All these things cannot be brushed aside by the Presidency. Nigerians are keenly watching on the template the administration intends to use to battle corruption. But Buhari has a leeway. He can redeem both his image and that of his deputy and in the process give credence to the anti-corruption fight if he borrows a leaf from Russia under Vladimir Putin.
Probing Tinubu will free Buhari to go after others
Why probing Tinubu is important is that it will free Buhari to go after others. Otherwise, it will be ridiculous if Buhari seeks to prosecute perceived corrupt persons while shielding those immediately around him. If Buhari pretends not to have any evidence against Tinubu, he should reach out to the Economic and Financial Crimes Commission (EFCC) or even re-visit the documentary, Lion of Bourdillon. That short film holds a lot of leads into Tinubu's corrupt empire from which he funded his political enterprise. Tinubu's Chicago certificate scandal, which actually laid the foundation for his corruption of the public space, needs to be revisited. The reason is this: we have no reason to have allowed such odious show to have enveloped our sense of patronage. If Buhari is able to revisit that issue, like he is revisiting NITEL, then, we may begin to put things in proper perspective.
READ ALSO: Senate Leader Opens Up On His Visits To PMB And Tinubu
Besides reviewing leads exposed in the Lion of Bourdillon, it is also incumbent on Buhari to cause a re-opening of the Code of Conduct case against Tinubu. If former President, Goodluck Jonathan, did not go further with the matter, on account of not possessing the guts to do so, or on account of a deal that freed Tinubu and made him betray Nuhu Ribadu in the 2011 presidential election, a Buhari who has professed the guts to look into our national past, ought to re-open the matter and make sure that justice is served to both the accused and the accuser.
In all, Buhari has a golden opportunity to prove to the world that his anti-corruption fight is not targeted at some individuals he may have disagreed with in the past.  The starting point should be Tinubu. If Putin could do it in Russia, nothing stops Buhari from doing it in Nigeria. That is the only one way that Buhari's action in removing crude-swap partners of the Jonathan era, and replacing them with oil companies linked to Tinubu, like Oando, would be seen as an action taken in national interest. It is the only way Nigerians can cast their trust on the corruption war.
Read the rest at The Sun
The views and opinions expressed here are those of the author and do not necessarily reflect the official policy or position of Legit.ng.