French-Born Athlete Set To Dump France For Nigeria
News have emerged about a French-born sprinter, Ayodele Ikuesan, who is ready to dump her country of birth for Nigeria.
According to This Day reports, the athlete has appealed to the Athletics Federation of Nigeria (AFN) to support her quest for the nationality switch, and was rightly in the country last week to explore ways of holding discussions with the federation.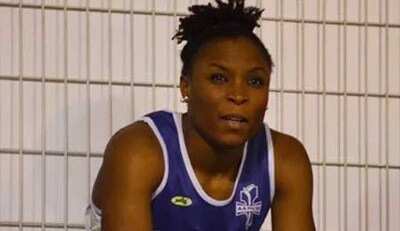 READ ALSO: D'Tigers Off To Flying Start At FIBA Afrobasket Championship
[article_adwert]
The report suggested that Ikuesan, born in Paris in 1985 to Nigerian parents of Ondo state origin, also has an uncle, Olusegun Ikuesan, who is the media officer of the Nigeria Basket Ball Federation (NBBF).
The sprint queen has won several laurels for France, with a gold medal at 4x 100m relay at the Mediterranean Games in 2009, one of the most prominent.
If Nigerian officials agree to the switch, it will be just in time to enable the 100 metres runner to represent Nigeria at the international level with the Olympics Games in Rio, Brazil next year in view.
Ikuesan, who was a member of the French relay teams to the 2008 and 2012 Olympic Games in Beijing and London, also ran for the French quartet that was disqualified after winning the silver medal at the last World Championship in Moscow in 2013.
READ ALSO: Guess How Much A Tweet From Lebron Is Worth
She has a personal best time is 11.22 seconds, which she returned at the European Championship in Zurich, Switzerland last year, to win a silver medal, and has stated that though she is a citizen of France, she opted for the switch because she had her roots in Nigeria.
According to her: "I am trying to find all information to know if I could compete for Nigeria for next year at the Olympics. My personal best in the 100m which is 11.22 seconds is good enough to break into the Nigerian team if the switch is successful. This is not about France, I just want to switch and run for Nigeria.
"It is a decision I have made as an adult because this is my country, and it will be a dream come true if I can be a part of the Nigerian contingent to the Olympic Games in Rio next year.  I am a full-blooded Nigerian and I hold the Nigerian passport, though I have been representing France where I was born.
"It would be an honour to run with Blessing Okagbare, whom I used to see in meetings in Europe. I need information on the possibility of the switch and how long it will take."
Few months ago, reports emerged about a Real Madrid star who has vowed to play for Nigeria.
Source: Legit.ng